Shooting has just wrapped on Mat Whitecross's follow up to Sex&Drugs&Rock&Roll, a road movie thriller starrring Ray Winstone and Jim Sturgess which is funded by CinemaNX.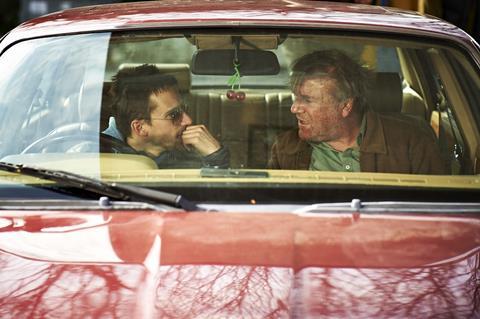 Synopsis: A road movie thriller exploring a father and son relationship which is not all it seems.
Director: Mat Whitecross
Writers: Mat Whitecross and Paul Viragh .
Producers: Esther Douglas and Fiona Neilson of Fiesta Productions
Cast: Ray Winstone, Jim Sturgess, Luke Evans, Lesley Manville and Jodie Whitaker
Financiers: Isle of Man production and financing company CinemaNX, private investor Merzbau and the UK band Coldplay
Country of production: UK
Filming locations: entirely on location on the Isle of Man
Shooting dates: March and April 2011
International sales: TBC
Sex And Drugs And Rock And Roll director Mat Whitecross and writer Paul Viragh have joined forces for a second time on this contemporary film noir thriller starring British favourite Ray Winstone alongside Jim Sturgess, who is set to become the next big thing when he hits our screens later this year in Lone Scherfig's One Day.
The producers remain tight lipped about the film's plot, but we know that it's a road movie about a father son relationship, set in the North of England and London. But the film shot entirely on location on the Isle of Man, thanks to funding from the island's production and financing company CinemaNX.
CinemaNX produer Marc Samuelson says he was attracted to the project partly thaks to the "very tense script, which is also very emotional, which in the context of a thriller, is brilliant."
The other big draw was Mat Whitecross, who came up with the idea for the project and approached producers Esther Douglas and Fiona Neilson. Starting out directing music videos for the band Coldplay, who he went to unversity with (hene their funding input), Whitecross went on to work with Michael Winterbottom at Revolution Films, before branching out on his own. Samueslon describes him as being at "the forefront of the next generation of major directors."
Currently in talks with sales agents, the team are feeling upbeat about the film's interantional prospects. "West End Films sold our previous low budget thriller The Disappearance Of Alice Creed everywhere, and on that basis we are very confident. It's really strong and unusual and we hope it will play out in the same way," says Samuelson.