Dir/scr: Zam Salim. UK. 2011. 82 mins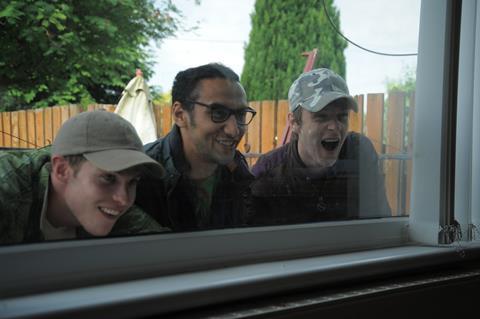 Death becomes him in Up There, a drily witty dark comedy that marks a promising feature debut from writer/director Zam Salim. A work of quirky originality, the lugubrious tone and slightly elusive, unclassifiable nature of the film presents real marketing challenges but shouldn't deter the kind of adventurous theatrical distributor who supported projects like Skeletons. The growing profile of rising star Burn Gorman who features in Dark Knight Rises could also work in the film's favour.
Gorman brings echoes of Buster Keaton to his performance as the melancholy Martin.
Adapted from Salim's award-winning short Laid Off, Up There charts the picaresque adventures of Martin (Burn Gorman). Killed in a car crash, he discovers the afterlife is a rather mundane affair, run by an officious Kafka-like bureaucracy and possessing none of the imagined advantages of walking through walls or sending shivers up the spine.
Instead, there is just an awful lot of hanging about. Eventually, he is assigned the role of carer, with motormouth novice Rash (Aymen Hamdouchi) as his sidekick. A trip to a coastal resort in search of a runaway also brings him into contact with the intriguing Liz (Kate O'Flynn) who might just provide him with a good reason for staying dead.
Sporting a deadpan expression and stomping around in an ill-fitting suit, Gorman brings echoes of Buster Keaton to his performance as the melancholy Martin. The film conjures the ghosts of Jacques Tati or the more comedic ventures of Roman Polanski in the 1960s. Ole Bratt Birkeland's distinctive photography of unfamiliar Scottish locations adds a bleached otherworldly look to the film that seems entirely fitting.
Production Company: Wilder Films Limited
Producer: Annalise Davis
Executive producer: Andy Paterson
Cinematography: Ole Bratt Birkeland
Production designer: Mike McLoughlin
Editor: Richard Graham
Music: Christian Henson
Website: www.uptherethemovie.com
Main cast: Burn Gorman, Aymen Hamdouchi, Kate O'Flynn, Chris Waitt, Farren Morgan