Dir: Ken Ochiai. Japan. 2014. 103mins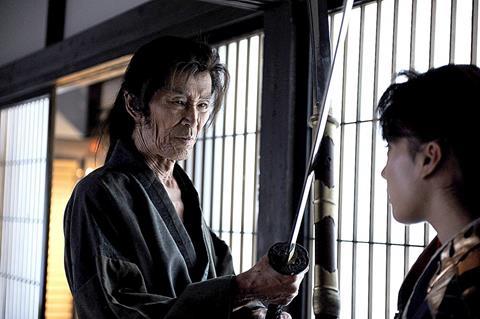 A wonderfully moving and charming drama about the talented extras who featured in the golden age of chanbara – sword-fighting in Japanese films and long-running television dramas – Uzumasa Limelight is a real gem, featuring a deeply memorable performance by Seizo Fukumoto as a professional extra who has devoted 50 years of his life as performer before being faced with redundancy.
In Seizo Fukumoto, the film gives appropriate attention to a performer finally given the chance to step into the limelight.
With his grizzled and lined face, steely grace and determined persona, Fukumoto - played by real-life kirareyaku (the Japanese term for a 'sliced up' actor, a screen fighter who always ends up getting killed in films and programmes) is a remarkable screen presence, giving the film pathos and gravitas. In fact it is easy to see Clint Eastwood playing a similar role in a US re-make which focused on Westerns rather than Japanese sword-fighting films.
Fukumoto stars as Kamiyama, who lives to die – or more exactly "to be cut" and die a beautiful, spectacular actor's death – at Kyoto's Uzumasa Studios. He has become a master of the art, with his own signature style of falling down dead. Old but nimble, he still practices everyday and has earned the respect from his peers, and from some of the movie stars he has worked with over the years.
When the studio decides to discontinue its chanbara productions, he is at a loss. He still goes to the studio each day in hope of a new role, but comes to realise there is no hope, and takes on a part time job doing fight re-enactments for studio tours. Hope comes in the form of young up-and-coming actress Satsuki (Chihiro Yamamoto), who wants to be trained and hopes to be Kamiyama's pupil.
Their gentle friendship is nicely developed, with her star on the rise and the studio deciding to take another chance on an old-fashioned chanbara production with Satsuki in a key role. There is also a chance for Kamiyama to die one last movie death.
Ken Ochiai's delightfully nostalgic film is a fascinating delve into Japanese film and television history, and its focus on "jidaigeki" films - period dramas with sword fighting most often set during the Edo period of Japanese history – fascinating as well as entertaining. The film screened as part of the New York Asian Film Festival. And in Seizo Fukumoto, the film gives appropriate attention to a performer finally given the chance to step into the limelight.
Production companies: Eleven Arts, Tottemo Benri Theatre Company
International sales: Eleven Arts Inc., www.elevenarts.net
Producers: Ko Mori, Hiroyuki Ono, Shohei Sano
Screenplay: Hiroyuki Ono
Cinematography: Chris Freilich
Editor: Chieko Suzaki
Production designer: Takashi Yoshida
Music: Nobuko Toda
Website: http://www.uzumasa-limelight.net
Main cast: Seizo Fukumoto, Chihiro Yamamoto, Masashi Gouda, Hisako Manda, Hiroki Matsukata