Dir: Matt Tyrnauer. US. 2008. 97mins.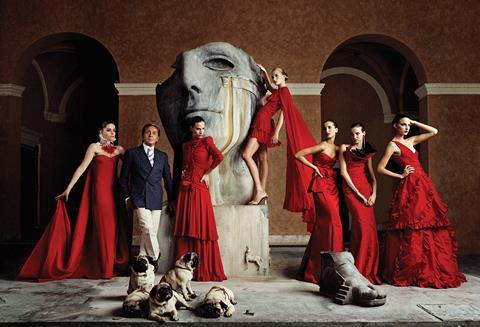 'I know what women want', says permatanned Italian fashion designer Valentino Garavani near the beginning of Matt Tyrnauer's cheeky-but-affectionate feature-length documentary. 'They want to look beautiful'. Valentino has built an almost fifty-year career on this maxim, forging a global brand out of the refined art of haute couture.
A soundtrack which makes extensive use of Nino Rota's Fellini scores underlines the end-of-the-circus melancholia that is the film's defining mood
Vanity Fair journalist Tyrnauer - who claims that he reached for the camera when he realised words did not do Valentino justice - may have begun with the idea of capturing the twilight years of an old-fashioned stylist in a world increasingly governed by market pressures. But somewhere along the way the film turns into an understated love story, charting the mutual dependency and tensions in Valentino's 45-year association with Giancarlo Giammetti, his sometime boyfriend and constant life and business partner.
It's this affecting, disturbing and hilarious portrait of a till-death-us-do-part relationship that transforms what might have been just another irony-tinged fly-on-the-wall documentary into something a little deeper. And presumably it was the film's human touch that persuaded Celluloid Dreams to pick it up just a few days before its Venice world premiere. Theatrical prospects, however, will likely be thin outside of the world's fashion capitals; it's going to be difficult to convince those who don't know their Valentino from their Versace to see beyond the film's title and buy a ticket. DVD viewers may be more tempted, especially with the scope the subject allows for archive extras.
The documentary's structure begins with the Paris pret-a-porter show in February 2007 that turned out to be Valentino's last. Snappy editing (a technical strongpoint of this sleek product, whose largely handheld footage is bolstered by stylish credits, a lush soundtrack and lavish set-piece photography) establishes the fashion world in all its air-kissing excess before whisking us back a year to the designer's Rome atelier, where he is busy preparing a haut couture collection.
The dazzle of the dresses - we're reminded that at this level, they really are handmade works of art - contrasts with the human weaknesses on display chez Valentino. The maestro waits with imperious impatience while head dressmaker Antonietta de Angelis berates her seamstresses, and Giammetti looks on with the odd mix of submissiveness and knowing irony that defines his old-married-couple rapport with his creative other half.
And then there are the pugs: a documentary maker's dream, these six ridiculously pampered pets get underfoot, defecate during photoshoots, have their teeth cleaned by Valentino, and take up the hostess seat on the designer's private jet. Other priceless moments of high comedy come when Giammetti and Valentino bicker about each other's excess fat, or when Giammetti tells the near-orange couturier that he is perhaps 'a little too tanned'. Celebrity friends like Gwyneth Paltrow, Elton John and a brace of minor Euro-royals provide background colour. A soundtrack which makes extensive use of Nino Rota's Fellini scores underlines the end-of-the-circus melancholia that is the film's defining mood.
But there are tensions too - some of them involving the presence of the camera, which the intensely private Valentino clearly hates to have around on those rare occasions when he's not performing. Meanwhile, the young and initially docile-seeming CEO of the Valentino brand - Matteo Marzotto - grows in presence and authority, and we realise (nudged by a few interviews with fashion editors) that the king of the catwalks is the last survivor of a race that has been ousted by balance sheets and airport fashion accessory outlets.
It's a textbook example of editing documentary footage for dramatic effect, and by the third act finale - the lavishly choreographed celebrations in Rome in July 2007 to celebrate Valentino's 45 years in the business, just two months before he stepped down - it's difficult to restrain that lump in the throat.
Production company
Acolyte Films
International sales
Celluloid Dreams
(33) 1 4970 0370
Producers
Matt Kapp
Matt Tyrnauer
Frederic Tcheng
Executive producers
Carter Burden
Adam Leff
Cinematography
Tom Hurwitz
Editor
Bob Eisenhardt
Frederic Tcheng