Dir/scr: Iwai Shunji. Canada/US. 2010. 101mins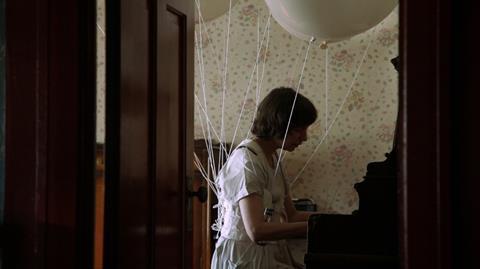 Popular culture has brought us teen vampires, preadolescent vampires, drug-addled vampires, and Western vampires. Now, in his first English-language feature, idiosyncratic Japanese filmmaker Iwai Shunji offers us vampire as enabler of suicides.
Vampire addresses some engaging notions about the value of life, and human connectedness, with a profound sense of sympathy.
Far from the traditional conventions of the genre, Shunji favors a more oblique, lyrical approach. His vampire Simon (played by Kevin Zegers) isn't exactly a bloodsucker, but a shy high school biology teacher who carries around a collection of syringes and four glass jars for the purposes of bloodletting. He meets his first victim, a young woman who goes by the name Jellyfish (Keisha Castle-Hughes) in a desolate parking lot.
We soon learn they've made a suicide pact: "Have you ever wondered how we're going to die?," she asks. It just so happens that Simon has a great idea: it's painless, and as easy as falling asleep, and she can go first. In one of the film's many dreamy sequences, Jellyfish, splayed across a long white storage freezer as the blood drips from her veins, willingly succumbs to her fate.
If this set-up wasn't weird enough, Simon lives at home with his Alzheimer's afflicted mother (Amanda Plummer, grunting and wincing), who is set up in a strange contraption – involving a sort-of straight-jacket attached to more than a dozen large white balloons — to keep her from fleeing the house. The film's interiors are particularly bewildering, with the digital video shot wide angles and self-conscious art-direction making these spaces all the more off-putting.
One extended sequence about a third of the way into the film begins in such a house, wherein a small group of Goths and serial-killer-groupies gather to celebrate their fascination for the macabre. The sequence goes from weird to dark to freakishly perverse, as Simon accompanies one of the partygoers into his cab, wherein the stranger, who goes by the nickname Renfield, asphyxiates and then rapes a random unlucky passenger.
The scene is such a turn-off that Vampire struggles to recover; it's brutality feels especially out of place and the movie would be served by its complete removal.
The film works better when it's outside, amidst the lonely, sad vistas of its rainy Seattle locations. And when Shunji focuses on the delicate fragility of life, and death. In one episode, Simon hooks up with a prospective suicide named Ladybird (an appealing Adelaide Clemens) on a website called Side by Cide.
After a quasi-sexual encounter in the forest involving sucking out the blood left from leeches, Simon and Ladybird develop a sweet, strange relationship that gives Vampire some much-needed warmth. Similarly, a tentative connection Simon finds with a suicidal Japanese exchange student provides the movie its most tender sequences. Far less successful is the appearance of Rachael Leigh Cook as a nosy love interest, who stumbles upon Simon's secret life.
While uneven and overlong (an added coda feels particularly unnecessary), Vampire addresses some engaging notions about the value of life, and human connectedness, with a profound sense of sympathy. But as far as commercial prospects, this Vampire may travel the film festival circuit and survive on home entertainment, but theatrical box-office may well lack bite.
Production companies: Rockwell Eyes, Convergence Entertainment
International sales: Fortissimo Films, www.fortissimo.nl
Producers: Iwai Shunji, Tim Kwow
Cinematography: Iwai Shunji
Production designer: Alexandra Rojek
Editor: Iwai Shunji
Music: Iwai Shunji
Main cast: Kevin Zegers, Rachael Leigh Cook, Amanda Plummer, Keisha Castle-Hughes, Adelaide Clemmens, Kristin Kreuk