Dir. Jacques Rivette. France / Italy, 2009. 84 min.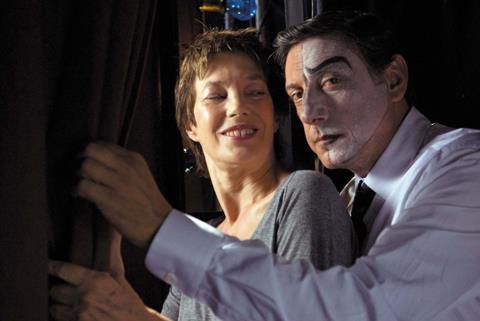 The latest from the French New Wave master, a short by his own standards, teams a desolate Jane Birkin with a mysterious Sergio Castellito - it starts with him fixing her car and ends with his mending her soul. Reworking once again his favorite theme of life versus art and indulging in his affection for long, elegant sequence shots and witty double-entendres, this will delight his fanbase as much as it will annoy his regular critics.
Watching the maestro move his camera, smoothly mixing theatre and film, is never less than pleasurable
Shot mostly in and around the city of Arras, not far from the location of his La Belle Noiseuse, Around A Small Mountain takes place in a circus as opposed to the theatre, but the space between stage and life is as precisely defined and meaningful as it ever was in his past work. Film festivals will certainly board this and art houses will follow, even though Rivette's admirers concede that this doesn't add much to his body of work.
The opening sequence shows Birkin standing helplessly next to her stranded car on a country road, the mountain of the title in background. Castellito sweeps by in his sports roadster, disappears down the road as if ignoring her, then returns, opens her car's hood, taps left, taps right, and the engine comes back to life. All of this is conveyed in one single shot without a line of dialogue.
Similar visual exercises of equal concise precision follow as the audience learns how Kate (Birkin) has come back to a circus she had left 15 years earlier, after a fight with her late father, but she is still uncertain whether she wants to stay with it. Vittorio (Casteilito) is more mysterious; he is evidently fascinated by his new chance acquaintance and is equally interested in circus life.
Digging into Kate's past, he finds out that her lover, Antoine, was killed performing a daring act on stage. Her father, who did not like him, kicked his daughter out and told her never to return, only because she insisted on mourning him. Since then, she has retreated into a passive existence. But Vittorio is about to change all that, goading her back to the stage and forcing her to act - for ultimately, in Rivette-land, there is no life without art and vice versa.
Watching the maestro move his camera, throwing in references to still life paintings and mist-shrouded mountains, smoothly mixing theatre and film, is never less than pleasurable. The narrative, on the other hand, seems like an imposition, often solved through Birkin's uncomfortable monologues revealing her character's past and emotional troubles. Other characters also fill up the blanks in equally clumsy circumstances. Some scenes seem to be missing, whether planned and not shot, or shot and deleted later, but thanks to the scions of the Lubtchansky family, Irina at the camera and Nicole, the editor, these flaws are not over-worrying.
Another saving grace for the film is Castellito's Italian charm and insouciance which make his intrusion into other people's lives not only acceptable but welcome and sometimes delectable.
Production companies
Pierre Grise Productions
France 2 Cinema
Cinema Undici
Rai Cinema
Alien Produzioni
Producers
Martine Marignac
Maurice Tinchant
Charlotte Henry
Luigi Musini
Roberto Cicutto
Ermanno Olmi
Sergio Castellito
Margherita Mazzantini
International Sales
Les Films du Losange
+33 6 89 85 96 95
Screenplay
Jacques Rivette
Pascal Bonitzer
Christine Laurent
Shirel Amitay
Cinematography
Irina Lubtchansky
Production design
Manu de Chauvigny
Giuseppe Pirrotta
Editing
Nicole Lubtchansky
Music
Pierre Allio