The full line-up of world premieres in Venice's Horizons programme, with details on each title including sales contacts.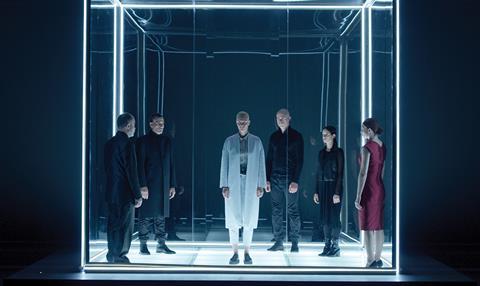 The Childhood Of A Leader (UK-Hun-Bel-Fr)
Dir Brady Corbet
It's not just cast members Robert Pattinson, Tim Roth, Bérénice Bejo and Stacy Martin who have been attracting attention to this fable on the rise of fascism (which Juliette Binoche reportedly bailed out of because it was "too dark"). With a soundtrack by cult avant-garde crooner Scott Walker and the cachet of first-time director Corbet as an actor in films such as Melancholia and Thirteen, this tale of the early, French years of a young American "monster in the making" will be one of Venice's hottest tickets.
Contact: Protagonist Pictures, vanessa@protagonistpictures.com
A Copy Of My Mind (Indo-S Kor)
Dir Joko Anwar
Anwar's Indonesian drama charts an unexpected challenge thrown up during the affair between a beautician and a man who makes subtitles for pirate DVDs. Anwar's 2012 horror film Ritual enjoyed healthy international sales, and the director is currently filming TV series Halfworlds for HBO Asia.
Contact: CJ Entertainment, hawon@cj.net
Free In Deed (US-NZ)
Dir Jake Mahaffy
For his second feature, following 2008's Wellness (which won the Grand Prize at SXSW), US writer-director Mahaffy steps into the controversial world of storefront churches. Free In Deed stars UK actor David Harewood as a pentecostal minister challenged to heal a sick child. Mahaffy's 2012 short Miracle Boy was nominated for the Venice Horizons YouTube Award.
Contact: Greyshack Films, greyshack@earthlink.net
Interrogation (India)
Dir Vetri Maaran
Described as an experimental thriller inspired by real-life events, Maaran's third feature Interrogation (Visaaranai) is the first Tamil film to play in Venice competition. This recounting of a violent police interrogation features a wealth of Indian talent, including Attakathi Dinesh and Aadukalam Murugadoss, and is co-produced by prolific actor/producer Dhanush's Wunderbar Films.
Contact: vetrimaaran@gmail.com, punit@sikhya.in
Interruption (Gre-Fr-Cro)
Dir Yorgos Zois
Zois' debut feature follows a hostage situation inside a theatre, as it turns into a collective performance in which art imitates survival. Zois co-wrote Rotterdam 2015 entry Impressions Of A Drowned Man while his short film Out Of Frame (Titloi Telous) won best European short film prize in Venice in 2012.
Contact: EZ Film, elie@ez-films.com
Italian Gangsters (It)
Dir Renato De Maria
This Minerva-produced documentary charts some of Italy's most famous gangsters, including testimonials and archive footage. De Maria's previous effort La Vita Oscena also played in Horizons.
Contact: Minerva Pictures, info@minervapictures.com
Kill Me Please (Braz-Arg)
Dir Anita Rocha da Silveira
After directing three shorts, of which The Living Dead was selected for Directors' Fortnight in Cannes in 2012, Brazilian film-maker Rocha da Silveira will unveil her feature debut at Venice. Set in Rio de Janeiro, Kill Me Please centres on a teenage girl and her younger brother, who learn to deal with death after their neighbourhood is hit by a crime wave. The film is lead produced by Rio de Janeiro-based Bananeira Filmes.
Contact: Bananeira Filmes, bananeira@bananeirafilmes.com.br
Madame Courage (Alg-Fr-UAE)
Dir Merzak Allouache
Algiers-born Allouache was in Venice competition with his 2013 drama The Rooftops and returns with Madame Courage, the nickname for the psychotropic drug to which the film's main character - a troubled Algerian teen living in the slums of Mostaganem - is addicted. The film is a co-production between Neon Productions and Baya Films, with backing from CNC and Algerian industry-support fund FDATIC.
Contact: Neon Productions, ad@neon.fr
Man Down (US)
Dir Dito Montiel
Shia LaBeouf, Gary Oldman and Kate Mara star in this post-apocalyptic thriller about an Afghanistan war veteran who attempts to come to terms with his past while searching for his family. LaBeouf also starred in Montiel's 2006 feature debut A Guide To Recognising Your Saints, which played at Venice and for which Montiel picked up the directing award and Special Jury Prize at Sundance.
Contact: The Solution Entertainment Group, lisa@thesolutionent.com
A Monster With A Thousand Heads (Mex)
Dir Rodrigo Pla
Mexican-Uruguayan director Pla returns to Venice after winning three awards at the festival in 2007 with crime thriller The Zone. His latest feature is written by his wife Laura Santullo, based on her own novel, and centres on a woman who takes desperate measures to obtain her husband's cancer treatment.
Contact: Buenaventura Cine, sandinosaravia@gmail.com
Mountain (Isr-Den)
Dir Yaelle Kayam
Kayam, who directed award-winning short Diploma, makes her feature debut with this story of Tzvia (Shani Klein), a devout woman living in an unhappy marriage in Jerusalem who makes a startling discovery during a night-time walk on the Mount of Olives. The project was developed at TorinoFilmLab and funded by Israel Film Fund, Jerusalem Film Fund and Danish Film Institute.
Contact: Films Distribution, info@filmsdistribution.com
Neon Bull (Braz-Urug-Neth)
Dir Gabriel Mascaro
Mascaro, director of 2014 drama August Winds, returns with Portuguese-language Neon Bull (Boi Neon) about a stablehand who cares for rodeo bulls but dreams of becoming a fashion designer.
Contact: Memento Films, sales@memento-films.com
Pecore In Erba (It)
Dir Alberto Caviglia
After working as an assistant director on titles including Ferzan Ozpetek's Loose Cannons, Caviglia makes his directing debut with a surreal comedy set in the Roman district of Trastevere and centred on the characters that walk its streets. The cast includes Davide Giordano, Anna Ferruzzo and Bianca Nappi.
Contact: On My Own, olivia.musini@cinemaundici.it
Taj Mahal (Fr-Bel)
Dir Nicolas Saada
Following his César-nominated feature debut Spy(ies), French director Saada returns with a film that tackles the 2008 Mumbai terrorist attack. Based on the true story of one of the survivors, this psychological thriller stars Stacy Martin (Nymphomaniac) as a young woman who was trapped in one of the suites of Mumbai's Taj Mahal Palace Hotel after it was seized by terrorists. Patrick Sobelman at Agat Films produces.
Contact: Bac Films, sales@bacfilms.fr
Tempete (Fr)
Dir Samuel Collardey
Collardey returns to Venice, where he won the International Critics' Week award in 2008 with docu-drama The Apprentice. The cast of Tempete includes non-professional actors and centres on Dom (Dominique Leborne), a sailor who must reconsider his future after his daughter falls pregnant. Grégoire Debailly (Gente De Bien) produced for Geko Films.
Contact: Geko Films, info@gekofilms.com
Tharlo (Tibet)
Dir Pema Tseden
Making his Venice debut, Tibetan film-maker Pema adapts his own short story about a young shepherd who is disillusioned after his arrival in the city. Actor, poet and musician Shide Nyima stars.
Contact: Xue Han, 178620953@qq.com
A War (Den)
Dir Tobias Lindholm
Danish auteur Lindholm reunites with his R and A Hijacking star Pilou Asbaek for the story of a Danish military commander who is captured by the Taliban and accused of a war crime when he returns to Denmark. Nordisk produces with support from DR and the Danish Film Institute. Lindholm has cast Danish soldiers who served in Afghanistan to round out the cast. Magnolia has acquired US rights, Nordisk will release across Scandinavia, and StudioCanal will distribute in France, Germany, UK, Australia and New Zealand.
Contact: StudioCanal, brittani.robinson@studiocanal.com
Wednesday, May 9 (Iran)
Dir Vahid Jalilvand
After shooting a series of social documentaries for Iranian television, actor-director Jalilvand makes his feature debut with Wednesday, May 9 (Chaharshanbe, 19 Ordibehesht), a tough drama that picked up the best director and best film awards in the New Vision section of Iran's Fajr International Film Festival in February.
Contact: Noori Pictures, info@nooripictures.com
Why Hast Thou Forsaken Me? (Isr-Fr)
Dir Hadar Morag
Morag's student film Silence premiered in the Cinéfondation competition at Cannes in 2008. Her feature directing debut, co-produced by Elie Meirovitz for EZ Films and Israeli actress Yael Abecassis and Hillel Roseman for Cassis Films, Why Hast Thou Forsaken Me? (Lama Azavtani) traces the journey of an Arab boy named Muhammad (Muhammad Daas) who stubbornly insists on being taken under the wing of Gurevich (Yuval Gurevich), an enigmatic loner patrolling the back alleys of a filthy city.
Contact: EZ Films, elie@ez-films.com