Iranian filmmaker Mohsen Makhmalbaf has dedicated the Robert Bresson Award to imprisoned Ukrainian filmmaker Oleg Sentsov.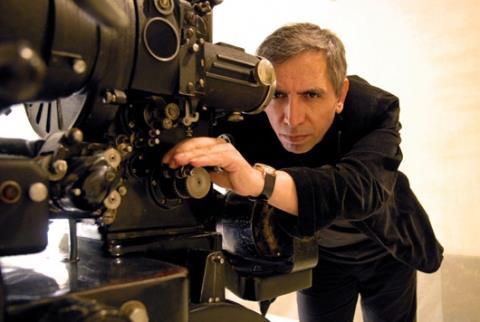 The award was presented this morning (Sept 7) during the Venice Film Festival by the Fondazione ente dello Spettacolo (FedS) and the cinema magazine Rivista del Cinematografo in recognition of "a director who has given testimony of the difficult path towards the search for the spiritual meaning of life".
Founded in 1999, the award has been received in past years by directors such as Manoel de Oliveira, Alexander Sokurov, Ken Loach and Wim Wenders.
Makhmalbaf's most recent film, The President, was shown in Venice last year.
Speaking to ScreenDaily ahead of the award ceremony, Makhmalbaf said that he had been made aware of Sentsov's fate by festival programming director Alexey Medvedev when he served as jury president at the On The Edge Film Festival in the Russian Far East town of Sakhalin last month.
¨In recent years, we have heard many statements from Russian leaders that Russia has finally found its independent voice and is ready to play an important role on the world arena,¨ Makhmalbaf said in a statement.
¨These claims, of course, can only be supported, but it is also important to remember that no national revival is possible on the basis of lies and propaganda.
"Even one destroyed life – and a 20-year sentence for a 39-year-old filmmaker surely means the cruellest of all individual punishments – will lead to an even greater punishment and retaliation that may befall the whole country.
¨The way to a better future can start only with an act of magnanimity, mercy, and understanding. Oleg Sentsov should make new films, not count years in prison."
"Treaties were broken"
Festival programmer Medvedev, who has known Sentsov since the presentation of the Ukrainian filmmaker's debut, Gamer, at the 2-in-1 International Film Festival in Moscow in 2011, had visited him in Crimea in March 2014 as Russia was making the final decision to annex the peninsula.
¨Whatever you think about the annexation of Crimea, you have no other choice but to admit that many international laws, norms and treaties were broken by this act," said Medvedev.
"In this situation, the will of Ukrainian (and not only) citizens to protest is understandable and fully justified.
¨In the face of such major transgression to accuse these young people of terrorism, to torture them, to throw them in jail, and to destroy their lives for the allegedly burning of a $500 door is the most cynical act of treachery and lies on behalf of Putin's regime.
"If this wrong is not righted, Russia will finally lose its opportunity to come back peacefully to the track of normal democratic development."
Political persecution
Further support for Sentsov came from his Armenian filmmaking colleague Aram Shahbazyan whose Moskvich, My Love won the Audience Award in Sakhalin this year.
Shahbazyan said: "A filmmaker cannot stay at home when there is a military clash and a tension in the country. He needs to go out on the streets and be with the people.
"Oleg Sentsov is not a criminal, but an honest artist and a citizen, and there is political persecution of him, in my opinion.¨
¨Political oppression against an artist is an indicator of a democratic crisis. If Russia, indeed, wants to overcome this crisis, it has to give the young filmmakers the opportunity of creative freedom,¨ he declared
Sakhalin's Grand Prix went to the Turkish film Mustang, which is screening in Venice this week as part of the Lux Film Prize 2015 final selection.
European directors protest
Makhmalbaf's act of solidarity came days after the Federation of European Film Directors (FERA) - whose membership includes 20,000 European directors from 29 countries - sent a letter of protest to the Ambassador of the Russian Federation to the EU calling for Sentsov's "immediate release".
FERA's executive committee, which is chaired by the UK's Dan Clifton, wrote in its letter that it was "clear that this entire trial is a politically inspired action against a Ukrainian artist determined to exercise his legitimate right to protest against Russia's illegal occupation of Crimea".
Venice briefs
Billionaire's backing for VFM
The pasta at the weekend's opening reception of the Venice Film Market (VFM) took on a bitter taste for some festival-goers on realising that a reportedly close ally of Russian President Vladimir Putin is a partner of this year's event.
Russian billionaire Gennady Timchenko, the ninth richest man in Russia, is one of the VFM's supporters through the Elena & Gennady Timchenko Foundation.
According to the Foundation's own promotion: "We help people who want to improve their lives and make the world around them a better place," and "we work with our supporters and partners for the present and future good of our country [Russia].¨
Timchenko, whose name has been on the US sanctions list since spring 2014, appeared with film festival director Alberto Barbera, VFM head Pascal Diot, and Roskino's CEO Ekaterina Mtsitouridze, at the beginning of the market reception on the Hotel Excelsior's beach on Friday evening.
New UK event
Jon Barrenechea, project development manager at Picturehouse Cinemas, revealed during the CICAE's Art Cinema = Action + Management training week on Venice's San Servolo island that the BFI's Film Audience Network (FAN) is organising a new event in London on September 22.
A total of 17 UK distributors will present their marketing and distribution strategies for forthcoming releases of specialised films at the Distributor Slate Day at the Picturehouse Central cinema in London's Shaftesbury Avenue.
In addition, FAN's next This Way Up conference addressing provocative topics affecting cinema exhibition will be held at HOME in Manchester, with a future event planned at the Dundee Contemporary Arts Museum (DCA).