Director and stars reveal their motivations for taking on Nocturnal Animals during Venice press conference.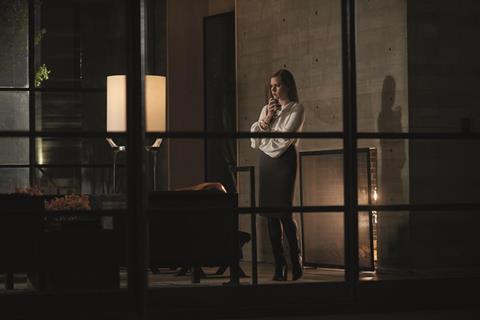 Director Tom Ford and actors Jake Gyllenhaal, Amy Adams and Aaron Taylor-Johnson revealed their motivations for collaborating on buzzed-about Venice premiere Nocturnal Animals, during a press conference on the Lido today (Sept 2).
In the "gleaming" and "audacious" movie, liberally adapted by Ford from Austin Wright's novel, Adams plays an art gallery owner who is haunted by her ex-husband's (Jake Gyllenhaal) novel, a violent thriller whose intricacies serve as symbolic reminders of their relationship and of lost opportunity.
Ford, making his anticipated return to the director's chair following well-received 2009 debut A Single Man, said of the film: "I'm someone who really loves loyalty. Loyalty is very important to me. When you find those people you really like, you don't let go of them. This is a cautionary tale."
"This story is about finding those people in life who mean something to you and holding onto them. And about being confident in yourself and what you want to be."
In reference to a bold and arresting opening scene in which the camera pores over obese strippers, the director said: "I wanted to show the absurdity of the world: of exaggerated, overfed, ageing Americana. But I realised that these women were very beautiful. The film is about that. Letting go of what you think you're supposed to be, or what you're supposed to do."
The director confided that the story spoke to his own need to find inner resolve at different times in his life: "I said to Amy on set: 'a lot of you [as her character Susan] is a female version of me'. I grew up in Texas, I was not a traditional, strong [Texas] guy. I was teased a lot."
The film is imbued with Ford's signature visual panache. While explaining the rationale behind specific flourishes, the director commented: "Style has to serve substance…Stylistically, I would never make a decision that didn't relate to the story."
Five-time Oscar nominee Adams described the experience as "a very personal journey": "It read so beautifully. Tom was so detailed when I spoke to him before shoot. I wanted to be part of this story of loss and regret."
However, the actress admitted that she didn't initially warm to her character: "I didn't like Susan when I started. I had to find a way through to her because I don't like playing a character I don't like. Tom was very patient. He was my reading partner before the film."
Gyllenhaal described the film as "one of the best scripts I've ever read": "It was gripping. It reflected where we are culturally but also what we experience internally during heartbreak."
Like Adams, Taylor-Johnson (brilliant in his first drama since 2012 feature Anna Karenina) admitted to some initial misgivings before embracing his role as a psychopathic killer: "I didn't go into it confidently because the character was so different to me. I'm a family man with daughters and a wife so it was interesting that Tom thought of me.
"It wasn't pleasant but it was extraordinary to experiment and go down that road. It grew and became something different from my original thought".