Dir/scr: Yann Samuell. France. 2011. 109mins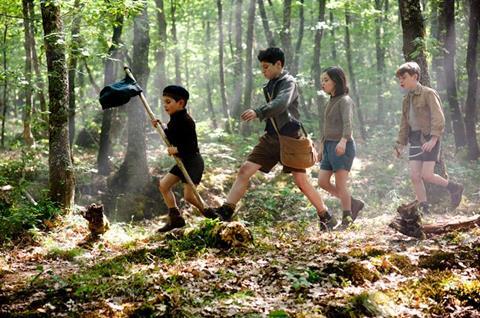 The kids are crafty and retro-adorable, the morals sound and the rural nostalgia impeccably groomed in War Of The Buttons (La Guerre des boutons) a harmlessly old-fashioned tale of youthful rivalries between two French villages in the late 1950s. Written and directed by Yann Samuell (Love Me if You Dare; My Sassy Girl) the fourth screen adaptation of Louis Pergaud's's 1912 novel (which recently fell into the public domain) beat Christophe Barratier's (Les Choristes) version to French screens by a week.
Although the film has been sold to about a dozen territories, it seems like a venture tailored mostly for French audiences.
Five days after its September 14 debut, Samuell's family-friendly ode to spunky self-determination, clan loyalty and the role of education in societal betterment had clocked half a million admissions for the second-best French opening of 2011 behind Dany Boon's unbeatable juggernaut Nothing To Declare.
A beloved staple on French TV, Yves Robert's version sold almost 10 million tickets to French filmgoers in 1962, making it the second highest grossing film of that year behind The Longest Day.The population of France was then 46.5 million (it's now 65 million and one million tickets sold is the benchmark of success for most releases).
"Guerre" — the French word for "war" — will be omnipresent on French marquees once Barratier's rival remake (The New War of the Buttons) joins Valerie Donzelli's fast-earning Declaration Of War (La Guerre est déclarée), just named as France's official foreign language Oscar contender.
A century — indeed, a half century — before kids had video games and texting devices they had slingshots, malice and lots of fresh air. (Pergaud's book and Robert's film acknowledged free-wheeling corporal punishment, borderline hygiene and lots of alcoholism, but Samuell's entry is a feel-good venture about the marvels of education and budding leadership rather than a critique of the inanity of armed conflicts once the initial slight spins out of control and positions harden.) For the record, an 11-year-old Charles Aznavour acted in the 1936 version.
The two new films will monopolize some 1200 French screens. And, in case anybody is suffering from button withdrawal, Gaumont will re-release the 1962 version on 80 prints on October 12.
The lone school in the village of Longeverne runs separate classes for boys and for girls, with boys between the ages of seven and 14 sharing the same classroom and teacher, firm but fair Mr. Merlin (Eric Elmosnino). The boys wear short trousers and smocks and when they're not memorising verb conjugations or struggling with syntax, they're running around in the woods or ambushing their long-standing rivals from nearby Velrans on dusty roads. The local priest (Fred Testot) coaches soccer games and delivers sermons. He also projects newsreels and feature films in the church but censors any stray kiss by placing his hand over the lens.
The buttons of the title, by the way, are what gets sliced off any captured lad's clothes in a sort of low rent scalping that one's parents can't help but notice. As victory rituals go, it's not one that carries much shock value for contemporary audiences; Attack The Block this ain't. But it does lead to kiddie combat entirely in the nude.
As the only breadwinner for his single mom and two young sisters, sturdy Lebrac (talented newcomer Vincent Bres) rises at dawn to shovel hay, milk cows and take produce to market before attending school, but still has the energy to lead his adoring classmates into battle against their enemies led by nasty Aztec (Theo Bertrand).
Tactics consist of slingshot attacks with rotten fruit, booby-trapped trails in the woods, pranks designed to spill the contents of inkwells and other violence-tinged tomfoolery. It's a wonder nobody's blinded or crippled along the way but these are real kids, cast from the French countryside and they make berets seem like the natural precursor to the baseball cap. The antics accelerate when insults are exchanged that are laughably mild by modern standards but which must be avenged.
The initial insult is "couille molle" — literally squishy bollock, perhaps better translated as a "limp dick" although the literal reference is to testicles. The rejoinder is to call the insulter "peigne-cul" or "hairy butt (bum) comber". Repeat ad infinitum.
One can pretty much understand why updating the story beyond, say, 1960, wasn't an option. (The Barratier version, which opens September 21, is set in 1944). Samuell has added passing references to the Algerian War and inserted an appealing proto-feminist tomboy named Lanterne (Salomé Lemire), who can more than hold her own with the guys. The film celebrates ingenuity and robust physical activity without ever generating much excitement or suspense.
The testy one-upmanship between Mr. Merlin and his counterpart from across enemy lines, Mr. Labru (Alain Chabat) is inherently amusing for French audiences, who have flocked to recent retro fare such as Le Petit Nicolas or The Women on the 6th Floor.
Lebrac's humourless and put-upon mom (Mathilde Seigner) wants her son to take a job as an apprentice mason but Mr. Merlin believes that Lebrac is bright enough to win a scholarship to a boarding school if only he'll buckle down.
Needlessly nervous camerawork is annoying, especially at the outset, and it sometimes seems as if the film is comprised mostly of boys running back and forth. Stick-figure animation in the margins of the closing credits is delightful.
Although the film has been sold to about a dozen territories (the Barratier version boasts heartier pre-sales), it seems like a venture tailored mostly for French audiences, which tend to gravitate toward movies with school themes (Dead Poets Society was a touchstone, followed by local fare including doc To Be And To Have and Palme d'Or winning Entre les murs). Still, this should be welcome at children's film festivals and French film weeks where local distribs can judge reactions for themselves.

Production companies: One World Films, TF1 Droits Audiovisuels, TF1
Films Production, Les Films du Gorak
International sales: TF1 International
Producers: Marc du Pontavice, Matthew Gledhill
Screenplay: Yann Samuell based on the book by Louis Pergaud
Cinematography: Julien Hirsch
Production designer: Pierre-Francois Limbosch
Editor: Sylvie Landra
Music: Klaus Badelt
Website: www.ugcdistribution.fr
Main cast: Eric Elmosnino, Mathilde Seigner, Fred Testot, Alain Chabat, Vincent Bres, Salome Lemire, Theo Bertrand, Tristan Vichard