Dir/scr: Rowan Athale. UK. 2012. 106mins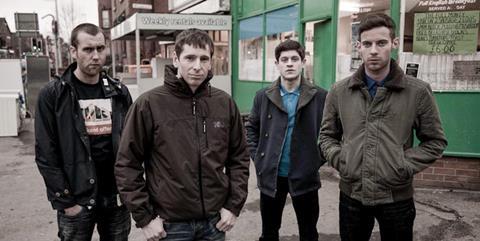 A heist thriller with a distinctly British sensibility, Wasteland marks an assured and engaging first feature from writer/director Rowan Athale. Appealing characters, clever plotting and smart dialogue make for a winning combination that should have commercial heft for a UK theatrical release and beyond.
The pleasures lie as much in the sarcastic banter and blokey chemistry of the four leads as they do in the mechanics of the twisted revenge plot.
Wasteland begins, like Magnus Martens' Jackpot, with a bloodied and battered figure facing interrogation from a skeptical police officer. The similarities mostly end there as Athale eschews the wilder excesses of Nordic noir and equally shows little desire to compete with the slick polish of Hollywood studio fare.
Wasteland is set against the backdrop of a "broken" Britain that has nothing to offer a younger generation beyond minimum wage jobs and unrealistic hopes. The skies are as grey as the lives in empty streets with broken windows. This is noir with a social conscience.
Released after a short prison sentence, Harvey (Luke Treadaway) is only too aware that he has been consigned to the bottom of the heap. He wants a second chance with girlfriend Nathalie (Vanessa Kirby), He wants revenge on the local crime boss Roper (Neil Maskell) who framed him and he wants to enlist the help of his mates for a robbery that might allow him to achieve all those goals.
Dempsey (Iwan Rheon), Charlie (Gerard Kearns) and Dodd (Matthew Lewis) display various degrees of reluctance to participate in his little " business opportunity" but eventually they all sign on for an attempt to rob a safe at a working men's club that contains the ill-gotten gains of Roper. The unusually articulate, loquacious Harvey relates what happens next as he makes his statement to Detective Inspector West (Timothy Spall).
There may be nods to The Usual Suspects and the Oceans franchise along the way but Wasteland is very much its own film. The pleasures lie as much in the sarcastic banter and blokey chemistry of the four leads as they do in the mechanics of the twisted revenge plot.
There is something of the young Michael Caine in Luke Treadaway as he assembles his team and plans his move in a manner that would not have seemed out of place in The Italian Job. Treadaway underplays the steely resolution of his character and gives one of his best performances. He is ably supported by a strong ensemble cast with Iwan Rheon a stand-out as Harvey's wise, loyal and eternally positive best friend and Vanessa Kirby lending some depth to the role of girlfriend Nathalie who combines wariness and warmth in her dealings with Harvey.
Rowan Athale clearly knows how to bring out the best in his actors and Wasteland is also nicely paced, snappily edited by Kim Gaster and lays down a marker for what should be a promising future career.
Producers: Gareth Pritchard, Ed Barratt, Mark Foligno
Executive producers: Compton Ross, Phil Hunt, Norman Merry, Peter Hampden, Brad Moore, Iain Richardson
Production Companies: Moli-Mischief Ltd
International Sales: Bankside Films, www.bankside-films.com
Cinematography: Stuart Bentley
Production designer: Chris Richmond
Editor: Kim Gaster
Music: Neil Athale
Main cast: Luke Treadaway, Iwan Rheon, Gerard Kearns, Matthew Lewis, Timothy Spall