Dir/scr: Lukas Moodysson. Sweden. 2013. 102mins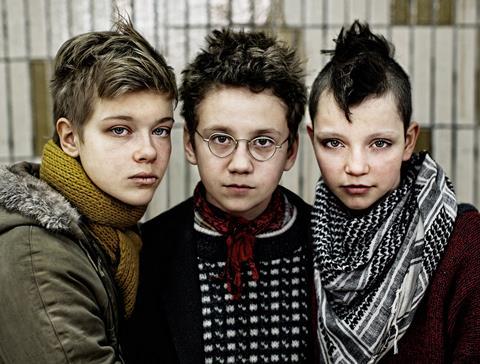 A bright, breezy and thoroughly enjoyable story of three teenage punkettes who strain and struggle to life, love and music in Stockholm in the early 1980s, Lukas Moodysson's We Are The Best! Is a real feel-good delight and should have distributors and festivals clamouring to sign it up.
The sweet and moving thing about the film is that it lacks a simplistic cynical edge.
Lack of star names and that it lacks the visceral sense of drama that had defined Moodysson's more recent films may hamper its ability to break into the more clearly defined art house screens, but these three young women are delightfully drawn characters, and real sense of love and affection permeates the film.
Based on the semi-autobiographical graphic novel Never Goodnight (Aldrig gadnatt) by his wife Coco Moodysson, the film is familiar territory (young teens, deemed outsiders at school and at home, coming to terms with what they want from life) – and could so easily be re-made in the US – but handled with a great sense of warmth and will remind Moodysson fans of his earlier films such as Together and Show Me Love.
The sweet and moving thing about the film is that it lacks a simplistic cynical edge, and focuses on three teenage girls helping and supporting each other, and while perhaps aimed more at a younger audience than the usual art house brigade there is a whole lot of fun to had from this punk threesome.
The early part of the film details the deep and warm friendship between Bobo (Mira Barkhammar) – shot boyish hair and glasses – and the ever-smiling Klara (Mira Grosin) – who sports a baby Mohican haircut – who chat constantly about how their parents embarrass them, issues at school (especially gym class) and music.
They manage to snag some time in the youth club music room (much to the annoyance of wannabe heavy metal band Iron Fist), with the more vocal Klara snagging the bass guitar and saying she is the singer, and Bobo on the drums.
Neither can actually play an instrument – but they are enthusiastic – and so they recruit classmate Hedvig (Liv LeMoyne), a trained guitarist whose strict Christian upbringing also makes her something of an outcast at school. The girls – all in the 13/14 range – bond delightfully (with a special moment when Klara and Bobo cut Hedvig's long blonde hair and have to deal with the repercussions from her mother she threatens to report them to the police, much to the amusement of Klara's father) and start to develop as freewheeling punk musicians.
There is a moment of tension between the girls when Bobo and Klara fall innocently in love with the same boy (who is also in a punk band), but luckily the sensible Hedvig is there to make them see the light and realise that friendship and not boys is the key thing.
The three young actresses are all excellent, though the relationship between Bobo and Klara is the heart of this charming film. The 1980s are wonderfully brought to life, mainly through astute costume (Stockholm is covered with snow for most of the film) and production design. Liv LeMoyne is also striking as the most mature of the girls, and also sings and plays the guitar beautifully, while amongst the adults Anna Rydgren as Bobo's mother is a terrific.
Production companies: Memfis Fillm, Film i Vast, Sveriges Television (SVT), Zentropa Entertainments 5
International sales: TrustNordisk, www.trustnordisk.com
Producer: Lars Jonsson
Co-producers: Jessica Ask, Marie Gade, Christian Wikander
Cinematography: Ulf Brantas
Editor: Michal Leszcztlowski
Main cast: Mira Barkhammar, Mira Grosin, Liv LeMoyne, Johan Liljemark, Mattias Wiberg, Jonathan Salomonsson, Alvin Strollo, Anna Rydgren, Peter Eriksson, Charlie Falk