Dir: Cameron Crowe. US. 2011. 124mins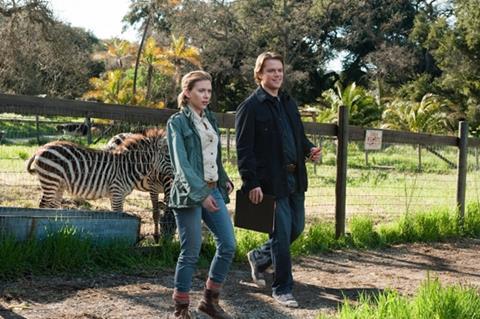 Cameron Crowe tries on something of a forcedly whimsical tone in We Bought a Zoo, a well-meaning and sentimental but lumbering family drama that never quite connects. Existing in a kind of wan emotional middle-ground, only occasionally punctuated and illuminated by Matt Damon's winning lead turn, the film is a search for familial rejuvenation and self-renewal in only the vaguest terms possible.
Damon gives the movie a sympathetic, anchoring presence.
We Bought a Zoo tracks closely in its massaged feeling to Marley & Me, which distributor Fox had great success with in the same holiday frame in 2008, pushing to $240 million worldwide gross. Family audiences that embrace gentle uplift will be key to Fox's marketing efforts as it makes a play for some of the same demographic dollars as War Horse.
Based on a memoir by Benjamin Mee, Zoo shifts its setting from the British countryside to Southern California, and opens with adventure journalist Benjamin's wife already having passed away. Feeling like he needs a big change in setting, Benjamin (Damon) quits his newspaper job and packs up his kids, precocious seven-year-old Rosie (Maggie Elizabeth Jones) and teenage son Dylan (Colin Ford).
Against the advice of his wryly sensible accountant brother Duncan (Thomas Haden Church), Benjamin purchases an 18-acre, small town estate that serves as a home for several dozen varieties of exotic animals, and, despite no experience, sets about the necessary renovations that will enable him to reopen it as a zoo.
With the visit of a notoriously detail-oriented inspector (John Michael Higgins) looming on the horizon before they can debut in mid-summer, Benjamin leans on the hearty assistance of a devoted staff headed up by his young, main zookeeper, Kelly Foster (Scarlett Johansson). Sullen Dylan, meanwhile, finds himself the focus of attention of Kelly's cousin, Lily (Elle Fanning).
Absent his collaborations with Tom Cruise, Crowe has never been a filmmaker in lockstep with mainstream tastes; his next-highest-grossing movie, the critically praised but criminally mishandled Almost Famous, grossed a mere $32 million domestically. We Bought a Zoo, though, feels shot through with reactive appeasement.
While character-driven, tonally commingled qualities have always been a hallmark of Crowe's big screen efforts, this film exudes the feeling of an artist reaching more than halfway to make contact with an audience that market-parsers have told him should be in his wheelhouse.
There's an empathetic heart to the overlong movie, and bits of poignant melancholy perhaps related to the dissolution of Crowe's own marriage to Nancy Wilson fitfully poke through, but none of it's connective emotional tissue feels quite strong and substantial enough.
Rosie, while ably portrayed by the button-cute Jones, adopts the pose of no real seven-year-old, embracing change wholeheartedly and lending insight into her older brother's unhappiness. She's a fantasy concoction, an even more singularly precocious version of Jonathan Lipnicki's character from Jerry Maguire, and used here almost solely as a device.
Dylan's bereavement (and Benjamin's apprehension of and relationship with it) is never as convincingly handled as in something like The Boys Are Back, a thematically similar widower's tale starring Clive Owen. Other story strands, like Dylan and Lily's flirtation or an antagonistic backstory between a staff member and the inspector, simply eat up running time. While an aging, ailing tiger takes metaphorical center stage, many other animals underutilised, which undercuts the film's freshness of setting.
Engaged throughout, Damon gives the movie a sympathetic, anchoring presence. And Church's turn as Benjamin's increasingly befuddled but still helpful brother give Zoo an intermittent blast of amusement. Further muddying intent, however, are a number of distractingly manic or otherwise pitched supporting performances — a school principal, a lusty single mom, a realtor, and Higgins' inspector — that seem tipped toward a sitcom realisation of the same conceit.
Technical credits are solid but pitched at middle-of-the-road embrace, inclusive of several awkward editorial cutaways. The film's music is characterised by adventurous and distinctive song choices, owing to Crowe's background as a rock journalist, though the score, by Jónsi of the band Sigur Ros, is an at times odd and overly sugary match with this material.
Production companies: Dune Entertainment, LBI Entertainment, Vinyl Films
Domestic distribution: 20th Century Fox
Producers: Julie Yorn, Cameron Crowe, Rick Yorn
Executive producer: Ilona Herzberg
Co-producers: Paul Deason, Aldric La'Auli Porter, Marc Gordon
Screenplay: Aline Brosh McKenna and Cameron Crowe, based on the book by Benjamin Mee
Cinematography: Rodrigo Prieto
Editor: Mark Livolsi
Production designer: Clay Griffith
Music: Jónsi
Website: www.WeBoughtAZoo.com
Main cast: Matt Damon, Scarlett Johansson, Thomas Haden Church, Patrick Fugit, Colin Ford, Elle Fanning, Maggie Elizabeth Jones, John Michael Higgins, Angus MacFadyen, Peter Riegert, JB Smoove, Stephanie Szostak