Dir: Andy De Emmony. UK. 2010. 102mins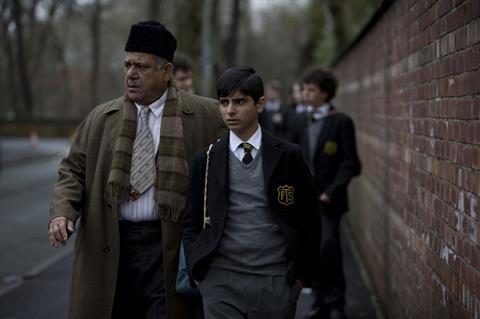 More than ten years have passed since East Is East and there seems no obvious clamouring for a further chapter in the lives of conflicted Anglo-Pakistani family the Khans. The initial signs in West Is West are not promising as it appears we can expect a redundant rehash of the original reliant on easy laughs and lazy conflicts. Matters improve considerably once the story moves to Pakistan as the film finds its own character and settles into a sentimental exploration of cultural roots, identity and family ties.
The ultimate result is a very likable and valid sequel that casts its own spell. East Is East earned £10 million at the UK box-office and $4 million on its American theatrical release. It is hard to imagine West Is West reaching the same heights but there should be enough residual affection for the original and support for the sequel to provide a modest theatrical success. Icon has scheduled the film to open in the UK in February 2011.
East Is East won the Alexander Korda BAFTA Award for Best British Film in 2000 and West Is West reunites several of the key talents involved including writer Ayub Khan-Din. It begins in the Salford of 1976 with the reliable Om Puri reprising his role of Pakistani paterfamilias George. George seems a more genial figure but one still determined to control the lives of his extended family. English-born youngest son Sajid (Aqid Khan) is a gratingly stroppy teenager who is an outsider in his own city. He may feel British but suffers from racist abuse at school.
A spell of truancy and shoplifting prompt his father to take drastic action and introduce Sajid to his heritage with a visit to Pakistan. It is a testing time for both of them with George obliged to confront the daughters and wife he has neglected for thirty years to pursue his new life as a British chip-shop owner married to the loyal Ella (Linda Bassett).
The humour in West Is West is often broad and obvious, reliant on farcical misunderstandings and scatological references. When the story reaches Pakistan it threatens to become Carry On Abroad as Sajid cannot even speak Punjabi, has trouble with the local sanitation and marvels at the sight of real live camels sauntering down a country street.
The film becomes more engaging as it concentrates on emotional matters with Sajid making friends, finding a teacher and surrogate father and playing matchmaker to his brother Maneer (Emil Marwa) who has developed an unhealthy fascination with Nana Mouskouri and an inability to find himself a wife. Best of all is when the focus finally falls on George, what he sacrificed in leaving Pakistan and what he has built for himself in England.
He is a man torn between two cultures and two lives who must confront the choices he has made and what this means for Ella, played with typical warmth and conviction by Linda Bassett. Her absence from a large part of the film is sorely felt and her surprise arrival in Pakistan is the shot in the arm that the film needs. Ila Arun also proves to be a significant presence as the first Mrs Khan, playing with a sensitivity that brings out all the poignancy of her character's unhappy life.
Television veteran Andy De Emmony succeeds Damien O'Donnell as the director and his feature film debut is colourful, generally well paced and intent on being a crowd-pleaser filled with laughter, tears and an uplifting resolution. It may not have the freshness or impact of East is East but West Is West is still a big-hearted slice of populist entertainment.
Production company: Assassin Films Ltd
International sales: Icon Entertainment International, www.iconmovies.net
Producer: Leslee Udwin
Executive producers: Jane Wright, Shaana Levy, Kim Romer
Screenplay: Ayub Khan-Din
Cinematography: Peter Robertson
Production design: Aradhana Seth, Tom Conroy
Editors: Jon Gregory, Stephen O'Connell
Music: Shankhar Ehsaan
Main cast: Om Puri, Aqib Khan, Linda Bassett, Ila Arun, Jimi Mistry