Dir/scr: Corneliu Porumboiu. Romania-France. 2013. 89mins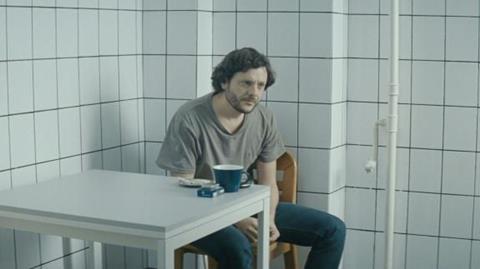 Having put his followers through a long series of caustically minimalist experiences in his two first films (12:08 East Of Bucharest andPolice Adjective) Corneliu Porumboiu has obviously decided that for his third outing he will go the 'Full Monty' and resort only to the barest basics.
On a larger scale, one could also read into Porumboiu's film an outspoken comment on the hypocritical everyday relationship between men and women.
Keeping almost every significant occurrence under the surface and offering at first sight a placid portrait of a rather predictable slice of life which Porumboiu is evidently very familiar with, he expects the audiences to work as much as he does and colour the vast empty spaces he leaves for them on the screen, with motives and emotions that should be obvious, once they are ready to invest themselves in the exercise. This may be a risky path to venture on, though festivals, relying on Porumboiu's past record, will likely find the right spot to schedule it.
Whether it is a real life story - as some gossips would like to imply - or a commonplace event that is often taken for granted, the plot of When Evening Falls On Bucharest Or Metabolism (Cand se lasa seara peste Bucuresti sau Metabolism), which is spread over a period of two days, recounts the brief, loveless, affair between Paul (Bogdan Dumitrache, the moody "child" in Berlin's Golden Bear winner The Child's Pose), a filmmaker at work on his latest opus and an eager young actress, Alina (Diana Avramut), who plays a small part in his film and is very keen on making the right impression.
Shot in bland, nondescript surroundings, whether in a car, a flat, a restaurant, a street corner or a hotel lobby, engaging in long pseudo-philosophical conversations which should fill up the void separating two persons who have very little in common beyond the ritual of passionless sex, this disillusioned image of behind-the-scenes movie action makes no concessions with either one of its two protagonists or with the entire process of filmmaking as a whole.
To wit, the over-meticulous rehearsal of a scene which ultimately will be discarded suggests that it is not much more than an excuse for the director to take a day off the shoot (claiming he has an attack of gastritis) for a sexual interlude with the insecure debutante.
On a larger scale, one could also read into Porumboiu's film an outspoken comment on the hypocritical everyday relationship between men and women, hiding behind tissues of half-truths and outright lies that no one believes, but everyone tends to go along with, just to avoid the eventual unpleasantness of an argument.
Choosing only the most unspectacular angles and the least attractive sets; denying the audience the "peeping tom" satisfaction they expect to be served in these circumstances (sex takes place behind a closed door, though there is no problem with post coital nudity) and keeping the tone of the actors down, even in moments when they would have been entitled to raise their voices, Porumboiu asks the audience to follow the parallel lines of the action taking place on the screen and the motives dissimulated by the characters behind their blank countenance, the final effect being the kind of juxtaposition similar to musical counterpoint.
Calling such a film "experimental" would be ridiculous since the plot is simple, linear and easy to follow. But in all fairness, those who are prepared for the challenge should realise their own contribution is essential for the film to work.
Production companies: 42 Km Films, Les Films du Worso
International sales: Wild Bunch, www.wildbunch.biz
Producers: Marcela Ursu, Sylvie Pialat
Cinematography: Tudor Mircea
Editor: Dana Bunescu
Production designer: Mihaela Poenaru
Main cast: Bogdan Dumitrache, Diana Avramut, Mihaela Sirbu, Alexandru Papadopol