Dir: Thomas Carter. US. 2014. 115mins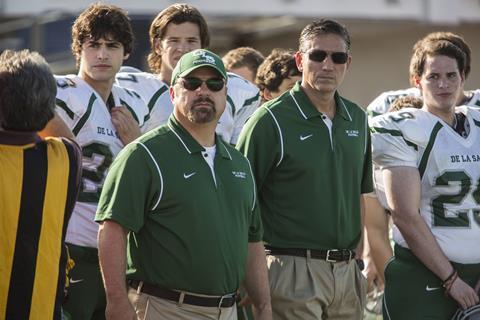 A true-life sports story told with a square-jawed sincerity that's just slightly more polished and engaging than not, When the Game Stands Tall achieves a functional dramatic hold in its peddled veneration of family, humility, devotion and other working-class values. If its occasional instincts for sunlit speechifying and foregrounded religiosity will strike some viewers as too emotionally manipulative, the general craft and overall care of its telling effectively attenuate this in long stretches.
Caviezel affects a sort of less-is-more, zen-oriented disposition that seems true to Ladouceur's genuine personality, but at times also comes across as posed martyrdom.
Over the course of the last 15 to 20 years in particular, American professional football has become far and away the most popular sport in the United States, and that passion and interest has trickled down to the sport's amateur ranks, in life and on screen. In addition to fellow pigskin-oriented flicks like Friday Night Lights, Remember the Titans, Gridiron Gang, The Express, We Are Marshall and The Blind Side, When the Game Stands Tall taps into a rich, recent, broader tradition of based-on-true-story sports films. While international appeal is very limited, distributor Sony has every reason to believe in a solid if not spectacular eight-figure opening, with most of the movie's returns coming from strong ancillary business, especially amongst faith-based family audiences.
Set in 2003 and 2004, the film centers on an extraordinarily successful California high school team, De La Salle. After a 151-game winning streak and 12 straight conference championships, however, the squad struggles with adversity. Their beloved head coach, Bob Ladouceur (Jim Caviezel), suffers a heart attack that temporarily sidelines him and — gasp — they finally lose. When he returns, Ladouceur frets that his current group of seniors, which includes his son Danny (Matthew Daddario) and hotshot receiver Tayshon (Jessie T. Usher), has become overwhelmed by and unduly focused on "The Streak" and winning itself, and divorced from the principles of hard work and shared accountability that serve as its underpinning.
On the surface, the story of When the Game Stands Tall seems somewhat ridiculous, contorting itself to make emotional underdogs out of 12-time champions. But while it is a sports film, the movie also endeavors to tap into the grander ideals that Ladouceur preaches, about adolescent growth and instilling responsibility. As such, in its best moments, the movie connects to what it is about team sports that bind us, and what that can teach us.
Thomas Carter, a former actor turned episodic television and occasional film director, has experience with the genre, having previously helmed the Samuel L. Jackson-starring Coach Carter, about a high school basketball coach who benched players on his undefeated team due to poor academic performance. When the Game Stands Tall adopts the same basic moralizing tone, exalting the virtues of accountability. Among the smart decisions Carter makes, though, is a fairly forthright depiction of the movie's game-action sequences. While hard-hitting, they don't bask in overdone, glorifying slow-motion.
The film's dramatic hold sags a great deal after De La Salle starts to right their season in the third game of the year, against fellow vaunted national powerhouse Cal Poly. To his credit, screenwriter Scott Marshall Smith realizes that there isn't much innate excitement and empathetic identification in seeing a team work its way toward their 13th consecutive title, but some of the dramatic surrogates he and Carter choose to drag to the front burner—including a father (Clancy Brown) browbeating his son (Alexander Ludwig) over breaking a state touchdown record—are awkward at best, and cringe-inducing at their worst.
It's also somewhat problematic that more teen tears are shed over a gridiron loss than a dead teammate (Stephan James). The film tries to mitigate this by way of a pointed speech of perspective from an assistant coach (Michael Chiklis), but the movie's proportional focus somewhat belies his entreaty.
The film's musical dressing, overseen by Dave Jordan and Jojo Villanueva, is likewise a deeply mixed bag, fumbling away the chance to put any stamp of period legitimacy on proceedings. Montell Jordan's "This Is How We Do It," a 1995 song with enduring appeal, is used for one party sequence, but Awolnation's thumping "Sail," from 2010, is later given prominent billing in a game scene.
Similarly, composer John Paesano's score oscillates between treacly string-and-horn arrangements designed to pluck at heartstrings and an understated but effective percussive-oriented track during one of De La Salle's big games.
Caviezel affects a sort of less-is-more, zen-oriented disposition that seems true to Ladouceur's genuine personality, but at times also comes across as posed martyrdom. Chiklis is quite good in his supporting role, and the roster of young thespians also turn in for the most part good performances that avoid a lot of the problematic signposting so often found in teenage portrayals.
As Bob's loyal wife Bev, Laura Dern is called upon to lend weight to two-dimensional steadfastness. It doesn't always work; in one scene, she argues for both more family time and his consideration of a college job offer, despite the fact that Bob points out its recruiting commitments would require more time away from home.
The film's end credits, meanwhile, showcase home video footage of the real-life Ladouceur, indicating that some of the film's inspirational speeches were lifted verbatim from actual events.
Production companies: TriStar Pictures, Affirm Films, Mandalay Sports Media
Domestic distribution: Sony Studios
Producer: David Zelon
Executive producers: Cathy Schulman, David Tice, Thomas Carter
Co-producers: Neil Hayes, Adam Stone
Associate producer: Nathon S. Lewis
Screenplay: Scott Marshall Smith, based on a story by Scott Marshall Smith and David Zelon, and the book by Neil Hayes
Cinematography: Michael Lohmann
Production designer: Jaymes Hinkle
Editor: Scott Richter
Music: John Paesano
Website: http://www.WhenTheGameStandsTall.com/
Main cast: Jim Caviezel, Michael Chiklis, Alexander Ludwig, Clancy Brown, Matthew Daddario, Joe Massingill, Jessie T. Usher, Laura Dern, Richard Kohnke, Ser'Darius Blain, Stephan James