Heavyweight international financiers will be in London this week to discover the best UK and European projects in search of investment at this year's Production Finance Market (Oct 21-22). Geoffrey Macnab looks at what's on offer.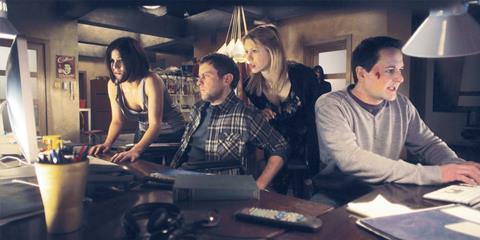 The Film London Production Finance Market (PFM), now in its third year, brings international financiers and UK and European producers face to face.
Projects collectively worth $569m (£388.7m) are being presented over the two-day event, which takes place during The Times BFI London Film Festival. This is down from the $1.1bn-worth of projects in 2008, but the average ­production budget has increased to $10.7m from $7.8m.
The PFM has a sharp, commercial focus: if a project is budgeted at less than $3m (£2m), it is very unlikely to be accepted, unless it is outstanding for other reasons. As PFM project manager Angus Finney, former chief executive of UK sales and finance house Renaissance, puts it: "This is the hard end of the business."
At a time when the UK has the talent but not always the money to underwrite projects, the PFM's aim is to offer its producers access to substantial production funding. "It gives both British and European producers the chance to meet and engage with the studios and the leading mini-majors," says Finney.
"This is the hard end of the business."

Angus Finney, PFM
The new UK projects at the event include AV Pictures' Gladiators V Werewolves, produced by Lee Brazier and to be directed by Rob Green; Martha Fiennes' Blown, a spy thriller with Samuel L Jackson and Guy Pearce attached to star and Intandem selling; and Sarah Curtis' new production of Ophelia.
It is a moot point whether studios' ­specialty divisions are looking to pick up talent on an ongoing basis. Nonetheless, their increasing interest in local-language production is one reason more Europeans than ever before are attending the PFM. About one third of the projects this year come from mainland Europe.
European producers who want to make larger-budget movies and need to engage with the more commercial end of the market now see the PFM as an opportunity. Helped by the $80,000 (£50,000) it received from the European Union's Media programme, the market has been actively courting European attendees.
Spanish film-maker Bigas Luna will be represented at the market with a $13.3m (£9m) sci-fi/adventure project, Second Origins, which is being produced by Oscar Rodriguez of Madrid-based Antartida Producciones. Italian producer Maurizio Totti of Colorado Film Production will be presenting the $8.9m (£6m) thriller Moths, to be directed by Stefano Bessoni, and experienced Danish producer Kim Magnusson will be at the market with Mikael Salomon's $22.1m (£15m) Brighter Than The Sun. Magnusson is also expected to announce further details of his new Copenhagen-based production company Dansk Film Kompani.
Other highlights include the comedy Satisfaction, produced by Roman Paul of Berlin-based Razor Film, which co-produced Waltz With Bashir. Miranda July is set to direct.
Europa, Europa
This year's choice of keynote speaker — Pierre-Ange Le Pogam, co-founder with Luc Besson of the ever-expanding EuropaCorp empire — underlines the PFM's European credentials.
EuropaCorp is a Paris-based company with a huge reach: alongside its production and international distribution, it has been branching into merchandising and computer games. It is also one of the few companies to make big films without the heft of a US studio behind it, although it does work closely with 20th Century Fox.
International financiers who attended earlier editions of the PFM suggest the market was formerly very "UK-­oriented". "It was hard for Scandinavian money to come in on a UK project," recalls Magnusson, who attended previous markets on behalf of Nordisk.
Alongside those with projects to hawk to the financiers, there will be producers attending who will be looking for off-balance-sheet financing and corporate investment. UK companies attending in a 'presenting' capacity include Barnaby Thompson's Ealing Studios, Christian Colson's Cloud Nine Films, Kevin Loader's Free Range Films, Norma Heyman's NFH Films, David Thompson's Origin Pictures and Stephen Woolley and Elizabeth Karlsen's Number 9 Films.
"Some of the key players in the market have continued to support and tap the PFM."

Angus Finney
Those presenting projects are expected to have cornerstone financing in place as well as a completed script, a director and (wherever possible) cast attached, and a budget that makes sense.
Among returning financiers are Standard Chartered, Aramid, Ingenious, Prescience, Backup Films, CinemaNX, New York-based finance company CIT, Coutts (one of the few UK banks still active in film), Dynamo Capital from South America, Lionsgate, Optimum Releasing, Summit Entertainment, Filmax, Focus Features, Pathé Pictures, UGC PH and Rai Cinema. Expected in town for the first time are Wild Bunch and London-based West End Films. Edinburgh and London-based private-equity investor Dunedin Capital Partners is also a first-time visitor.
"Some of the key players in the market have continued to support and tap the PFM. Some players we've found it harder to reach are coming for the first time or coming back after maybe dropping away for a year. That's in addition to the studios who attend with their acquisition hat on and track projects,"
says Finney.
As yet, the PFM does not have its headline-grabbing success story. However, many films have been kick-started by the market. Sigma Films was able to arrange a tax investment for Rounding Up Donkeys, its sequel to Red Road.
"The market definitely gave us something that made our film stand apart from being just another lowish-budget project."

Janice De La Mare, Revolt Films
Revolt Films' Janice De La Mare, who presented Brad Watson's low-budget supernatural thriller Beacon 77 at the 2007 PFM, testifies to the boost the market gave the film. De La Mare received firm offers from potential financiers. Although the original financing plan eventually fell away, Revolt Films was able to complete the movie.
"The PFM was very beneficial to us," De La Mare says. "It's a great place to network with people. The market definitely gave us something that made our film stand apart from being just another lowish-budget project." Last year's PFM focused on slates of projects aimed at the international market. This year, the emphasis returns primarily to single projects.
"We found last year that the strategy of trying to attract producers with slates of films slightly backfired. Most [UK] producers are not in the position to finance and package more than one film at a time," explains Finney. "The truth is that when people talk about slates, they're really talking about development slates. Often, that is too premature for the financiers that the PFM tries to target. They don't want to hear about projects that are not packaged, that do not have key elements attached."