Dir: Sebastian Junger. US. 2013. 79mins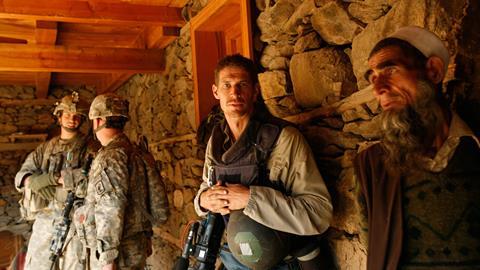 A sturdy, affectionate appreciation of Tim Hetherington's work and life, Which Way Is The Front Line From Here? is a fine primer on the acclaimed British war photographer who was killed in Libya by mortar fire in 2011. Directed by author/reporter Sebastian Junger, who collaborated with Hetherington on the 2010 Oscar-nominated documentary Restrepo, Which Way may not be an incisive look at the mentality of the combat journalist, but it's contemplative and affecting in a way that a mere highlight reel of Hetherington's career wouldn't be.
Junger is nicely restrained, never overselling the emotional wallop that's to come.
Premiering at Sundance and playing at True/False, this documentary will air on HBO in April, its smart collection of thoughtful talking-head interviews and sharp images from Hetherington's work instructive and engaging. No doubt Hetherington's connection to Restrepo — not to mention his recent death at the age of 40 — will draw interest from those wanting to learn more about the man.
Which Way serves as a fond memoriam for a photojournalist credited for his humane, striking shots taken in war-torn lands such as Liberia. The documentary traces Hetherington's background but also seeks to explain what made his work so unique. Junger, who clearly feels close to the material because of his connection to Hetherington, has compiled interviews from Hetherington's parents, girlfriend and colleagues to offer an overview of this charming, handsome man who was able to insinuate himself in dangerous, foreign war zones. (As Hetherington himself admits in an archived interview, he was often the only tall white man in the areas where he took photographs.) Hetherington remains somewhat mysterious despite Junger's best efforts, but this seems fitting for someone who amazed even his fellow wartime journalists with his unpredictability and nerve.
The film isn't particularly illuminating in understanding precisely why people like Hetherington and Junger are drawn to such a life-threatening profession, falling back on familiar explanations such as an addiction to the job's adrenaline rush and the belief in the importance of their work. But Which Way is far better at getting inside Hetherington's creative philosophy, showing in some detail how his specific approach produced such superb photographs. (The film includes several of his stills, and each impresses in the way it reveals small but telling moments of relatable human behaviour amidst the carnage and terror.) The viewer comes to recognize that Hetherington's great subject wasn't war itself but, more specifically, how war reflects and perverts ideas of masculinity.
As the movie builds to Hetherington's death in Libya, Junger is nicely restrained, never overselling the emotional wallop that's to come. In this way, the filmmaker honours his colleague's approach, realizing that the simple truth is far more meaningful than grandiose statements. Clocking in at less than 80 minutes, Which Way is hardly a definitive last word on Hetherington, but Junger isn't aspiring to such heights. Rather, this feels like Junger's chance to express his admiration for a man whose occupation he shared — and for a friend he very much misses.
Production companies: HBO Documentary Films, Goldcrest Films
Producers: Nick Quested, James Brabazon
Executive producer: Sheila Nevins
Cinematography: James Brabazon, Tim Hetherington, Sebastian Junger
Editors: Geeta Gandbhir, Maya Mumma
Music: Joel Goodman
Website: http://www.hbo.com/documentaries/which-way-is-the-frontline-from-here-the-life-and-times-of-tim-heatherington/index.html