Dir/scr: Noah Baumbach. US. 2014. 94mins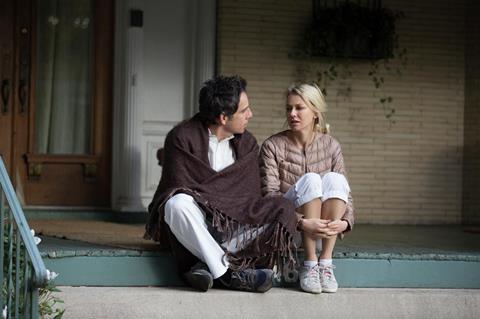 Youth is more intoxicating and dangerously alluring the second time around in While We're Young, a cautionary comedy that touches upon the regrets and anxieties that come with growing older. Writer/director Noah Baumbach's first film since Frances Ha (2012) mines some sharp culture clash capers from an unexpected meeting of the generations but the breezy tone of the early stages deepens into something more profound by the film's conclusion. The subject matter of middle-age melancholy should resonate with sophisticated, upscale crowds and the appealing cast will also help to position While We're Young as one of Baumbach's most accessible and commercial films to date.
Generally, this is a mellow, well-observed study of a loving couple and what it takes to make them count their blessings and embrace the future.
Baumbach may start with a quote from Ibsen's The Master Builder on the perils of letting a younger generation into your life, but you have to assume there are strong autobiographical elements in a story that revolves around a 44 year-old filmmaker. Josh (Ben Stiller) has reached the age when his eyesight is failing, his memory is unreliable and he probably has less years ahead of him than he has behind him. He has a comfortable, contented life with his wife Cornelia (Naomi Watts) but has ground to a halt on the documentary project that has occupied him for the past eight years.
Everything changes when Josh is approached by aspiring filmmaker Jamie (Adam Driver) and his wife Darby (Amanda Seyfried). Josh is flattered by the attention and attracted to the energy and passion of this much younger, free-spirited bohemian duo. They are soon the best of friends and Baumbach finds some surprisingly broad comedy in what unites and separates the two couples. Jamie and Darby love vinyl, use typewriters, watch VHS tapes and have very eclectic tastes in music. " Their apartment is full of everything that we threw out, " observes Cornelia.
Having assumed that his life was all about managing decline, Josh is completely reinvigorated by this new friendship. It feels like a second chance to relive his youth. Cornelia is a good sport about everything, even joining Darby at her energetic hip-hop exercise class. Naomi Watts has a real talent for physical comedy that shines through in this performance.
Inevitably, nothing is quite as it seems and both Josh and Cornelia are forced to confront who they really are, what matters most to them in life and whether it is too late for them to have a family.
While We're Young is often very funny although occasionally there is a sense that some of the material would not have seemed out of place in a Swinging Sixties generation gap comedy, especially a group session with a shaman that involves consuming hallucinogenic drugs and the vomiting of demons.
Generally, this is a mellow, well-observed study of a loving couple and what it takes to make them count their blessings and embrace the future. Baumbach is well-served by his cast. There is a welcome appearance from Charles Grodin as Cornelia's father Leslie, an old-school documentarian. Adam Driver gives a wickedly accurate performance as a conceited, conniving chancer. Naomi Watts brings warmth to her character and Ben Stiller underplays his character's neuroses and frustrations. It is one of his most appealing performances in recent years and should ensure that While We're Young is a more commercial proposition than Stiller's previous collaboration with Baumbach on Greenberg.
Production company: IACF
International sales: FilmNation Entertainment info@filmnation.com
Producers: Scott Rudin, Noah Baumbach, Lila Yacoub, Eli Bush
Cinematography: Sam Levy
Editor: Jennifer Lame
Production designer: Adam Stockhausen
Music: James Murphy
Main cast: Ben Stiller, Naomi Watts, Adam Driver, Amanda Seyfried, Charles Grodin