Dir/scr: Damien Chazelle. US. 2013. 105mins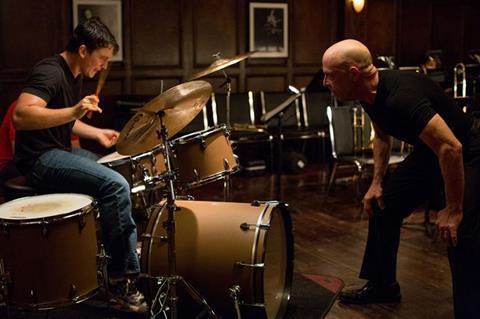 A battle of wills provides the compelling backbeat to Whiplash, an intense drama anchored by superb performances from Miles Teller and J.K. Simmons. This Sundance winner, which screens as part of Directors' Fortnight at Cannes, gets to the heart of artistic ambition, pitting a driven drumming student against his uncompromising, verbally abusive teacher.
Teller shows in Whiplash a rare ability to play a nuanced teenager who's troubled, complicated, awkward and charming.
Sony Pictures Classics picked up Whiplash during Sundance, where it took home the Grand Jury Prize in the festival's US Dramatic competition. (It also won the audience award for that section.) No US release date has been announced yet, but the film should be a solid performer on the art-house circuit, bolstered by strong reviews and possible award-season buzz.
In New York City, single-minded teen Andrew (Teller) attends a competitive music conservatory, where his focused, accomplished drumming attracts the attention of Terence Fletcher (Simmons), the school's most brilliant (but also most brutal) jazz instructor. Fletcher is impressed with the young man and invites him to be part of the conservatory's prestigious band. But that honour proves to be a double-edged sword since the teacher intends to push his prized pupil to the breaking point in order to see if he has the mental and physical toughness to be a top-notch musician.
Written and directed by Damien Chazelle (Guy And Madeline On A Park Bench), Whiplash is based on his 2013 short film that won a prize at last year's Sundance. Chazelle emulates the blinkered worldview of his feuding characters, giving us an environment in which artistic excellence is the only criterion. (Tellingly, a possible love interest for Andrew falls away because the teen ultimately views her as a distraction from the career he desperately desires.)
The confrontations between Fletcher and Andrew have the bruising quality of a drill sergeant lambasting one of his recruits. Fletcher wants tears, blood and perfection from Andrew — in part because he knows the kid is that dedicated to mastering the drums. Consequently, while the viewer may be shocked or dismayed by the vicious name-calling and swearing Fletcher heaps upon Andrew, Whiplash argues that the student (like so many ambitious young artists before him) will endure it in the name of greatness. Troubling as the abuse may be, Chazelle asks if it's simply the price one must pay to become the best.
Both leads rise to the challenge of their characters' masochistic struggle. As in The Spectacular Now, Teller shows in Whiplash a rare ability to play a nuanced teenager who's troubled, complicated, awkward and charming. Despite Andrew's ferocious urge to escape the mediocrity he sees in his family, Teller provides the drummer with just enough empathy so that we sense the humanity he's risking by so doggedly chasing his dreams. As for Simmons, who also played Fletcher in the original short, he wields his muscular physique, no-nonsense expression and shaved head to become a universal symbol of domineering father-figure intimidation. Always ready to explode, Fletcher is a frightening bully, but Simmons' cool intelligence also makes him an intriguing, multifaceted figure, hinting at the soulfulness and passion that power such relentless drive.
Production companies: Bold Films, Blumhouse Productions, Right Of Way Films
International sales: Sierra/Affinity, www.sierra-affinity.com
Producers: Jason Blum, Helen Estabrook, Michel Litvak, David Lancaster
Executive producers: Jason Reitman, Gary Michael Walters, Couper Samuelson, Jeanette Brill
Cinematography: Sharone Meir
Editor: Tom Cross
Production designer: Melanie Paizis-Jones
Music: Justin Hurwitz
Main cast: Miles Teller, J.K. Simmons, Melissa Benoist, Paul Reiser, Austin Stowell, Jayson Blair