Dir: Grzegorz Muskala. Germany. 2013. 89mins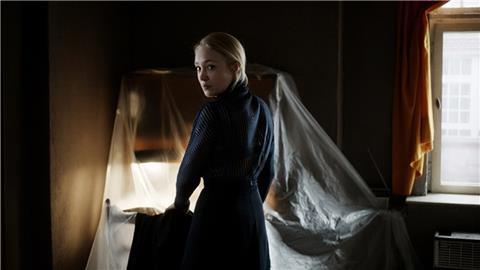 An ambitious and impressively atmospheric psychological thriller, Grzegorz Muskala's striking Whispers Behind The Wall (Die Frau hinter der Wand) is a rich and eerie film that revels in its creepy chills, lush sexuality and unsettling drama. Though clearly low budget it belies its origins thanks to astute design and direction and a very clear sense of what sort of film it wants to be.
Brimming with atmosphere and a creepy sense of dread, Whispers Behind The Wall is a smart and enjoyable dark thriller.
The film's moody and vaguely sleazy apartment location and references to dark sexuality bring to mind Roman Polanski (and even David Lynch, given its use of strong red colours and deep dark hallways), though on a somewhat more modest a scale. But certainly Grzegorz Muskala is a talent to watch out for, and this film – which was made originally as a graduation project and for German television – is worth being on the radar for genre-orientated distributors.
The film opens simply enough with student Martin (Vincent Redetzki) desperately searching for a Berlin apartment that he can afford. In an odd quirk, he is offered a flat by caretaker Horn (Ronald Nitschke) but only when he has posed for a photograph that Horn shows to the female landlord for approval. The flat is ramshackle and tatty, though he finds a strange red corridor behind a wall that once linked to his landlord's apartment.
Once Martin has moved in, he starts to find clues about the previous tenant Robert – who had vanished mysteriously - and Robert's relationship with the landlord Simone (Katharina Heyer). She turns out to be a seductive woman against whom the sexually naive student has no chance. Add to the pot a strange neighbour, Frau Schaffrat (Almut Zilcher), who mistakes Martin for Robert and the menacing behaviour of Sebastian (Florian Panzner), Simone's possessive sometime-boyfriend – who Frau Schaffrat called "the devil" - and you have a tense, dark psychological thriller that reeks of tension.
Martin gets more and more obsessed with his beautiful landlord, though also comes to realise that there may be more to her dark nature than the controlling sexuality that he comes to enjoy. He starts to suspect she may have deadly intentions, setting the scene for a nicely staged and well-sustained chilling climax.
Excellent lead performances from Vincent Redetzki and (especially) Katharina Heyer help give the film its energy, though it is the moody visuals and set design combined with Grzegorz Muskala's confident and very self-aware direction that make the film stand out. Brimming with atmosphere and a creepy sense of dread, Whispers Behind The Wall is a smart and enjoyable dark thriller.
Production: company One Two Films
International sales EastWest Filmdistribution, www.eastwest-distribution.com
Producers: Sol Bondy, Jamila Wenske, David Keitsch
Screenplay: Grzegorz Muskala, Robby Dannenberg
Cinematography: Phillip Kaminiak
Editor: Vincent Assmann
Production designer: Theresia Ficus
Music Conrad Oleak
Main cast Vincent Redetzki, Katharina Heyer, Florian Panzner, Ronald Nitschke, Almut Zilcher