Dir/scr: Gregg Araki. 2014. US. 91mins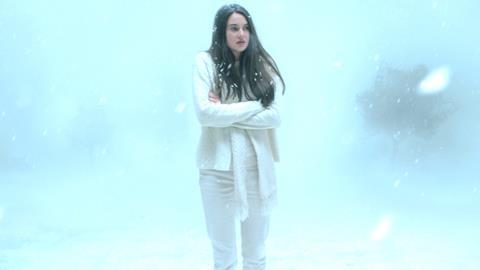 A sexual coming-of-age story, family melodrama and murder mystery rolled into one, Gregg Araki's latest is a strange hodgepodge. If it weren't for the strong screen presence and grounded emotional performance by Shailene Woodley, White Bird In A Blizzard could have been a disaster. But thanks to the rising young actress, the film is an intermittently intriguing and haunting affair.
For all of the film's surrealism, Woodley lends a powerful emotional reality to the proceedings.
US theatrical prospects are likely dim, but the film's sexy and lurid touches could give it a boost on VOD and other home viewing platforms. International audiences may be more forgiving of the film's tonal oddities.
Lacking the wacky, campy humour that has defined Araki's more entertaining outings (Kaboom, Smiley Face), White Bird In A Blizzard finds the director on more serious ground. Adapted from the novel by Laura Kasischke (whose Suspicious River made for another racy female-centered film), the story begins in 1988 with the mysterious disappearance of mother and wife Eve Connor (Green).
While husband Brock (Meloni) is completely distraught, stuck in a kind of perpetual state of shock, her teenage daughter Kat (Woodley) isn't particularly surprised by her mom's absence. Through flashbacks narrated by Kat, we learn that Eve was unsatisfied with her marriage and domestic life and had become increasingly unhinged, looking enviously upon her daughter's youth and lusting after her boyfriend-next-door.
As Kat tries to understand what happened to her mother, she is also coming-of-age sexually. The two, in fact, are intertwined—as she says at one point, "My virginity disappeared, just like my mother."
Araki fans may be pleased by the director's trademark pop visual design—bright greens make a strong appearance—and stylized 1980s settings and music (from Depeche Mode to The Cure). However, Eva Green's overly formalistic performance as the troubled mother borders on caricature. Part 1950s Stepford Housewife, part Bride of Frankenstein, she moves through the movie like a zombie, with black circles around her eyes and a husky grating voice. This choice undermines the movie's emotional stakes: Because Eve is more of a monster than a mother her absence isn't meaningful, and it's difficult to see why or how it ultimately affects Kat.
For all of the film's surrealism, Woodley lends a powerful emotional reality to the proceedings. In one scene, for example, Green's big-haired mummy enters Kat's bedroom, yanking off the sheets to reveal her daughter is sleeping naked. While Green plays the scene as if she's some kind of avenging ghoul, Woodley credibly breaks down in tears, expressing feelings of true hurt, violation and anger.
Unfortunately, Woodley's performance is not enough to save the picture. If Araki's dramatic triumph Mysterious Skin successfully balanced the filmmaker's penchant for flamboyance and sensationalism with a sense of real pain and heartache, White Bird In A Blizzard flitters away out of his control. It's a disquieting movie, for sure, which is Araki's intention, but it doesn't have the weight that the material demands. In the end, what should be a devastating revelatory twist comes across merely as a surprising afterthought.
Production Companies: Why Not Productions, Desperate Pictures, Orange Studio, Wild Bunch
International sales: Wild Bunch, www.wildbunch.biz
Producers: Pascal Caucheteux, Sebastien K. Lemercier, Alix Madigan-Yorkin, Pavlina Hatoupis, Gregg Araki
Cinematography: Sandra Valde-Hansen
Production designer: Todd Fjelsted
Music: Robin Guthrie, Harold Budd
Main cast: Shailene Woodley, Eva Green, Christopher Meloni, Shiloh Fernandez, Gabourey Sidibe, Thomas Jane