Dir: Nicolae Margineanu. Romania. 2014. 97mins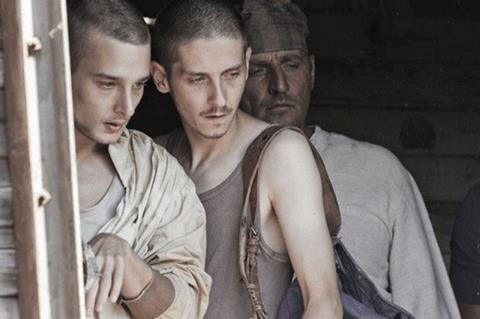 More than a decade after collecting a couple of awards in Montreal for Bless Thee Prison (2002), which explored the miseries of a woman jailed by the Communist regime in the early 1950s for being a member of the wrong political party, veteran Romanian director Nicolae Margineanu goes back to the same point in time, this time on an epic scale, to tackle the country's major national tragedy of the last century, the Danube Canal.
Margineanu's take of the Poarta Alba camp features all the classic elements to be expected in such stories.
Launched in 1949 as an essential project connecting the Danube to the Black Sea and due to save Romania's economy, the Danube Canal was in reality a huge, monstrous labour camp, Romania's own shameful version of Nazi concentration camps and Russian gulags. Often dubbed "The Death Canal", it turned out to be a corruption-rid penitentiary, with work there finally interrupted in 1953 (and did not start again for 20 years) and several of its leaders went to prison and three of them were even executed.
The resemblance between the Danube Canal episode and so many other barbarian inhumanities perpetrated all through the last century by men on other men, all over the globe, and so often represented on screen in various languages but in similar images, may turn out to be the main obstacle facing White Gate (Poarta Alba), once it screens out of its own home territory. Most audiences will be so familiar with such tales of woe from so many other sources that they will no longer be shocked or incensed by his conventional approach to what has sadly become typical conduct of most totalitarian regimes. The film premiered at the Trasilvania International Film Festival.
Two young students, Adrian (Bota) and Ninel (Bucur), are caught trying to cross the border illegally and sent to the Poarta Alba work camp on the Danube Canal. There, they are allocated into brigades led by hardened common criminals who mercilessly beat up any insubordination and are put under the supervision of soldiers instructed to open fire at the slightest sign of disobedience.
Under horrendous health conditions, overwork, malnutrition, torture, using shovels and pickaxes for work which requires heavy machinery, carrying heavy stones in wheelbarrows for lack any other means of transport, the inmates, students, doctors, poets, intellectuals or just practical jokers - like the one who called his two dogs "Hitler" and "Stalin" - were doomed to the same fate.
Following the same theme that turned the suffering of the Bless Thee Prison protagonist into a mystic experience, Margineanu once again has a distinct religious strain running all through his new film. It starts with images of a repainted church altar in Bucharest, were observers discovered in 2007 that Baby Jesus was wearing a striped shirt like prison inmates do, and ends on the exact same image, just after an angelic boy materialises out of nowhere, sleeping on a camp bench, all wrapped up in beatific light.
Margineanu's take of the Poarta Alba camp features all the classic elements to be expected in such stories, from the miserable barracks in which the inmates piled one upon the other, to the ferocious beatings they were administered at the slightest excuse. Here and there, a few glimpses of humanity break through, but the infernal parlor where prisoners met their relatives certainly deserves a mention of its own.
Over a multitude of intersecting plots, none of them truly developed or followed through, the aura of a monk (Nichifor) provides a sort of supernatural presence, not only because none of the guards would ever dare raise his hand on him even when he goes AWOL for a couple of days, but also for his calm, resigned, mystical conduct, suggesting that Faith is the only means of enduring it all and coming out in one piece at the other end.
For the record, the work on the Canal was restarted in 1973 and completed 14 years later. Though there are no exact statistics, its cost is estimated at over $2 billion, its life toll at anywhere between 10,000 to 200,000 and the annual income it produces now seems to be just a bit over $3 million. Not really the economic miracle it was supposed to be.
Production company: Ager Film
International Sales: Ager Film, office@agerfilm.ro
Producer: Nicolae Margineanu Jr.
Screenplay: Nicolae Margineanu, Oana Maria Cajal
Cinematography: Mihai Serbusca
Editor: Nita Chivulescu
Production designer: Nicodim Dumitru
Main cast: Cristian Bota, Sergiu Bucur, Bogdar Nechifor, Madalina Craiu, Maria Ploae, Ion Besoiu, Marius Turdeanu, Constantin Florescu