Dir: Roland Emmerich. US. 2013. 132mins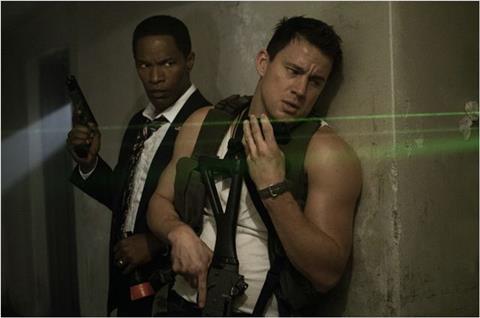 A return to the medium for master of disaster Roland Emmerich after 2011's period drama Anonymous, White House Down finds Channing Tatum and Jamie Foxx battling for their lives and the lives of their countrymen while bearing witness to the destruction of the seat of government and living quarters of the President of the United States. Falling more on the side of entertaining than good — there's a basic miscalculation to a movie that explicitly puts a gun to a child's head and also has the commander-in-chief peddling quips about his sneakers — Emmerich's well orchestrated pop fantasy is the type of exercise in audiovisual excess that heartily welcomes viewer reactions of "ridiculous" as complements, whether intended or not.
James Vanderbilt's screenplay, a huge spec sale last year, aches with the re-appropriated DNA of Die Hard but also tries to split the difference with Air Force One.
The film releases three months after the similarly plotted Olympus Has Fallen, which pulled in a total of $160 worldwide, but just failed to crack the $100 million mark Stateside. With hotter stars and a budget more than twice as large as its out-of-the-gate-first competition, however, the brawnier White House Down looks poised to repeat the trajectory of the Deep Impact/Armageddon summer showdown of 1998. High-nine-figure grosses and a burnishing of Emmerich's commercial luster in advance of planned Independence Day sequel seem certain.
The story finds police officer John Cale (Tatum) securing White House visitor passes for he and his daughter Emily (Joey King) on the same day of an interview for his dream job with the Secret Service, who protects President James Sawyer (Foxx), an ambitious first-term politician who has just unveiled a peace proposal that involves withdrawing all American troops from the Middle East. Cale doesn't get the position, but before he can leave, a heavily armed paramilitary group, led by Emil Stenz (Jason Clarke), seizes control of the White House.
While Secret Service agent Carol Finnerty (Maggie Gyllenhaal) tries to establish contact with her boss Martin Walker (James Woods), the head of the presidential security detail, Cale scrambles to try to get to his separated daughter and ends up saving the president in the process. As others outside — including Vice President Alvin Hammond (Michael Murphy) and Speaker of the House Eli Raphelson (Richard Jenkins) — weigh their options against a terrorist demand, Cale and Sawyer try to find an escape route.
James Vanderbilt's screenplay, a huge spec sale last year, aches with the re-appropriated DNA of Die Hard (the locked-down location, shenanigans with limousines, candy-eating henchmen, quips galore) but also tries to split the difference with Air Force One; no mere idling witness to Cale's heroics, Sawyer gets to lay waste to his share of bad guys. On a basic structural level, it works, as several additional twists are hidden within the siege-and-counterattack framework.
But the film stumbles with a couple ill-advised stabs at humour at misplaced moments (most notably involving a White House tour guide, played Nicolas Wright). Chiefly problematic on a tonal level, though, are a series of preposterous overplays of hand related to the country's nuclear weapons and, in the end, President Sawyer's peace plan.
This is part of the four-quadrant, lowest-common-denominator action disaster template that Emmerich has helped wreak: Movies that try to ratchet up the stakes so high that the significant holes in their pat payoffs come across as magnified, and inherently phony and risible. Ergo, viewers may as often as not find themselves laughing at parts of White House Down that are ostensibly meant to be taken seriously instead of those intended for comedic effect.
The movie's undeniable saving grace is its technical package and choreographed mayhem. Its action is tighter and more cleanly delineated than in the comparable White House destruction flick Olympus Has Fallen, benefitting from Emmerich's top notch visual effects team and Adam Wolfe's deft editing. Vanderbilt's script allows for some outdoor setpieces, which helps give the movie a corresponding scope.
Most of the supporting roles require dutiful advancement of plot and base-level emotional placeholders, but Channing and Foxx display ample charm and chemistry with one another. And as the precocious young Emily, King (Ramona And Beezus) notches another solid entry on her resume.
Production companies: Columbia Pictures, Mythology Entertainment, Centropolis Entertainment
Domestic distribution: Sony Pictures
Producers: Bradley Fischer, Harold Kloser, James Vanderbilt, Larry Franco, Laeta Kalogridis
Executive producers: Ute Emmerich, Channing Tatum, Reid Carolin
Co-producers: Volker Engel, Marc Weigert
Screenplay: James Vanderbilt
Cinematography: Anna J. Foerster
Editor: Adam Wolfe
Production designer: Kirk M. Petruccelli
Music: Thomas Wander, Harold Kloser
Special effects supervisors: Cameron Waldbauer, Louis Craig
Website: www.WhiteHouseDown.com
Main cast: Channing Tatum, Jamie Foxx, Maggie Gyllenhaal, Jason Clarke, James Woods, Richard Jenkins, Joey King, Jimmi Simpson, Nicolas Wright, Michael Murphy, Rachelle Lefevre, Lance Reddick, Matt Craven, Jake Weber, Peter Jacobson, Barbara Williams, Kevin Rankin, Garcelle Beauvais, Falk Hentschel