Dir: Oleg Novkovic. Serbia-Germany-Sweden. 2010. 121mins.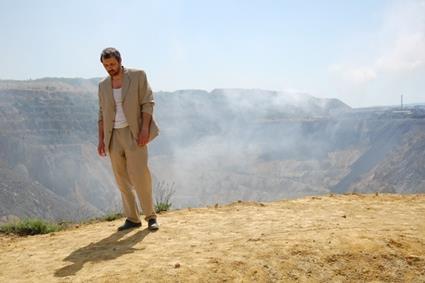 Oleg Novkovic's Locarno competition entry is a melancholy ballad to a dying city and a companion piece to the recent Sarajevo winner Tilva Rosh. The film takes place in the same South-Eastern Serbian town, Bor, and deals with many similar issues but requires a great deal of patience from its audiences if it is to be at all enjoyed. It starts disclosing its true intentions when it is almost half way through, fully bringing them out into the open only in the film's last shot. Thorough revamping of the muddled first act — including new English subtitles to clarify the relations between the various characters tied up in this tragic plot with strong Oedipal overtones — is essential and could help open the doors to art houses and festivals.
Bor, though the script never quite specifies it, is a mining town whose main source of income, the copper mine, had been partly closed, leaving much of the population unemployed. There are allusions in the film both to the mines and the unemployment but no direct reference is made to either. The main characters (haphazardly introduced) are a macho bar tender known to his pals as King (Fehmiu), a young girl, Rosa (Selimovic), who walks one night into his bar to ask for a drink and next is in bed with him, her mother, Ruzica (Djuricic), who had killed her husband to save her lover and went to jail for seven years, Tiger (Janketic), a young petty thief and drug addict who has never known his parents and is desperately in love with Rosa and Beli (Isakovic), a former miner who has been patiently waiting for Rosie to come out of jail, while drinking himself into a stupor and sexual impotence.
Novkovic builds up to a moving finale, which effectively delivers his own view of a crumbling, self-destructive world.
Behind these characters, there is the city, surrounded by chimneys spouting their acid smoke day and night, rivulets of molted ore dribbling down the surrounding hills, its air polluted, devouring its inhabitants who stand around, silently waiting for something to happen that never does. It is a desolate portrait announcing the post-industrial era that is soon to catch up with all of us, according to Novkovic.
One unexpected feature in an otherwise straightforward realistic picture is Novkovic's decision to allow each of his leading characters to break out quite naturally into sad, soulful songs, in a Balkan version of the Brecht-Weil type of opera, the lyrics substantially filling gaps left in roles. The film's culminates with the miners' choir. All the town's unemployed face the camera to intone a kind of wistful hymn of the rebellion to come, announcing that soon the day will come when "we will eat, we will drink, from the rich man's table…"
Though no doubt in need of additional editing to help the viewer enter his story, Novkovic builds up to a moving finale, which effectively delivers his own view of a crumbling, self-destructive world. Much of the credit, however, is to be shared with Uliks Fehmiu's authoritative presence as King, Hana Selimovic's despondent Rosa and Jasna Djuricic's grimly assertive Ruzica. These affecting performances stand out and often manage to transcend the pitfalls of the script.
Production companies: West End Productions
Sales: Films Boutique
Producers: Milena Trobozic-Garfield, Uliks Fehmiu
Screenplay: Milena Markovic
Cinematography: Miladin Colakovic
Production design: Aliosa Spajic
Editor: Lazar Predojev
Music: Boris Kovac
Main cast: Uliks Fehmiu, Hana Selimovic, Jasna Djuricic, Nebojsa Glogovac, Boris Isakovic, Milica Mihajlovic, Marko Janketic, Meto Jovanovski, Mira Branjac