Dir: Baran bo Odar. Germany. 2014. 105mins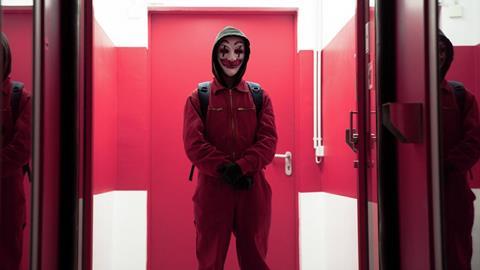 A slick and stylish German cyber-thriller, the nicely chilling and chilling Who Am I – No System Is Safe is another impressive calling card film from director Baran bo Odar (who made the striking crime drama The Silence in 2010), made with a good deal of pace and sense of atmosphere.
The fresh-faced Tom Schilling is terrific as Benjamin, a complex individual given a lease of life through computers.
Its mixture of action, suspense, killings, computer-based action (and just a little bit of kissing) should help its German release, and the smooth and intelligent style (there are some clever on-screen graphics) that may work for savvy distributors as well as genre themed festivals.
Who Am I – No System Is Safe (a rather unwieldy title to be sure) is centered around Benjamin (Tom Schilling), your familiar clichéd computer geek who lacks friends, is bullied at school, has no girlfriend – though he dreams of being with fellow student Hannah (Hannah Herzsprung) – but loses himself in the world of computers. His amazing talent for on-line activity is spotted by the charismatic Max (Elyas M'Barek), a would-be revolutionary who yearns to "hack the world," but needs Benjamin's prodigious skills.
Drawn to Max's world of partying, drugs and women, Benjamin and Max link with fellow techno geeks Stephan (Wotan Wilke Möhring) and Paul (Antoine Monot, Jr.) to form the hacker collective CLAY (Clowns Laughing @ You) aimed at infiltrating security systems and poking fun at the financial world.
But their activities also attract the attention of police agency Europol – headed by Hanne Lindberg (the always impressive Trine Dyrholm) – and more worryingly sinister and manipulative rival hacker MrX.
The nicely complex plot see Benjamin and his friends drawn into a series of dangerous conspiracies, and between Europol, MrX and a Russian cyber mafia organisation calling itself FR13ENDS find themselves way over their heads and in real physical danger. Benjamin must use all of his skills to find a way out.
The atmosphere is impressively sustained and footage of masked hackers mixing on an underground train carriage (to represent them interacting on the internet) is a nice affectation, with Baran bo Odar suggesting that hacking is simply like magic – people see what they want to. This theme fits the climax of the film as a series of twists within twists (more pretty predictable for this sort of film) keeps things intriguing up until the final scene.
The fresh-faced Tom Schilling is terrific as Benjamin, a complex individual given a lease of life through computers, and is nicely balanced by the more ebullient characters played by Elyas M'Barek, Wotan Wilke Möhring and Antoine Monot, Jr. as his hacker buddies. The striking soundtrack by Boys Noize, suits this smart techno-thriller rather well.
Production companies: Wiedemann & Berg Film GmbH & Co.KG, Seven Pictures Film GmbH, Deutsche Columbia Pictures Filmproduktion GmbH
International sales: TrustNordisk, www.trustnordisk.com
Producer: Quirin Berg, Max Wiedemann
Executive producer: Justyna Muesch
Screenplay: Baran bo Odar, Jantje Friese
Cinematography: Nikolaus Summerer
Editor: Robert Rzesasz
Production designer: Silke Buhr
Music: Michael Kamm
Main cast: Tom Schilling, Elyas M´Barek, Wotan Wilke Moehring, Antoine Monot, JR., Trine Dyrholm, Hannah Herzsprung