Dir: Marc Silver. UK. 2012. 80mins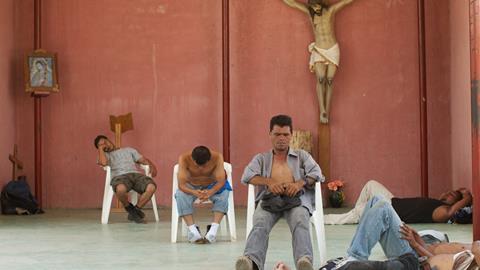 In this well-crafted documentary about the plight of Latin American migrants, a dead man found in the Arizona desert becomes a potent symbol for the 2,000 missing persons found along this area of the U.S. border in the last decade. While Who Is Dayani Crystal? doesn't necessarily expose any new facts about the plight of immigrants, the film effectively humanises the thousands of individuals attempting to make a better life for themselves in the US—and the hundreds that die trying each year. As producer-actor Gael Garcia Bernal puts it in the film, "This is the wager: Can you make it past Mexico with your family's future in your pocket?"
Some of Bernal's experiences become the highlight of the documentary, in ways that are both illuminating and colourful.
Bolstered by Bernal's presence and first-time feature director Marc Silver's polished filmmaking style, Who Is Dayani Cristal? should be a natural fit for limited theatrical playdates, followed by modest VOD and broadcast slots the world over.
Bernal plays a dual function in Who Is Dayani Crystal?, both as narrator, and as a stand-in for the unidentified man, tracing his journey from Honduras to Arizona. The film interweaves Bernal's restaged trip with testimony from Arizona-based pathologists, missing persons' experts, and Mexican and Honduran officials, as well as interviews with friends and family of the man who was only known by the calligraphy tattoo scrawled across his chest, reading "Dayani Crystal."
But by constructing the film in this manner, Silver gives up the secret identity of its central figure early on. Of course, the Hondurans speaking about their husband and son are the mystery's man's family. Who Is Dayani Crystal?, then, is less successful as a nonfiction mystery, and more convincing as an intimate case study.
Initially, Bernal's sections seem to distract from the film's material. After all, it's difficult to buy the highly recognisable and charismatic Bernal as a hardened migrant. But Bernal's presence morphs from an actor playing a part into more of a guide, speaking with other men making the trip north and trying to understand their feelings, hopes, and strategies for survival.
Some of Bernal's experiences become the highlight of the documentary, in ways that are both illuminating and colourful. There's a wonderful scene at a river-crossing between Honduras and Mexico, where men deposit wads of cash into the hands of a sermonising riverside preacher and cross the waters gondola-style on large floating inner-tubes. Later, Bernal rides with dozens of other men atop "The Beast," a large, lumbering train that snakes through the countryside, where he's advised not to fall asleep or he might fall off and die.
Juxtaposed with the warm fraternity of Bernal's scenes are the cold post-mortems that take place in the Pima County Medical Examiner's Office, where dissecting John Doe corpses are an everyday occurrence, hands are removed for fingerprinting, and a sign on the wall cryptically reads "Skulls in Bins."
While most of the film favors a more nuanced, observational approach, detailing the lives of the man's family and the migrants' paths, US. medical experts provide some damning testimony about current US immigration policies. As forensic anthropologist Dr. Bruce Anderson notes, "Crossings are down; apprehensions are down; what's not down is the deaths." At what number of casualties, he wonders, will US policies finally change?
By film's end, the answer to "Who is Dayani Cristal?" becomes more of a footnote—a pointed payoff to the film's journey, and a subtly satisfying conclusion that helps put a human face on the statistics.
Production Companies: Pulse Films, Canana
International sales: Universal
Producers: Lucas Ochoa, Thomas Benski, Gael García Bernal
Executive Producers: Dan Cogan, Lilly Hartley, Jeffrey Tarrant, Jess Search, Teddy Leifer, Marc Silver
Screenplay: Mark Monroe
Cinematography: Marc Silver, Pau Esteve Birba
Editors: Martin Singer, James Smith-Rewse
Music: Leo Heiblum, Jacobo Lieberman
Main cast: Gael García Bernal