With the MGM and Miramax catalogues both on the block, John Hazelton explores the health of the dwindling library business and looks at whether emerging platforms will improve revenues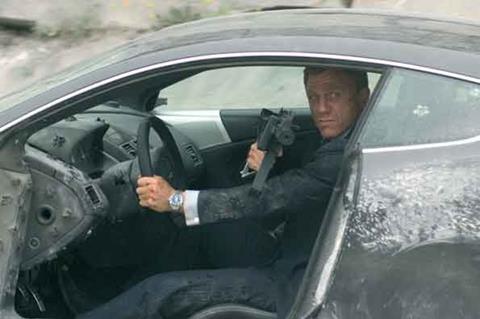 Libraries aren't what they used to be. That, at least, seems to be the view of potential buyers involved in US film and TV library deals. It's seconded by many analysts and valuation experts, who say that the worth of libraries has fallen by as much as 50% over the past five years.
Several recent library-based deals suggest the assessment is probably correct. When the original bidding deadline for MGM ― whose worth lies mainly in a 4,000-title library including the Pink Panther and Rocky films and the control of rights to the James Bond franchise ― arrived in mid-March, only three potential buyers were thought to have come through with firm offers. And all three bids ― from Time Warner, Lionsgate and Access Industries ― were reportedly well below the $2bn being sought by MGM's consortium of owners, which five years ago paid $4.8bn for the studio.
Lionsgate has subsequently pulled out of the auction.
The bidding deadline for Miramax ― whose 600-title library includes award-winners ranging from Shakespeare In Love (shared with Universal) and The English Patient to Pulp Fiction and No Country For Old Men (shared with Paramount) ― had to be extended until April 5. The companies thought most likely to bid ― The Weinstein Company and Platinum Equity Partners ― were at press time said to be fielding offers in the $400m-$500m range, a long way from the $700m being asked by the seller, the Walt Disney Company.
In February, meanwhile, Viacom got a bargain when it bought back control of the DreamWorks SKG film library ― whose 59 titles include Saving Private Ryan and American Beauty ― for a reported $400m, after having sold it to an investor group in 2006 for $900m.
Losing value
The values of the MGM and Miramax libraries have been adversely affected by the two companies' specific circumstances. MGM, analysts say, has over-licensed its library and failed to add value through new production (last year the studio had only three films released, with the best box office showing coming from the remake of The Taking Of Pelham 123, which was distributed by Sony, one of MGM's current owners). And Miramax often acquired its films, so rights to a lot of its titles are likely to revert back to the films' owners when licences expire.
The values of the two catalogues have also been affected, however, by market developments that have changed the earning potential of all libraries ― and made them more difficult to value.
"In the past, libraries were valued by a simple multiple of the cash flow,"points out Charles Segars, CEO of Ovation TV, a possible bidder for Miramax. "And that was based on extremely definable distribution platforms.
"Now that there are many platforms, and windows and price points are not very definable, the long-tail value of a library is very difficult to decide."
Library values have been most significantly affected by declining DVD sales and rentals. At its 2004-06 peak, the DVD format provided library owners with a whole new market for catalogue titles. The format's decline ― total spending has dropped 18% in the US since 2006 ― has severely eroded library values, and the new Blu-ray disc format, which so far has been used mostly for new releases, has made up only a fraction of the difference.
TV sales of library features have been in decline as well (annual global TV revenue from the MGM library has reportedly dropped from $500m to $350m in recent years).
Free-TV outlets in the international market have been hurt during the recession by a slump in advertising and are relying more on local productions than acquisitions from Hollywood. And US pay-TV services such as Showtime, Starz and HBO, once known primarily as movie channels, are now investing more of their budgets in original ­programming. "They're making an economic decision that they're better off putting cash into series," says industry consultant Seth Willenson.
Declines in traditional markets for library product should eventually be offset by fresh exploitation opportunities. Those opportunities, however, may take some time to develop.
Video on demand offers the most immediate prospects ― research firm Screen Digest has predicted that global VoD spending will go from $2.9bn in 2009 to $5.3bn in 2012 ― but for the time being it remains a limited market.
"We've seen significant pick-ups in pay per view and on demand," says Arnaud Levy, managing director of London-based firm Media & Entertainment Advisors.
"For some titles, sales have doubled or tripled in the last couple of years.
So that's mitigating things a little bit, but not completely."
Digital delivery systems allowing consumers to download or stream movies should create another new market for library product, but as yet the revenue is ­unpredictable.
"Electronic sell-through is still a tiny, tiny market," says SNL Kagan senior analyst Derek Baine, "and a lot of people have been disappointed by what's happened in new media."
Baine cites the example of wireless rights sales to international telephone companies. Five years ago, he says, such deals were producing significant minimum guarantee payments for library owners; now deals are done on a ­revenue-sharing basis and produce minimal returns.
Uncertainty about library revenues ― and hence values ― has made buying and managing libraries a much more complex business. Financing library acquisitions ― and borrowing money against libraries that are already owned ― have become more difficult as a result of the problems encountered by banks in a couple of library deals.
"Library lending is an area where there have been some very significant problems recently resulting in write-offs," says Jared Underwood, senior vice president and entertainment group manager at Comerica Bank. "So it's an area where you are going to see much tighter underwriting at banks, with some banks getting out of library lending ­altogether."
Mining for profits
And exploiting a library is now more of a challenge for buyers of every stripe. Studio-owning conglomerates such as Time Warner and News Corp (which made an offer for MGM earlier this year) have traditionally been able to get the most out of libraries ― by maintaining a flow of new projects into their catalogues and by packaging the new films with older titles for TV sales ­purposes.
"The studios have done the best job of mining their libraries by using their locomotives in very aggressive and strategic ways," says Larry Gerbrandt, principal of Media Valuation Partners.
But independents have also been in the running for recent libraries. Besides Lionsgate, The Weinstein Company and Access (Russian-born entrepreneur Len Blavatnik's US-based industrial group, which last year bought the Icon Group's UK operations), indies including Summit and StudioCanal are also believed to have considered bidding for Miramax or MGM.
For a larger independent, a library can be a significant source of steady income ― Lionsgate recently revealed the 12,000-title library it has already amassed has generated average annual revenue of $267m for the past three years ― and a valuable tangible asset.
In the current market, smaller independent companies with specialised strategic abilities could become library players as well.
According to Charles Segars, Ovation ― which as of late March was still considering partnering with another company to bid for Miramax ― is the kind of operation that is well placed to make the most of emerging library opportunities.
With an arts-based cable channel available in 40 million US homes, its own VoD platform, a soon-to-be-launched high-definition channel and a broadband website, Ovation, Segars believes, is positioned to "figure out the formula" for using new platforms to fully exploit the Miramax library.
"If you're a library company and you just buy more library, that's not going to do it," he says.
"You have to be a company that controls domestic and foreign distribution as well as a company that has strong inroads into linear cable distribution and VoD platforms."