Dir/scr: Tom McCarthy. US. 2010. 106mins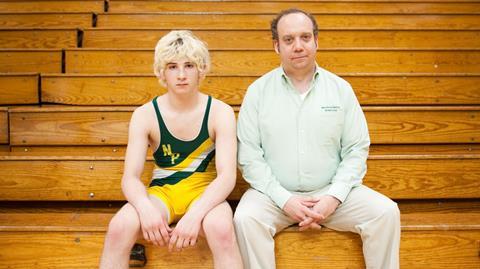 In this feel-good dramatic comedy, Paul Giamatti plays struggling small town New Jersey attorney Mike Flaherty. With two young kids and a tough-as-nails wife (Amy Ryan), he's trying to make ends meet, but the costs are piling up. Business is slow. Even the high school wrestling team he coaches is flailing with a losing streak. When Mike surreptitiously takes on the guardianship of an elderly client in order to pocket his monthly payments, the choice leads to a series of repercussions he never anticipated.
McCarthy continues to show off his talent for creating affectionate characters.
For one, the man's grandson, Kyle, a bleached blond and typically monosyllabic teenager, arrives with nowhere to go. After learning the boy's mother is stuck in drug rehab back in Ohio, Flaherty and his family are forced to take the boy under their care.
After the more socially conscious The Visitor, which tackled the plight of illegal immigrants, Win Win finds actor-turned-director Tom McCarthy on lighter ground, harkening back to his debut film The Station Agent.
McCarthy continues to show off his talent for creating affectionate characters: Giamatti, as always, delivers a multi-faceted performance, full of varying degrees of vulnerability and dishonesty; and supporting actor Bobby Cannavale provides comic relief as Terry, a cuckolded husband, who takes a greater interest in Flaherty's troubles as a distraction from his own inner turmoil.
While Win Win captures Flaherty's foibles and mishaps with sensitivity, the movie doesn't go as deep as the director's previous efforts. It glosses over the harsh realities of a young teenager coming from a broken home in order to focus on the broader comic elements of the situation.
When Flaherty soon learns that Kyle used to be a top high school wrestler in Ohio, the plot kicks up a notch as Flaherty, Terry and coach Vigman (Jeffrey Tambor, doing comic shtick) mobilise behind their new star sportsman, which energises both the men and the team. One running gag comes from Kyle asking Flaherty to give him a slap across the face before every match. Just as the wrestling wins begin to gather steam, however, another wrench gets thrown in Flaherty's plans: the delinquent mother returns, wanting to take both her father and her son back to Ohio.
Bur rest assured, order is restored in the lives of Kyle and the Flaherty family with a quietly affecting conclusion.
With good word of mouth assured among the older art-house demographic and a strong marketing push from Fox Searchlight, which will release the picture in the U.S. on March 25, Win Win should seize a moderate box-office victory.
Production companies: Fox Searchlight, Everest Entertainment, Next Wednesday
International distribution: Fox Searchlight
Producers: Mary Jane Skalski, Michael London, Lisa Maria Falcone, Tom McCarthy
Executive producers: Lori Keith Douglas, Tom Heller
Cinematography: Oliver Bokelberg
Production designer: John Paino
Editor: Tom McArdle
Music: Lyle Workman
Main cast: Giamatti, Amy Ryan, Bobby Cannavale, Jeffrey Tambor, Burt Young