Seeing isn't quite believing for the latest shocker from The Spierig Brothers, starring Helen Mirren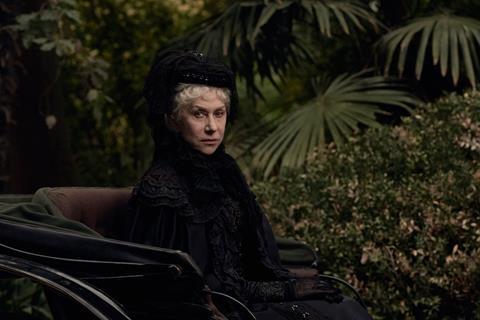 Dirs. Michael Spierig, Peter Spierig. Australia / USA, 2018, 99 mins.
Enlisting a British actress to anchor an American ghost story shot in Australia, Winchester hopes a black-clad Helen Mirren will scare up an audience — or, at least, intrigue enough viewers with her rare excursion into horror. She might, but she can't breathe a full gust of life into this by-the-numbers haunted house tale, although solid performances go a considerable way in this inspired-by-true-life events from Australian directors Michael and Peter Spierig (Jigsaw).
Winchester signals its fondness for the obvious in near groan-worthy fashion
Set in 1906, Winchester is centred around the plight of a firearms heiress and her sprawling, seven-storey, hundred-room-plus San Jose mansion, a site that operates as a tourist attraction today.
In gothic mode as real-life figure Sarah Winchester, Mirren brings steely determination to someone who is now part of spooky folklore, not only due to the contention that her home had supernatural residents, but as a result of what she did in response. As largely recreated with an impressive eye for detail on a Melbourne set — plus three days of filming in the actual Californian structure — Winchester House was reported to have been under constant round-the-clock construction for almost 40 years. The reason? Building a labyrinthine array of rooms, secret doors and stairwells to nowhere, all to entomb the aggrieved spirits of shooting victims.
It's a tale that seems an apt fit for Australian filmmaking siblings Michael and Peter Spierig, who direct and co-write (with Tom Vaughn) Winchester under the collective moniker 'The Spierig Brothers'. Releasing in US and UK cinemas on February 2 with other territories to follow in subsequent weeks, the film arrives just months after their last genre outing, Saw sequel Jigsaw. Here, they're in atmospheric rather than gore territory and prove comfortable with it — in mood and aesthetics, although they're let down by their reliance upon jump-scares, a surprise-free script and clunky dialogue.
Indeed, when Jason Clarke's laudanum-addicted, tragedy-afflicted psychiatrist Dr. Eric Price is introduced talking about tricks, illusions and the power of the mind to believe what it wants, Winchester signals its fondness for the obvious in near groan-worthy fashion. Price is soon hired by the Winchester Repeating Arms Company's board to assess Sarah Winchester's sanity; they contend that her mind is as chaotic as her abode, and they'll pay the doctor handsomely to make that his professional opinion, on the record.
Sarah is no erratic mess, however. She's as adamant about the house's ghosts as she is about decorum, as her niece Marion (Sarah Snook, star of the Spierigs' 2014 time-travel thriller Predestination) explains. With Price unable to hide his initial skepticism, the film is at its best when its main characters collide — first through the veil of stiff politeness, and later through a tentative bond sparked by bumps, jumps and the midnight wanderings of Marion's eight-year-old son Henry (Finn Scicluna-O'Prey). Like Mirren, Clarke and Snook rise above the material, with Twin Peaks' Eamon Farren also standing out among the residence's inhabitants.
That Winchester always feels routine comes across as a missed opportunity, boasting many of the right elements yet never quite falling into place. As a horror movie, it works through its true story in an all-too-familiar manner, particularly given the popularity of The Conjuring franchise in recent years. As an exploration of a distinctive woman — an inventor as well as an architect, and owner of half of the Winchester company — it never delves beneath the surface. And, contemplating the cycle of death that springs from weapons manufacturing is only used to serve the narrative and nothing more.
Visually, the film's surface has enough charms, courtesy of a returning team of Spierig regulars. In addition to the intricate work of production designer Matthew Putland, Wendy Cork's costuming ensures the cast always looks the part, especially Mirren's beaded and lace-heavy attire. DoP Ben Nott conjures the requisite shadowy sheen, as the camera roves through the feature's maze-like setting. Ultimately with Winchester, however, seeing isn't quite believing.
Production companies: Blacklab Entertainment, Imagination Design Works
Distribution: CBS Films (US) / Lionsgate (UK) / StudioCanal (Australia)
Producers: Tim McGahan, Brett Tomberlin
Executive producers: Benedict Carver, Daniel Diamond, Tobin Armbrust, Andy Trapani, Brian Gilbert, Michael Burton, Bryce Menzies, Marc Schipper, Simon Oakes, Antonia Lianos
Screenplay: Tom Vaughan, Michael and Peter Spierig
Cinematographer: Ben Nott
Editor: Matt Villa
Production designer: Matthew Putland
Costume designer: Wendy Cork
Composer: Peter Spierig
Cast: Helen Mirren, Jason Clarke, Sarah Snook, Eamon Farren, Angus Sampson, Finn Scicluna-O'Prey.