Dir: Nuri Bilge Ceylan. Turkey-Germany-France. 2014. 196mins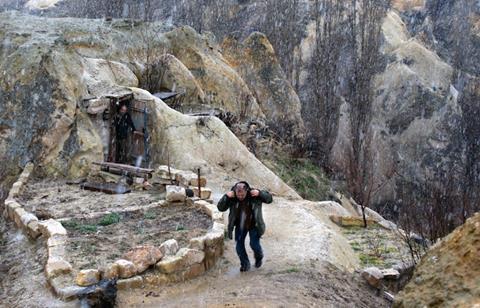 The first thought that springs to mind once Nuri Bilge Ceylan's sprawling, multi-layered, richly rewarding Winter Sleep (Kis Uykusu) reaches its end, is that one should never see this in a film festival with a film tucked in before and another one planned just after it. For if Ceylan is taking his own sweet time to reveal the full scope of his story, never allowing any consideration of length or pace to trouble him, his audience should do the same to fully appreciate one of the more rewarding film achievements of the year.
Ceylan's cast performs with such precision and feeling that even Bergman would have applauded.
No doubt every festival in sight will pick it up and every self-respecting art house will programme it, but it's worth looking beyond the 'masterpiece' label that will be stuck on it, to discover a deeply felt, powerfully delivered, observation on Turkish society, with reflections that could easily resonate everywhere else as well.
Shot in a small Cappadocia village, a mind-boggling wild natural location, with a small hotel in the middle and a lot of poverty all around, the plot - if one feels like referring to the extensive, elaborate conversations taking place in its course as a narrative - focuses for a while on the relations between three main characters.
Aydin (Haluk Bilginer), a middle aged former actor, has inherited the hotel and most of the land around it. He deems himself a thinker, one of his projects is to write a history of the Turkish theatre, he pretends to be immersed in his intellectual activities, such as writing think pieces for an obscure magazine and delegates the management of the property to his assistant, Hidayet (Ayberk Pekcan), expecting him to take care of all unpleasant chores and save him the need to dirty his hands.
Necla (Demet Akbag), Aydin's sister, is a bitter, sharp-tongued divorcee who has retreated to her brother's hotel, to pester and criticise him. Nihal (Melisa Sozen), Aydin's wife, much younger than him, is desperately trying to fill up the void of her existence with social work, which her husband disapproves of, mainly because he feels left out of it.
As the title indicates, it all takes place in winter, which already establishes the adequate climate for the proceedings. The characters spend most of the time indoors, in a kind of pressure cooker simmering with conflicts that finally have to erupt in every direction. Nothing is left quite untouched, whether it is the application or abdication of religion in the moral, ethical and emotional fabric of these three characters, their social responsibilities, which they interpret wrongly, either on purpose or because of sheer ignorance, not to mention the unbridgeable distance separating them from the less privileged classes.
Though most of the attention in the first part is lavished on Aydin, his wife and his sister, more characters are brought into the limelight as the film progresses, including teacher Levent (Nadir Sanbacak), who needs a stiff drink to air his opinions; Imam Hamdi (Serhat Kilic), whose schemes are intended to keep the bosses happy and his hot-blooded brother, Ismail (Nejat Isler), whose pride is stronger than his self-preservation instincts.
If subtitles are to be trusted, the abundant dialogue is masterfully calibrated to raise the tension up and then let it down again, be it in the smoldering encounter kept sotto voce between Aydin and his sister, the heart-wrenching scene when Aydin's passive-aggressive tactics break down the resistance of his wife, NIhal, or the Chekhovian conversation between three slightly inebriated men who let down their hair just a bit more than they have meant to.
Ceylan's cast performs with such precision and feeling that even Bergman would have applauded. Gokhan Tiryaki's camerawork beautifully records the quiet force of their delivery, and the choice of the unique Cappadocia location, where lodgings are built not on but inside huge mountain rocks, takes the breath away. And just in case anyone misses the moral of the story, just watch what happens to the wild horse captured in an early sequence to be tamed on Aydin's request, before the film is over.
Production company: Zeyno Films
International sales: Memento, www.memento-films.com
Producer: Zeynep Ozbatur Atakan
Executive producer: Sezgi Uztun
Screenplay: Nuri Bilge Ceylan, Ebru Ceylan
Cinematography: Gokhan Tiryaki
Editor: Nuri Bilge Ceylan, Bora Goksingol
Production designer: Gamze Kus
Main cast: Haluk Bilginer, Melisa Sozen, Demet Akbag, Ayberk Peckan, Serhat Kilic, Nejat Isler, Tmaer Levent, Nadir Saribacak