Dir: Greg McLean. Australia. 2013. 104mins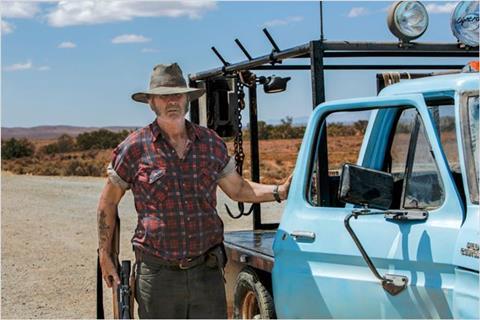 Mick Taylor, Australia's very own movie boogieman, returns to his outback hunting ground for a fresh round of giggling brutality and torture porn. The original Wolf Creek (2005) is on the all-time Top 100 local box office list and made a decent $A30m worldwide. Mick's deeply sadistic return gets a wide 217-screen release and plenty of upfront publicity. Image Entertainment has acquired North American rights and US and UK release dates are expected soon.
It's the crunching and the shrieking and the spurting that signify Wolf Creek, nationalities regardless.
Not as shockingly visceral as its predecessor, WC2 nevertheless makes its mark in the bone crunching and blood spurting departments, and there are some excellent car-versus-monster-truck chases in the style of Mad Max 2. With very little plot to worry about, audiences can revel in the guaranteed mayhem, the slurping stabbings and the boneheaded goofiness of our invincible, redneck sociopath as he sings five verses of Tie Me Kangaroo Down, Sport while preparing to power-saw through the clamped fingers of his latest screaming victim.
A significantly increased budget has been well spent on some spectacular widescreen outback cinematography by Toby Oliver. With idyllic waterholes one minute, menacing scrubland the next, the wilderness locations are a suitable backdrop for the new adventures of crazy Mick. John Jarratt exactly repeats the role that brought him late fame and the admiring attention of Quentin Tarantino.
In the first film Jarratt was able to lure us, like his many victims, into his confidence; this time he is up to bloody mayhem almost immediately. After the vicious pre-credits murder of two highway cops, he's ready for his next challenge — two blithe German backpackers (Shannon Ashlyn and Phillipe Klaus). "Friggin' tourists" are not welcome in Mick's domain.
Next comes Paul (Ryan Corr), a "weak as piss Pommy", travelling alone in a trendy yellow Jeep. After a sustained and spectacular chase — Mick somehow owns a huge, highspeed truck — Paul finds himself in an underground torture chamber complete with secret passages, wild dogs and the evidence of many, many former encounters.
Malicious, simple-minded Mick's quest to rid Australia of "foreign bastards" reveals director/writer Greg McLean's aim to bring a political dimension to these prolonged slaughters. It hardly matters: it's the crunching and the shrieking and the spurting that signify Wolf Creek, nationalities regardless. And, anyway, a herd of very Aussie kangaroos get well and truly mashed, via some excellent CGI, under Mick's wheels.
Ryan Corr is particularly good as the tortured, intelligent Pom. His two-handed scene with Jarratt — theatrical in its length and intensity — is the highlight of movie.
Johnny Klimek's musical thrums and shrieks underscore the tension; and there's some unexpected recorded contributions — The Lion Sleeps Tonight, a Viennese waltz and an aria from that undoubted Australian, Dame Nellie Melba.
Production company: True Crime Australia
International sales: Arclight Films
Producers: Helen Leake, Greg McLean, Steve Topic
Executive producers: Samantha Jreissati, Evelyn Gilmore, Matt Hearn, Silvio Salom
Screenplay: Greg McLean, Aaron Sterns
Cinematography: Toby Oliver
Editor: Sean Lahiff
Production designer: Robert Webb
Music: Johnny Klimek
Website: www.wolfcreek2.com.au
Main cast: John Jarratt, Ryan Corr, Shannon Ashlyn, Phillipe Klaus, Gerard Kennedy, Annie Byron