Dir: Jean-Jacques Annaud. China-France. 2015. 118mins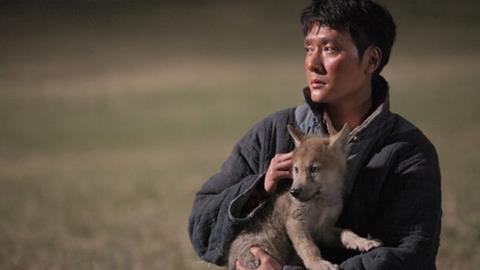 Jean-Jacques Annaud adds another visually bold adventure tale to his filmography with Wolf Totem (Le Dernier Loup, or Lang Tu Teng), shot on location under daunting conditions over a year-and-a-half period on the rugged steppes of Inner Mongolia using real wolves and a bare minimum of new-fangled digital effects.
With a built-in potential audience in China, this Sino-French co-production with Mandarin and Mongol dialogue is a proud throwback in look and spirit to a kind of filmmaking we don't see much anymore.
While a pack of fast and furious wolves chasing a stampede of horses in a blizzard by night is truly thrilling to behold (and its frozen aftermath ain't bad either) the story itself — based on a novel said to be the bestselling tome to date in China behind Mao's Little Red Book — suffers from its superior knack for portraying its furry protagonists compared to the far less engaging human cast.
In 1967, as the Cultural Revolution has taken hold, student Chen Zhen (Shaofeng Feng) arrives from Peking to teach the nomadic Mongols how to read and write Chinese instead of just existing in harmony as they have for centuries in an admirable ecosystem involving sheep, horses, grassy plains and wolves.
The city-bred intellectual is soon fascinated by the wolves that Party officials intend to thwart by ordering newborn wolf cubs killed. The tribe's wise elder Bilig (Basen Zhabu) protests that the wolves will not take kindly to having their offspring treated like tin cans in a trash compactor but the bureaucrats from central planning think they know better than Mother Nature. Annaud films the fanged predators at eye level much as he treated the snipers in his Battle of Stalingrad saga Enemy At The Gates (2001) and the effect is engagingly unnerving.
Chen secretly rescues and adopts a wolf cub, creating all sorts of dangerous ripples as, in the time-honored tradition of such stories, the city boy learns far more from the peasants than the peasants learn from him. Chen comes to the steppes with another urban student Shawn Dou) who is subsequently given very little to do. A stiff romance with a fetching widow (Ankhnyam Ragchaa) is tacked on, presumably because there are just about no other women in the splendid widescreen frame. Subtle 3D work that brings subjects closer is fairly well integrated. (Annaud made the first 3D IMAX film 20 years ago; the Andes-set medium-length Guillaumet - Wings Of Courage.)
With a built-in potential audience in China (where the film opened last week to coincide with Chinese New Year celebrations), this Sino-French co-production with Mandarin and Mongol dialogue (Sony Columbia has the North American rights) is a proud throwback in look and spirit to a kind of filmmaking we don't see much anymore. Annaud revels in hard-to-film spectacle (the crew numbered 480; frostbite was a real threat; it took three years to train the wolves) and the director's sheer joy in filming majestic critters and timeless scenery comes across loud and clear even if the narrative is sometimes simplistic or muddled. (Annaud says there are only 5 full-CGI shots out of over 2800, with some animatronics thrown in.)
It's also his best shot at box office success in a while. Annaud's His Majesty Minor (2007) was an extravagant golden-hued commercial misfire of eye-rubbing strangeness, followed in 2011 by the earnest but clunky 1930s oil drama Day Of The Falcon (2011). Ironically - given that the director's Seven Years In Tibet (1997) was banned in China - it was Chinese officials who approached Annaud in 2007 to adapt the 2004 semi-autobiographical novel by Jiang Rong.
Annaud has said in interviews that Chinese dignitaries can quote entire passages of his still-banned 1992 The Lover, apparently a longtime favorite on the Chinese bootleg trail for its softcore porn trappings. But it was Annaud's proven expertise with animals (The Bear in 1988 and tiger tale Two Brothers in 2004) that prompted the hire. For the record, "The Bear" (which cinematographer Philippe Rousselot has gone on the record to describe as perhaps the most physically exhausting and hazardous shoot of his career) remains the most-watched movie to be shown on TV in France since 1989 racking up 16.3 million viewers in a country whose current population is 65 million.
French filmgoers won't show the same enthusiasm for Wolf Totem but the topic and the fact that the book has been translated into 39 languages and published in over 100 countries should help repay a reported $40 million budget.
The film's subtext indicts the fact that China's economic development has entailed the wholesale destruction of eco-systems and created deadly smog and pollution. One encouraging sign of economic development if your idea of an eco-system is a darkened room and popcorn: Annaud says that when he agreed to make this film China had 2000 movie screens and now boasts over 23,000.
Production companies: China Film Co., Ltd., Reperage, Beijing Forbidden City Co., Ltd, Mars Films, Wild Bunch, China Movie Channel, Beijing Phoenix Entertainment Co., Ltd., Chinavision Media Group Limited, Groupe Herodiade, Loull Production
International sales: Wild Bunch, www.wildbunch.biz
Producers: La Peikang, Xavier Castano, Jean-Jacques Annaud
Screenplay: Alain Godard, Jean-Jacques Annaud, Lu Wei, John Collee based on The Wolf Totem by Jiang Rong
Cinematography: Jean-Marie Dreujou
Editor: Reynald Bertrand
Production designer: Quan Rongzhe
Music: James Horner
Wolf trainer: Andrew Simpson
Main cast: Shaofeng Feng, Shawn Dou, Ankhnyam Ragchaa, Yin Zhusheng, Basen Zhabu, Baoyingexige