Dir/scr: Jim Taihuttu. Netherlands. 2013. 119mins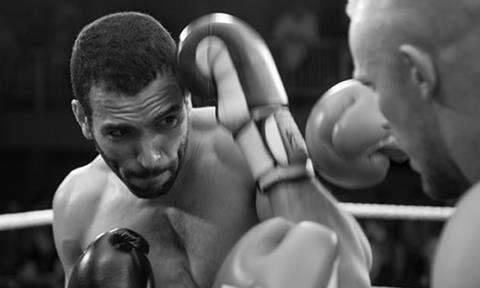 An impressively slick and stylish black-and-white drama, Jim Taihuttu's film Wolf, which premiered at the San Sebastian Film Festival marks him and his intense star Marwan Kenzari as talents to watch. This absorbing and at time brutal Dutch film warrants distributor attention, though may be a little too dark and aggressive to break into the mainstream.
Wolf is a striking new film, with Marwan Kenzari a brooding talent to be watched.
To a degree it charts a familiar story. A young man, fresh from a stint in prison, tries to rebuild his life but finds himself drawn to crime and violence, despite his understated goodish intentions. But Taihattu manages to make his film more immersive and vibrant than similar stories as it delves into a little seen part of Dutch life.
Kenzari stars as Majid, a recently paroled Moroccan immigrant whose devout parents are hard workers and deeply disappointed with his scrapes with crime. He lives at home with his parents and younger brother, but divides his time between reluctantly going to work and indulging in a little light crime (such a stealing scooters) with his best friend Adil (Chemseddine Amar).
He has also been recommended to Ben (Raymond Thiry), an experienced fight trainer and manager for kick-boxers so seeing something in Majid's raw power and anger, but his abilities also draw him to the attention of criminal types and he is slowly drawn into the underworld.
He quickly proves himself adept at the violence and some tough drugs negotiations, displaying an intelligence and shrewd sense of the situations he finds himself thrown into. Soon he finds himself a minor player into the drugs trade, enforcer, kick-boxer and flower market worker, though things are destined not to work out as his temper and brutality get the better of him.
The film impressively spirals to an expected but rather appropriate and watchable climax, with Wolf always absorbing and watchable. The subject matter and structure may well be familiar, but it is impressively staged and performed.
Marwan Kenzari is terrific as a man caught in a cycle he just can't find a way out of, and after a while even gives up trying as he starts to embrace a darker life. He is desperate to reunite with old girlfriend Tessa (Bo Maerten), and will do anything to get together with him, while at the same time he is gentle and compassionate with his younger brother Tarik as well as older brother Hamza (Nasrdin Derwig), who lies dying of a terminal condition in a hospital bed.
Beautifully shot with the black-and-white adding much to the gritty atmosphere, Wolf is a striking new film, with Marwan Kenzari a brooding talent to be watched.
Production company: Habbekrats, NTR, Just Bridge Entertainment
International sales: XYZ Films, www.xyzfilms.com
Producer: Julius Ponten
Co-producer: Msrina Blok
Associate producers: Kees de Konig, Bao Xian Fei
Cinematography: Lennart Verstegen
Editor: Wouter van Luijn
Production designer: Lieke Scholman
Main cast: Marwan Kenzari, Chemseddine Amar, Slimane Dazi, Nasrdin Derwig, Bo Maerten, Raymond Thiry, Cahit Olmez