Dir/scr: Benedek Fliegauf. Germany-Hungary-France. 2010. 107 mins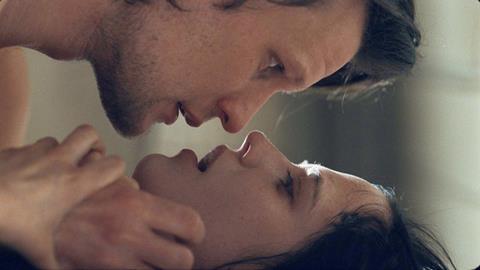 Whichever way you want to look at Benedek Fliegauf's new film — whether as an engulfing story of love trying to beat death, a sci-fi speculation on the integration of clones in human society or a cautionary Oedipal tale (to mention only a few options) — there is one aspect of it that no one will deny: This is one of the most spectacularly handsome films of the year. The German North Sea beaches have never looked more stunning, all dressed up in metallic grey winter colors, a visual symphony of rare qualities, only confirming Fliegauf's already established reputation as a world-class aesthete. If only for this quality, its career as a top draw festival and art-house attraction is assured. Womb premiered in competition at the Locarno International Film Festival.
This is one of the most spectacularly handsome films of the year.
The most distinctively narrative of Flieghauf's films, Womb unfolds over a period of some 30 years, during which childhood infatuation grows into a passionate love affair tragically disrupted by a fatal car accident, after which the film's heroine, Rebecca (Eva Green) resorts to cloning in order to produce for herself a copy of Thomas (Matt Smith), the man she has loved and lost. Once she gives birth she selfishly tries to keep the new Thomas, an exact copy of the departed one, only for herself, away from the rest of the world, which works fine as long as he is a child. But once he grows into a young adult, she inevitably has to face the fact that her total dedication to him takes on dimensions that are not necessarily maternal, which she hardly knows how to cope with.
Fliegauf claims that as far as he is concerned, this is a kind of Orpheus and Eurydice story, human love refusing to accept the interference of death and taking the most improbable chances to stay alive. But from this point on, additional levels of the plot are discernible. There is the mother's egotistical possessiveness, a prelude to a clearly incestuous Oedipal relationship between her and her son; there is the attitude of normal human society towards future clones (some say they are with us already) possibly representing the concept of "the other" so frequently discussed these days.
Since he considers his film to be a fairytale, there is no point in reproaching Fliegauf for not addressing the more realistic aspects of his tale. There is no real outside import in the life of mother and son before he grows up to be an adult and brings a girlfriend back home. School is not mentioned, for instance, at any stage. There are no concerns over their means of existence. They live in a kind of primeval corner of the world which never changes and where winter with its particular palette of colors rules supreme. Cloning seems to serve as a dramatic device only, the moral, physiological and psychological questions it raises being barely mentioned, if at all. A literally minded audience would certainly expect more in this respect than the crumbs Fliegauf provides for them here.
Still, even refractory minds will have to admire Peter Szatmari's exquisite camera work, each frame a museum piece on its own merits, Erwin Prib's creative sets blending the modern and the rustic felicitously together, or the carefully constructed soundtrack, always effective and never intruding. Since Fliegauf is a set designer, sound engineer and a musician as well, his impact on all these aspects of the film are pretty obvious.
Eva Green conveys every bit of the stubborn obsessive passion driving her to confront nature, whatever the risks she has to undertake. The performance of Matt Smith (of Doctor Who fame) seems more comfortable in his carefree moments than in a state of crisis, and Lesley Manville strikes an impressive pose as Thomas' original mother, shocked, aggrieved, profoundly troubled at the sight of the perfect copy of her dead son, grinning at her. It is a disturbing proposition indeed.
Production companies: Razor Films with Inforg Studios, Boje Buck Produktion, ARTE France Cinema, ZDF
Sales: The Match Factory (info@matchfactory.de)
Producers: Roman Paul, Gerhard Meixner, Andras Muhi
Cinematography: Peter Szatmari
Production design: Erwin Prib
Editor: Xavier Box
Music: Max Richter
Sound design and additional music: Benedek Fliegauf
Website: www.the-match-factory.com
Main cast: Eva Green, Matt Smith, Lesley Manville, Peter Wight, Istvan Lenart, Hannah Murray, Trstian Christopher, Ruby O. Fee