Dir: Daniel Barnz. US. 2012. 120mins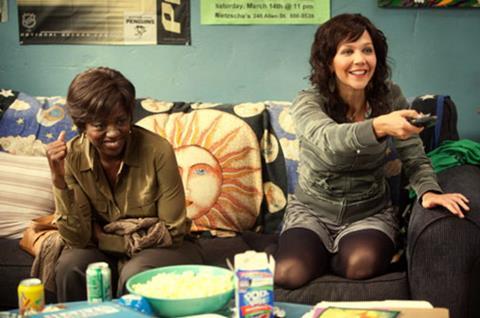 Sometimes feeling more educational than inspirational, Won't Back Down is a sporadically effective drama about a failing American inner city school and the efforts of two very different mothers to turn it around. A strong cast led by Maggie Gyllenhaal and Viola Davis will certainly help at the box office but the Walden Media production is likely to perform below the level of more obviously rousing comparables such as Erin Brokovich, The Blind Side and Dangerous Minds.
In the US, where it opens this weekend through 20th Century Fox, the film might strike a chord during election season, though reaching beyond a core female-driven audience of youngish parents won't be easy. In the international marketplace, where Lakeshore has been handling sales to independent distributors, the content may resonate in countries where education is a hot topic.
The "inspired by true events" story focusses on Jamie (Gyllenhaal), a feisty, out-going single parent whose dyslexic daughter gets little help at her shabby Pittsburgh school, and Nona (Davis, in her first big role since The Help), a frustrated teacher at the school with a struggling son of her own.
Jamie and Nona's attempt to take over the school under a rarely-used legal provision becomes a battle involving local bureaucrats, other teachers, other parents, Nona's estranged husband and Jamie's new teacher boyfriend (The Bourne Legacy's Oscar Isaac). The stiffest opposition comes from the local teachers' union - which fears members will have less job security in the new set up - and its well intentioned labour activist head (Holly Hunter in a relatively brief role).
As directed and co-written by Daniel Barnz (Phoebe in Wonderland), the film starts out feeling almost like a dramatized documentary on the decline of the US state-run education system, with only Gyllenhaal's full-on performance and the gradually changing colour palette providing dramatic flair.
There's more drama as the story goes on and builds up to a climax at a meeting of the local school board. But the big twists and uplifting moments come very late and never quite make up for the overall lack of emotional charge.
Production companies: Walden Media, Gran Via
US distribution: 20th Century Fox
International sales: Lakeshore Entertainment, www.lakeshoreentertainment.com
Producer: Mark Johnson
Executive producers: Ron Schmidt, Tom Williams
Screenplay: Brin Hill & Daniel Barnz
Director of photography: Roman Osin
Production designer: Rusty Smith
Editor: Kristina Boden
Costume designer: Luka Mosca
Music: Marcelo Zarvos
Website: www.wontbackdownthemovie.com
Main cast: Maggie Gyllenhaal, Viola Davis, Oscar Isaac, Rosie Perez, Ving Rhames, Lance Reddick, Marianne Jean-Baptiste, Bill Nunn, Holly Hunter