New facilities and incentives are making the territory Asia's latest go-to location.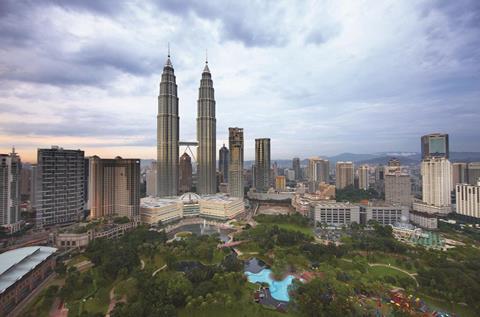 Malaysia is emerging as Asia's next hot shooting location, thanks to the introduction of a 30% cash rebate on production and post-production spend, and the opening of Pinewood Iskandar Malaysia Studios (PIMS).
The latter was established by Malaysia's sovereign wealth fund Khazanah Nasional through a strategic alliance with the UK's Pinewood Shepperton Group.
Introduced at the beginning of 2013, the Film In Malaysia Incentive (FIMI) is available for international features spending a minimum of $1.5m in the country. Productions to apply so far include Michael Mann's high-tech thriller Cyber, which shot in Kuala Lumpur (as well as China and the US), and Netflix original series Marco Polo, produced by The Weinstein Company, which is shooting at PIMS. Khazanah has established a subsidiary, Rhizophora Capital, offering loans to cash-flow the rebate.
In addition to five sound stages, with a total area of 100,000 sq ft, PIMS also houses two 12,000 sq ft HD-equipped TV studios, a green-screen water tank, backlots, digital post-production facilities and support services including production offices, catering, dressing rooms and workshops.
Beyond the studios, Malaysia has similar locations terrain to Thailand, including rainforest, beaches, highlands and modern cityscapes.
Although Entrapment (1999) and Anna And The King (1999) both filmed in Malaysia, the country is relatively new to servicing international productions so PIMS and local authorities and universities are running training courses for local crews.
Local production services companies include Biscuit Films, which worked on Cyber last year.
Good to know
Malaysia has a mixed population of Malays, Chinese and Indians, so there is no problem finding actors, extras and TV audiences of different ethnicities.
LOWDOWN
Is there a minimum spend requirement for the 30% cash rebate?
Yes. The minimum spend for foreign productions is $1.5m (rm5m) for features, $118,000 (rm385,000) per hour for TV and $462,000 (rm1.5m) for post-production. For local productions, the minimum spend is $770,000 (rm2.5m) for features, $59,000 (rm193,000) per hour for TV and $154,000 (rm500,000) for post-production.
Are the financial incentives easy to combine with incentives in other territories?
In theory this should not be a problem, but the rebate is new so this has not really been tested.
Can incoming TV productions and commercials access the incentives?
The rebate also covers TV series — including game shows and reality shows — documentaries, commercials and short-form animation.
What are the key locations?
Tropical rainforests; highlands; islands and beaches; historical Malay, Chinese and colonial architecture; modern cityscapes.
What are the major film studios?
PIMS in Iskandar, KRU Studios in Cyberjaya near Kuala Lumpur.
Do incoming productions need to bring their own crew?
Yes, because the country is in the process of upskilling. Experienced crew could also be flown in from Australia and Thailand.
Do crews speak English?
English is spoken widely in Malaysia.
First point of contact
Film In Malaysia Office (FIMO) under the National Film Development Corporation Malaysia (FINAS) suzie@finas.gov.my
Case Study: Indian Summers
Why did the UK's Channel 4 film its epic India-set TV series Indian Summers in Malaysia? The producers tell Matt Mueller about the attractions of Penang for the mammoth shoot
When Channel 4 was deciding where to make its flagship series Indian Summers, which is set during the dying days of the British Raj, India seemed the most obvious choice. But it was Malaysia that ended up landing the gig, and a lucrative one at that: at $24m (£16m), Indian Summers is the most expensive commission ever for the UK broadcaster.
Charles Pattinson, the executive producer of the lavish 10-part drama through his company New Films, did kick off his search in India. He investigated the actual location where Indian Summers mostly takes place: the Himalayan hill town of Shimla, where the civil servants who ran India decamped for their holidays, its cooler climes making it the ideal colonial summer capital. But Shimla's relative isolation (a 10-hour drive from Delhi) made it unsuitable for a cast and crew, the majority of them from the UK, who would be living there for up to nine months each year over a planned five-year series.
"There are a number of things to think about when you're choosing to shoot a long-running series," says Pattinson. "If you ask your crew and cast to relocate for nine or 10 months, it has to be somewhere enjoyable. The other factors, of course, are the weather and cost."
Weather led Pattinson to also rule out southern India, subject to a fierce monsoon season, and he subsequently switched his attention to Malaysia, where he had worked on a shoot some 25 years earlier.
He quickly settled on the island and city of Penang, which is situated in the northwest coast of the Malay peninsula near the border of Thailand. Penang has a colonial history of its own — its surrounding hills were also a preserve of red-faced Brits seeking refuge from the heat — and a local preservation order established in 1936 meant historic buildings were readily available, albeit in need of substantial refurbishment. "At least three of our major locations had been overrun by the jungle for the past 30 years," Pattinson notes.
Combine that with the country's Film In Malaysia Incentive, and the Indian Summers production had found its perfect home. Modelled loosely on the Australian tax credit, the Malaysian incentive offers a 30% rebate on qualifying spend for international shoots: pre-production, production and post-production.
Penang offers other advantages, too: it has large Indian and UK ex-pat communities, meaning the casting of extras for Raj-era India was not an arduous task. It is also a hub city with easy flight connections to the rest of Southeast Asia.
"You're an hour from Bangkok, an hour from Singapore, 40 minutes from Kuala Lumpur and 20 minutes from a tropical paradise beach," says Pattinson, who put up most of his cast and crew in rented apartments in George Town, the capital of Penang state. "There was a real opportunity for the cast and crew to get away and have rest and recreation — incredibly important for a long shoot."
Pattinson worked closely with the Film In Malaysia Office (FIMO), taking steps to ensure Indian Summers became eligible for a rebate. Among other things, that included a script-approval process and a commitment to hire local crew. For the most part, Pattinson and the series' producer Dan McCulloch operated on a model of hiring heads of department plus one from outside Malaysia, mostly the UK, and staffed the rest of the crew locally. While the Malaysian industry is not blessed with great depth in that respect, a focus on commercials and advertising shoots means it is improving all the time.
Strong support
With Indian Summers the first major international television series to shoot in Malaysia, there were teething issues on both sides, admits Pattinson. But overall he found FIMO supportive and helpful, particularly when it came to gaining permits to shoot in historic locations. During the actual production, they collaborated with the Penang government to organise road closures and arrange extra police presence for filming in public areas, and relied on local production services firm Biscuit Films. Pattinson's stoutest recommendation for other productions considering a shoot in Malaysia is to "find a good service company and make it your partner".
Both Pattinson and McCulloch were impressed by the industry and initiative of their local crew, and the adaptability of the country's filming infrastructure.
"At the beginning," says McCulloch, "we couldn't get a hover cam. But towards the end, lo and behold, someone in Kuala Lumpur had set up a hover cam company and sent one of the best operators I've ever worked with. Once you're there and making it clear what you need, invariably people will come up with it."
The long-term ambition is to produce 50 episodes of Indian Summers over five series, with the story leading up to India's independence in 1947. Convincing local government officials they were going to be there for the long haul was crucial in building trust.
"Apart from seeing how talented and willing the local crew was," says Pattinson, "one of the most satisfying things was seeing the government become very proud of what we'd done together."
"It was one of the best years of my life, living out there with my family," adds McCulloch. "Penang is an interesting place to get to know. It's growing rapidly but it also takes its heritage seriously in terms of culture and food. People from all over Southeast Asia come to Penang for the food. I'll never experience curry that good again."
Contact www.filminmalaysia.com