It's no surprise the world's biggest film-makers and stars enjoy shooting on Malta, as the holiday island has it all — a California climate, competitive tax rebates and a fun-loving, can-do attitude.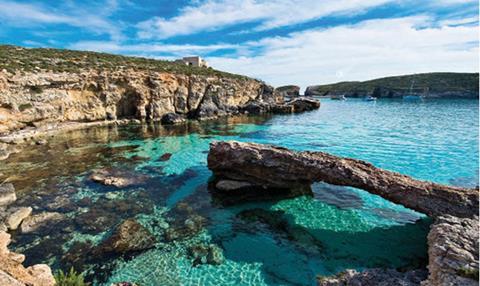 Malta is fast becoming the Hollywood of the Mediterranean, with a record-breaking 10 large-scale, big-budget productions accessing the island's attractive filming incentives in 2015. The island recently doubled for the Middle East in Michael Bay's latest action film 13 Hours: The Secret Soldiers Of Benghazi, with the film's producer Scott Gardenhour describing his experience of shooting on the island as "spectacular".
Justin Kurzel's video-game adaptation Assassin's Creed, starring Michael Fassbender, just shot in various locations around Malta. Angelina Jolie found the perfect coastal setting on the Maltese island of Gozo for By The Sea, a film set in 1970s France that she directs and stars in with Brad Pitt. Thanks to Malta Film Commission, Jolie was able to close the stretch of beach — a popular spot with tourists and divers — from August to November last year.
In 2014, Malta accommodated four large-scale productions simultaneously — Jolie's By The Sea for Universal Pictures, CBS's TV miniseries The Dovekeepers, Kevin Reynolds' Jerusalem-set Risen with Joseph Fiennes and Tom Felton, and Francesco Cinquemani's sci-fi movie Andron — The Black Labyrinth for Luxembourg-based Ambi Pictures, starring Alec Baldwin, Michelle Ryan and Danny Glover. All took full advantage of Malta's highly trained, multi-lingual crews, competitive rates and stunning locations.
Malta's three fully equipped water tanks, one of only a few in the world to use the natural ocean horizon as a backdrop, have also featured in Captain Phillips and Kon-Tiki over the past few years.
As well as doubling for various Mediterranean settings, the island regularly stands in for war-torn countries that are inaccessible to fi lm crews. In fact Malta prides itself on being one of the safest countries in the world, second only to Qatar, according to the United Nations' World Risk Report in 2013.
Good to know
Malta is on the same latitude as Los Angeles, meaning the light on the Mediterranean island is almost identical to that in Hollywood. This abundance of sunshine means productions are able to shoot for up to 12 hours a day from April to November.
The Lowdown
Financial incentives
Since April 2014, incoming productions that satisfy a cultural test are eligible for a cash rebate of up to 25% of eligible expenditure incurred in Malta, with an additional 2% if the production features Malta in a cultural context. The rebate has recently been extended to cover high-end TV drama productions. The incentives take the form of a cash grant that is awarded once filming is complete, and post-production spend now counts as an eligible cost. In 2014, Malta Film Commission also launched a $1.1m (€1m) co-production fund to encourage collaboration between local Maltese companies and international production companies. Malta has a co-production treaty with Canada and China, with more treaties due to be signed. Further information www.maltafilm commission.com
Infrastructure
Thanks to its long history of hosting international productions, dating back to the UK film Sons Of The Sea (1925), Malta boasts an experienced, accomplished crew base. Technicians speak very good English, as well as Italian and French, and authorities make quick decisions on questions such as road closures and locations clearance. It is easy to find crew and local heads of department, and Malta is particularly strong when it comes to set construction. Labour and facilities costs are around 30% lower than in mainland Europe. Malta's main post facility is Stargate Studios, with several further companies now eyeing Malta as a base thanks to the changes in the rebate.
Locations
Steven Spielberg famously shot Malta for seven countries — Israel, Cyprus, Lebanon, Greece, Italy, Palestine and Spain — for his 2005 film Munich and capital city Valletta is a master of disguise. It can stand in for almost anywhere in the Mediterranean or Middle East with its narrow streets, churches and palaces. It even doubled for Peru in Joachim Ronning and Espen Sandberg's Norway-UK co-production Kon-Tiki in 2012. The rest of the island offers a huge range of locations, including the atmospheric 70,000 square metre Fort Ricasoli, which has doubled for ancient Troy, Alexandria and Rome. For Gladiator, Ridley Scott built on the existing architecture to create his city, complete with amphitheatre. Malta's spectacular Grand Harbour is a popular location, as is the medieval walled city of Mdina perched on a hill in the centre of the island. Just half an hour away by boat, Malta's sister island Gozo boasts a medieval hilltop town and secluded beaches as well as the Azure Window, a natural stone arch that was used in HBO's Game Of Thrones.
Where to stay
Thanks to its thriving tourist industry, Malta has an abundance of hotels, villas and apartments to suit every budget. Five-star hotel rates are competitive compared to the rest of Europe and accommodation spend is rebatable. Tom Hanks stayed at the Hilton Malta during the Captain Phillips shoot, while Dominic Cooper and the cast and crew of The Devil's Double were based at Le Meridien Hotel in picturesque St Julian's. Many productions base their offices in hotels, negotiating favourable rates in the process. With its private marina and beach, the swanky Grand Hotel Excelsior is another popular choice with productions. Jolie and co-star, co-producer and husband Brad Pitt chose to stay in a secluded villa at Ta' Cenc on Gozo with their children while filming By The Sea.
The good life
Malta attracts 1.5 million tourists every year for good reason. The crystal clear waters, yachts, white sandy beaches, rich and varied history and lively nightlife are not lost on international cast and crews. "If you're here for four months, it's important to be able to have a life. When you wrap after a long day shooting, you can go out, have fun and recharge," says Grech.
A favourite restaurant among crews is I Monelli in bustling Paceville, while Palazzo Parisio, housed in an 18th century palace, is popular with UK crews looking for a hearty Sunday lunch. The lack of media intrusion and the friendly but respectful locals are big draws for A-listers such as Pitt, who was able to walk to work untroubled while shooting World War Z in 2013. Malta is easily accessible: London and Paris are both three hours away via direct flights with British Airways, Air Malta and several budget airlines. Flights from Los Angeles arrive via London, Munich and Dubai.
Size matters
It takes 45 minutes to drive from one end of Malta to the other. The capital, Valletta, is a 20-minute taxi ride from the airport and all the major hotels are within a short drive.
Chris Brigham, executive producer, By The Sea
"We finished on time, we finished within our resources and we had a tremendous experience both in terms of working with the Maltese crew and the Maltese community. The government in particular worked very hard to support us. We will certainly be great for the film industry here."
What could be improved?
Malta has plans to build several sound stages, as part of a long-term vision to create a fully functioning film studio. The film commission has also allocated $767,000 (£500,000) to train locals in 2015, partnering with the UK's Film London to bring microbudget scheme Microwave to Maltese film-makers.
First person to call
Engelbert Grech, film commissioner, Malta Film Commission engelbert. grech@mfc.com.mt