Taiwan has a tendency to get under the skin of visiting film-makers. Just ask Luc Besson, Martin Scorsese and Isao Yukisada.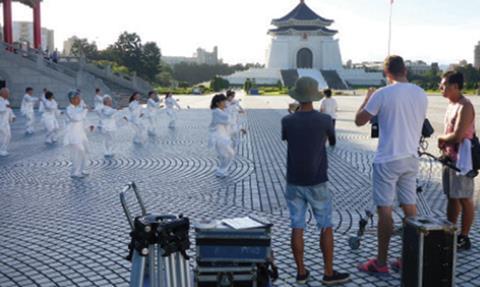 Taiwan's ascent to the top league of world locations started with Ang Lee's Life Of Pi, which was filmed in Taichung in 2011. It was followed by EuropaCorp's Lucy, in which Luc Besson showcased a Taiwan-set story. Then John Woo filmed part of The Crossing with high-profile Japanese and Korean actors, including Takeshi Kaneshiro and Song Hye-kyo in 2014. Most recently Martin Scorsese's Silence, starring Liam Neeson and Andrew Garfield, has seen Taiwan double for 17thcentury Japan. Further international productions include UK director Morgan Matthews' X+Y, Hong Kong director Oxide Pang's Detective Gui, Fuji TV's Japanese drama GTO and SBS's Korean reality show Roommate, as well as Hunan Television's China reality shows Where Are We Going, Dad? and Hubei TV's Perhaps Love.
Good to know
Beware of paparazzi — not only from Taiwan but also from Hong Kong, who are considered more notorious.
The Lowdown
Financial incentives
International film, TV and TVC crews shooting in Taiwan can access subsidies of around $1m per production. These include a 30% rebate on locally hired cast and crew, a 25% rebate on all pre and post qualifying spend and a 15% rebate on insurance costs. Additionally, Taipei City offers further production subsidies of up to $2m per annum for international productions. There is also a case-by-case incentive scheme for special projects. Further information www.taipeifi lmcommission.org
Infrastructure
Thanks to the vibrant local fi lm and TV industry, Taiwan has plenty of studios — the biggest ones are Central Pictures Corporation and Arrow Cinematic Group. In terms of postproduction, Tu's 3H Sound Studio is so renowned for sound mixing that Japanese director Isao Yukisada's Five Minutes To Tomorrow chose to do its audio post in Taiwan although it was not filmed there. Taiwanese crews are generally hard-working and well-trained, although not all of them are fluent in English. Translators are available.
Locations
While Lucy came to Taipei for its modern urban landscape, X+Y featured a local high school, night markets and the landmark Chiang Kai Shek Memorial Hall. Taiwan also caters well for period films. The Crossing built an old Japanese-style house on Yangmingshan, a mountain national park famous for its landscapes. The park was also a location for Silence, and doubled as 17th-century Japan.
Where to stay
Luc Besson, producer Virginie Silla and actress Scarlett Johansson stayed at the swanky Regent Hotel, which featured in the opening scenes of Lucy. Some international crew stayed at the Grand Hyatt. Rented apartments are easily available.
Taiwan life
While Johansson had fun at the zoo and the night markets, Besson enjoyed local chain Din Tai Fung for xiaolongbao (steamed dumplings filled with minced pork). He now has plans to open a xiaolongbao restaurant in Paris. Shrimp pools were the favourite entertainment for Yukisada, who has decided to include the shrimp fishing game in his next film.
Size matters
Taiwan is an island nearly the size of Switzerland. Taipei City, in the north, offers locations from the glamorous Xinyi District and popular youth hangout Ximending, to neighbourhoods with traditional Chinese, Japanese and modern characteristics. Yangmingshan is a 40-minute drive from downtown Taipei.
Virginie Silla, producer, Lucy
"The French crew and the Taiwanese crew collaborated very well. Everyone [in Taipei] was a hard worker. When we went to the production office late at night, everyone was there, seven days a week."
What could be improved?
Local crews' English-language skills.
First person to call
Taipei Film Commission service@ taipeifilmcommission.org