Dir/scr: Victoria Mahoney. US. 2011. 94mins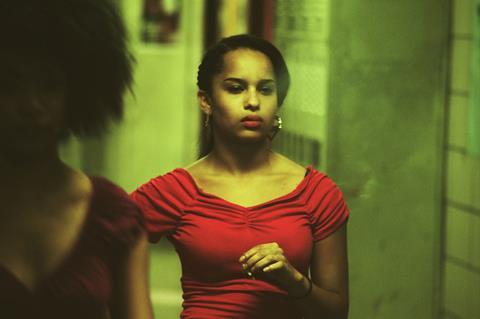 Precious Lite, anyone? A mixed-race teenage girl in blue collar New York with a violent alcoholic white father and a mentally fragile black mother falls apart and pulls herself together in this earnest, well-meaning, but ultimately flaccid and over-emoting first feature by Actors' Studio graduate Victoria Mahoney.


Though the film and its director undoubtedly have a great deal of heart and passion, too many scenes feel like actors' workshop exercises.
Some strong performances and enjoyably nonchalant handheld camera work can't make up for one-note characters, dialogue that is often wincingly on-the-nose, and a script that lacks tension or thematic resonance. As a director, Mahoney displays some of Ken Loach's mix of social conscience and sentiment, but she lacks Loach's secret weapon - a talented scriptwriter sidekick.

This is the sort of film that one would have expected to show up in a Sundance sidebar rather than in the main competition in Berlin, and its presence here should fool nobody regarding its slim commercial prospects.

Too spiky for the Tyler Perry brigade and yet too soft and Perry-like in its inspirational ambitions to really please the arthouse, Yelling To The Sky risks falling between two audiences. In Berlin it was being shared between the main competition and the Generation 14plus section, and there may be some mileage in marketing it as tough - but ultimately feel good - teenage viewing.

Though the film and its director undoubtedly have a great deal of heart and passion, too many scenes feel like actors' workshop exercises, including the opening confrontation, in which a gang led by meaty teen bruiser Latonya (Gabourey Sidibe, from Precious) pushes 17 year-old Sweetess (Kravitz) off her bike and starts to give her a going over - until her big sister Ola (Smith) comes to the rescue, laying on the upper cuts despite being in an advanced state of pregnancy.

Both smart but both also emotionally damaged, Sweetness and Ola live in a scruffy home in a poor mixed suburb of New York. Their father Gordon (Jason Clarke, good in a difficult role) is a hard-drinking Irishman who is not above hitting his womenfolk, their mother Lorene (Ross) a willowy, mentally unstable creature.

Both the mother and Ola drift away from the house ("Lucky you, escaping!" Sweetness tells her sister, as if we hadn't worked this out for ourselves), leaving Sweetness alone with her father and at the prey of Latonya and the other high-school bullies.

So Sweetness does what any kid of her age would do in such a fix: she goes to the local drug-lord-with-a-heart-of-gold, Roland (Trotter) and asks for a stake of his stash so she can push product and gain kudos at her high school. Soon she's hardened up and attracted two lieutenants from Latonya's gang over to her side. Meanwhile Ola has come back, without her boyfriend (who hits her, naturally) but with a baby daughter. Eventually the mother turns up too, and the long, slow healing process can start.

Nothing in the story suggests that we're meant to be anywhere else but in the present day, yet there's something dated about so many of the characters and situations. The mother and father seem to have stepped out of an Arthur Miller play, while the film's garish depictions of drug use have a whiff of Opium Den prurience. It all provides fuel for those who say that social relevance and accuracy are more to be found in TV series like The Wire these days than in the cinema.

What the film does have is a certain New Wave panache in its inventive handheld camerawork and odd lurches from scene to unrelated scene. What it most singularly lacks is a feel for dramatic tension, which is oddly absent from a scene in which Roland and Sweetness are being chased by the police after a drug bust.

Musically, Yelling To The Sky mixes lilting piano melodies, hip-hop and Joni Mitchell's Both Sides Now to not particularly inspiring effect. There's a lack of discipline in this, a striving for quick effect which is there too in the characters' readiness to emote at the drop of a hat or the hurl of a plate. In addition to Jason Clarke's strong turn in the role of the father, Zoe Kravitz puts in a believable performance as an emotionally battered young woman at an important crossroads. It's just a shame the script doesn't match her commitment.



Production companies: YTTS, LLC
International sales: Elephant Eye Films, www.elephanteyefilms.com
Producers: Ged Dickersin, Diane Houslin, Victoria Mahoney, Billy Mulligan
Cinematography: Reed Morano
Production designer: Kelly McGehee
Editor: Bill Henry
Music: David Wittman
Main cast: Zoe Kravitz, Jason Clarke, Antonique Smith, Yolonda Ross, Gabourey Sidibe, Tim Blake Nelson, Tariq Trotter