Dir: David Gordon Green. US. 2011. 102mins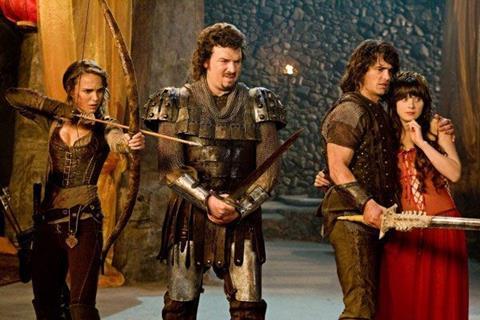 A rowdy, vulgar spoof of swords-and-sorcery fantasy films, Your Highness shows some irreverent spunk early but doesn't have enough comic energy to make it to the end credits. Reuniting with Danny McBride and James Franco, two of his stars from Pineapple Express, director David Gordon Green's hard-R comedy eventually gives way to an over-the-top action film, which is not helped by the fact that the script's relentlessly puerile humour eventually begins to feel monotonous.
While the film is ostensibly a comedy, it's a rather violent and action-packed one.
Opening April 8, this Universal offering will try to position itself as a raucous, guy-centric laugher to compete with the more mainstream Arthur which also comes out this weekend. The film's restrictive R rating and lack of blockbuster stars, despite the studio's attempts to play up Portman's secondary character in the film's advertising, will probably lower Your Highness' theatrical ceiling, although the inevitable "unrated" DVD may prove popular among the movie's fan base down the line.
In a mystical realm long ago, lazy prince Thadeous (McBride) must accompany his incredibly heroic brother Fabious (Franco) on a quest to rescue Fabious' kidnapped would-be bride Belladonna (Zooey Deschanel). Along the way they encounter the fearsome warrior Isabel (Natalie Portman) as they seek an indestructible sword that can help free Belladonna from her captor, the wizard Leezar (Justin Theroux).
Mocking the stone-faced chivalry of movies like The Lord Of The Rings, Your Highness is gleefully crass, filling the frame with nudity (female and male), obscenities, and other calculatedly inappropriate behaviour. At first, the juxtaposition of a heroic setting with gutter-mouth talk makes for a funny contradiction, helped by Franco's and Portman's tongue-in-cheek portrayals of, respectively, the stereotypical male hero and butt-kicking vixen warrior.
Unfortunately, the screenplay, co-written by McBride, never shifts into a higher gear after establishing its promising characters and scenario. Instead, Your Highness merely strains to outdo its previous outlandishness, which produces only diminishing returns when the actual story starts to falter. (For example, a severed penis becomes an unfortunate, desperate running gag near the film's end.)
And while the film is ostensibly a comedy, it's a rather violent and action-packed one, complete with a couple darker battle sequences, which culminates in an effects-heavy finale that glumly pits good against evil. Green feels comfortable with the casual, dude-friendly comedy, but as Your Highness' stakes start to escalate, the movie becomes rather impersonal and cumbersome.
McBride gets laughs as the buffoonish, jealous brother Thadeous, but his impolite-loser persona can only take the character so far. His role is the only one in the film that's a more contemporary spin on a fantasy-movie type, and while the other performances are solid, they aren't inspired enough to transcend their one-dimensional cleverness. Deschanel in particular is wasted as a damsel mostly concerned about being raped by Leezar, a clue into Your Highness' defiantly politically incorrect (but only intermittently funny) brand of levity.
Production company: Stuber Pictures
Domestic distribution: Universal Pictures, www.universalpictures.com
Producer: Scott Stuber
Executive producers: Danny McBride, Andrew Z. Davis, Jonathan Mone, Mark Huffam
Screenplay: Danny R. McBride, Ben Best
Cinematography: Tim Orr
Production designer: Mark Tildesley
Editor: Craig Alpert
Music: Steve Jablonsky
Website: www.yourhighnessmovie.net
Main cast: Danny McBride, James Franco, Natalie Portman, Zooey Deschanel, Justin Theroux, Toby Jones, Damian Lewis