Dir: Mahmut Fazil Coskun. Turkey-Germany. 2013. 96mins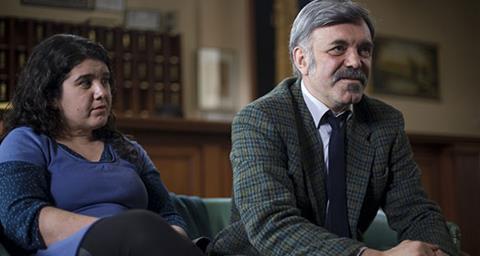 Adopting the same slow, subdued, minimalist approach of his debut film the award-winning Wrong Rosary, Mahmut Fazil Coskun has chosen to deal once again with an undeclared relationship, this time between an older man and a younger woman. An encounter between two generations and two different attitudes to life in general and social intercourse in particular, Coskun's film proceeds at a deliberately reflective pace that art house audiences will see as subtly challenging but general audiences might find at times on the verge of soporific.
Coskun observes this peculiar relationship but never tries to intrude or impose on it, and allows it to develop naturally without any interference.
This well-acted drama, with two familiar festival faces in the leads - Ercan Kesal (Once Upon A Time In Anatolia, Mold) and Ayca Damgaci (My Marlon And Brando) - should be welcome on the international festivals circuit, which, in any case, seems to be the target it always had in mind.
Yavuz (Kesal, who won the Best Actor Award at the 2013 Istanbul Festival), plays an older man, past his prime but well preserved, who teaches music at municipal courses in Istanbul and rounds up his income singing French songs of the eighties in the city's flashy malls, his favorite tune, by far, being Joe Dassin's Ete Indien, which is repeated so often through the proceedings that after a while, it becomes the picture's theme song.
A lonesome bachelor who hides his bald pate under a toupee for his public performances, he is about to leave Istanbul for a while after his father's death for a stint in a small provincial town, Yozgat, when an unemployed former student of his, Nese (Damgaci), asks whether she could come along. All she can suggest as her contribution is to provide background vocals on stage, and though Yavuz is less than enthusiastic about the idea, he is willing to give it a try.
Once in Yozgat, Nese has to overcome inevitable stage fright, but when they get favorable write-ups in the local radio and newspaper, everybody seems to be happy with their routine. The two of them are drawn together after they are lodged by their employer in two connecting hotel rooms, and soon fall into a life pattern similar to an old married couple - sex excluded - getting up together for breakfast in the morning, sharing meals together and working at night on stage next to each other.
Morose Yavuz is perfectly content to settle in this relationship, but Nese, who is far from being a glam star, is much younger, more outgoing and naturally inclined to enter new relationships. She boldly merges into the new set-up, finds herself featured as a background singer in a poetry reading show and strikes a bond with a young hairdresser about to open a ladies' salon on his own and the inevitable happens.
Yavuz is still working up courage before declaring his intentions to Nese when he is first told that his type of music is old-fashioned and he is to be replaced by a local folk band and then he finds out Nese, entirely oblivious of his intentions, has entirely different plans for her future.
Coskun observes this peculiar relationship but never tries to intrude or impose on it, and allows it to develop naturally without any interference. He keeps his distance and invites the audience to read between the lines and unravel on their own the easily guessed secret thoughts and emotions of his characters.
Yavuz and Nese drift surreptitiously apart as Nese becomes less dependent on Yavuz's support. Kesal's often moving, introvert, performance as a sullen middle-aged single man who has lost (if he ever had) the gift to communicate with other human beings, is in sharp contrast with Damgaci's candid ingenuousness, her willingness to accept new people and new experiences. She is looking expectantly towards the future just as he feels the approaching chills of old age.
Production companies: Hokus Focus Film, Arden Film.
Sales contact: Hokus Focus Film, info@hokusfocusfilm.com
Producer: Halil Kardas
Screenplay: Tarik Tufan, Mehmet Fazil Coskun
Cinematography: Baris Ozbicer
Editor: Cicek Kahraman
Production designer: Osman Ozcan
Main cast: Ercan Kesal, Aysa Damgaci, Tansu Bicer, Nadir Saribacak, Kevork Malikyan