Dir: Jalil Lespert. France. 2014. 104mins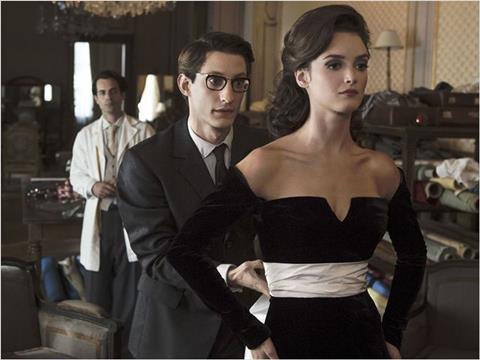 A concise and frequently touching real-life soap opera fashioned from very appealing soap, Jalil Lespert's Yves Saint Laurent does an effective job of condensing two decades in the life of the justly celebrated clothing designer into a series of pithy vignettes carried along by genuine emotion and a superb central performance.
Saint Laurent's exacting standards, fashion instincts and pioneering designs (tuxedos for women, the Mondrian dress) really did radiate out into the wider culture to lasting effect.
It would be hard to overstate how completely Pierre Niney inhabits the title role, from the impossibly lanky fashion prodigy of 1957 to the filled-out and visibly diminished figure of 1976. The voice, posture, mannerisms, slightly twisted mouth - its all here and all in the service of one man's unusual destiny.
Compared to Hollywood and the UK, biopics are still a relatively recent genre in France (the Edith Piaf tale La Vie en Rose really started the ball rolling) and audiences have avoided some true tales while making hits of others. The considerable good-will that accrues to both Niney and co-star Guillaume Gallienne (both members of the permanent troupe at the Comedie Française where they are justly heralded for their versatile stagecraft), plus the subject matter, should make this very popular at home, while interest in the title character should carry the day in the many territories where the film has been pre-sold, including The Weinstein Company for the US.
Although two women wouldn't be caught dead in the same haute couture dress at the same function, there is no reason to believe that the world can't accommodate two YSL biopics. This one - the authorised portrait with the blessing and cooperation of Saint Laurent's longtime romantic and business partner Pierre Bergé, still going strong at age 83 (Saint Laurent died in 2008) - hits French cinemas on January 8 and opens the Panorama section at the Berlin Film Festival. That means the production was able to use authentic locations and that the garments so fetchingly displayed are the genuine articles.
Bertrand Bonello's version starring Gaspard Ulliel and Jeremie Renier (as well as Lea Seydoux, Louis Garel, Amira Casar and Willem Dafoe) is widely believed to be Cannes-bound.
With fame an end in itself for so many modern personalities, the picture does a very good job of conveying Saint Laurent's pathological shyness and frustration-fueled temper when forced to deal with anything outside of concentrating on his design work. At his first solo runway show, Yves meets Bergé (Gallienne, outstanding), a wealthy businessman from a working-class background active in the "major arts" (painting, sculpture, certainly not fashion). Bergé is as masculine and pragmatically no-nonsense as Saint Laurent is easily overwhelmed and effeminate. It would seem that opposites attract.
Through entrepreneurial chutzpah, Bergé raises the financing to launch the YSL fashion house and the rest, as they say, is history.
The term "genius" is tossed around a great deal in the production notes, but Saint Laurent's exacting standards, fashion instincts and pioneering designs (tuxedos for women, the Mondrian dress) really did radiate out into the wider culture to lasting effect. After a slightly wobbly but necessary prelude with the designer's family in his native Oran in Algeria, the film picks up steam and remains consistently involving. Gallienne-as-Bergé narrates the tale in a few places with most of the film a series of flashbacks.
There is quite a lot here for the different demographics so beloved of marketing departments: Fashion fiends, aficionados of the 1960s and '70s and pre-AIDS sexual mores, students of the strategic role and rise of PR and anybody curious about the ways in which talent and beauty are exploited or squandered in the big leagues.
Sex and sexual power-plays are absolutely crucial, well-handled and sometimes surprising in their configurations. And the love story between Pierre and Yves is heady stuff, especially when late-blooming Yves decides to have the rebellious adolescence he missed out on. Pierre signed on for the relationship believing in Yves' talent and hoping to protect him from himself despite Saint Laurent's bipolar episodes.
Actors playing Jean Cocteau, Andy Warhol and other marquee names - Nikolaï Kinski is entertaining as the imperious Karl Lagerfeld - appear at appropriate junctures but the effect is not one of ticking off all the boxes. Laura Smet is quite good as muse and creative sidekick Loulou de la Falaise, as is Charlotte le Bon as pivotal early model, Victoire.The score by much-admired musician Ibrahim Maalouf is perhaps too emphatic in places, although few will mind.
Production company: WY Productions
International sales: SND, www.snd-films.com
Producer: Wassim Beji
Screenplay: Marie-Pierre Huster, Jacques Fieschi, Jalil Lespert, freely adapted from the book Yves Saint Laurent by Laurence Benaïm
Cinematography: Thomas Hardmeier
Editor: François Gedegier
Production designer: Aline Bonetto
Music: Ibrahim Maalouf
Costumes: Madeline Fontaine, Yves Saint Laurent
Main cast: Pierre Niney, Guillaume Gallienne, Charlotte Le Bon, Laura Smet, Marie De Villepin