Inaugural prize awarded as part of the Zurich Film Festival.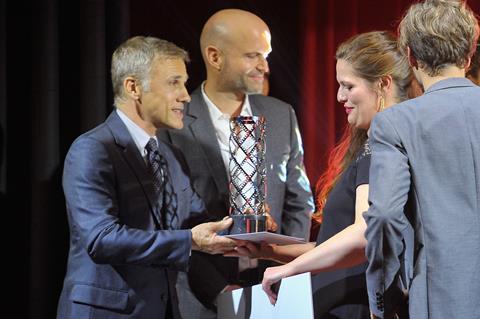 Swiss directors Michael Steiner and Jan Gassmann have won the first-ever Filmmaker Award, presented by Inglourious Basterds star Christoph Waltz at the Zurich Film Festival on Saturday (Sept 26).
The prize, set up by the Association for the Promotion of Film in Switzerland to support promising films, was open to Swiss filmmakers whose projects are currently in the late production or post-production phase.
Steiner's project, Und Morgen Seid ihr Tot, received CHF 75,000 ($77,000) and Jan Gassmann's project, Europe, She Loves, received CHF 25'000 ($26,000).
The two winners were chosen from a total of four nominated projects.
The presentation took place at IWC gala dinner For the Love of Cinema, held as part of the 11th Zurich Film Festival, to which the Swiss luxury watch manufacturer had invited VIP guests from the worlds of film, media, politics and commerce.
Waltz, who headed the jury, said: "I am proud to be here in person to present this award, which is very important for the Swiss film industry.
"Providing sponsorship for filmmakers is a necessary and relevant task, one which makes a significant contribution to the diversity of Swiss film."
Und Morgen Seid ihr Tot, from producers Bernhard Burgener and Norbert Preuss of Kontraproduktion , tells the true story of two Swiss citizens, Daniela Widmer and David Och, who were kidnapped by the Taliban in Pakistan in July 2011 and escaped after eight months spent in captivity.
Shooting is planned to start in February 2016, directed by Steiner, known for Mein Name ist Eugen and Grounding.
Europe, She Loves, from producer Lisa Blatter of 2:1 Film, is a docu-drama in which director Jan Gassmann and his small team travelled 20,000km in a bus to film portraits of five couples in Seville, Dublin, Tallinn, Zagreb and Thessaloniki.
The result is a semi-fictional political documentary about Europe during the economic crisis. The film is in post-production.
"The scripts of both these films stood out for their compelling storytelling and the exceptional sensitivity with which these two very different stories were told. Hopefully we'll be able to see both of them on the big screen soon," said IWC CEO Georges Kern during the award ceremony.
World War Z director Marc Forster, who was also a member of the jury, said the Filmmaker Award represented a milestone for the Swiss film industry.
"By specifically backing projects in the pre- or post-production stages, we are plugging a gap in the existing funding available for films," he said.