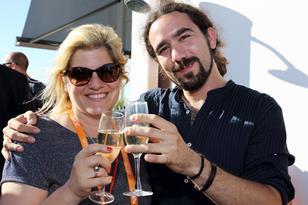 Photos from last week's CineEurope reception hosted by Screen with the Event Cinema Association and Eurpoean Digital Cinema Forum.

As Churchill wraps its shoot, Screen can exclusively reveal another image from the film.

It's an Olympic year again, and despite being overshadowed by the US mass media's inflated coverage of its upcoming presidential election, the Games in Brazil represent a culmination of many athletes' lifelong journeys to represent their countries on the most respected stage in athletics. 

Creative England CEO Caroline Norbury suggests documentary filmmakers should hit upon a subject matter or story that has the potential to impact society - and how her organisation is working to support the filmmaker's vision.

Studiocanal, Blueprint Pictures and BBC Films have released first images of Colin Firth and Rachel Weisz in their previously untitled Colin Crowhurst drama, which is now called 'The Mercy'.

The Edinburgh Film Festival got off to a glittering start on a damp evening in the Scottish capital.

Who should be the new James Bond and who should direct their first outing?

Jude Law plays Pope Pius XIII in the TV series directed by Paolo Sorrentino.

A collection of images from the 70-year history of the Edinburgh International Film Festival.

Unsung hero Jan Tomalin on her award-winning career.

Virtual reality and immersive story-telling are all the rage and the Annecy Animation Festival is about to offer a taste when Google premieres a short from its Spotlight Stories series.