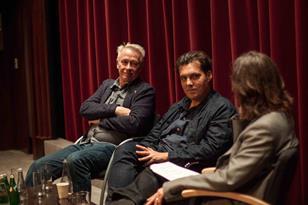 Director Joe Wright and producer Paul Webster talk to NFTS about their vision for 'Pan' and making a tentpole movie with Warner Bros.

Soaking wet, grizzled Matthew McConaughey and Edgar Ramirez are hatching a crazy plot in the jungle – what's not to like?

The 26th edition launched last night with guests including Natalie Dormer and Hanif Kureishi.

SCREEN SUBSCRIBERS: Charles Leveque, a partner at London law firm Harbottle & Lewis, explains the process.

New Regency and Fox have offered another glimpse into Alejandro G Iñárritu's upcoming revenge epic starring Leonardo DiCaprio.

Canadian filmmaker Elisa Paloschi is premiering her film, Driving With Selvi, at Raindance tonight (Sept 28) in London.

Top executives went head-to-head at the Zurich Summit's annual tennis tournament.

The island nation's soca superstar paid a heartfelt tribute to the excellence of local talent at the world premiere screening of his acting debut on Wednesday at the trinidad + tobago film festival.

The High Fidelity author spoke about An Education, Reese Witherspoon and upcoming period drama Brooklyn during a wide-ranging discussion of his career.

Documentary follows a year in the life of Jesse "The Devil" Hughes from the Eagles of Death Metal.

Slumdog Millionaire writer spoke to NFTS students about the challenges of writing the epic thriller.