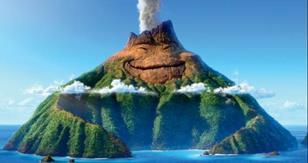 A romantic volcano? Who would have thunk it? Why those sharp minds at Pixar, of course.

COMMENT: A year after Gravity wowed Venice, Birdman could be in flight for a similar path to awards glory - especially for Michael Keaton.

Universal Pictures International has released the first trailer from Working Title, PeaPie Films and 02 Filmes' adventure directed by Stephen Daldry.

First images from a new Disney short, directed by the head of animation on Oscar-winner Paperman.
Daniel Craig, Elton John and Lana Del Rey also donate signed memorabilia for charity auction.

Screen reports from the 15th edition of the genre festival and first from its new venue, including an interview with Starry Eyes' writer-directors Kevin Kolsch and Dennis Widmyer.

Screen reports from the opening night of Film4 FrightFest which saw the UK premiere of Adam Wingard's The Guest.

Everybody adores him, so Toronto International Film Festival has done the decent thing.

"Discover how little you know about the people you know," suggests the slightly sinister tagline to Jason Reitman's upcoming Toronto world premiere.
They weren't kidding around at Marvel Studios when they announced the start of production in San Francisco this week.

The Black Power Mixtape director talks about his latest and future projects.