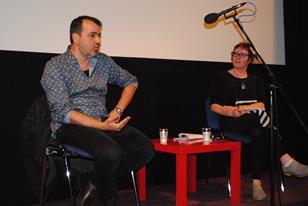 The Hungarian Cultural Centre and The London Film School partnered on a special two-day visit by award-winning director Kornél Mundruczó.

Broad Green Pictures has issued its latest trailer for the upcoming Bill Bryson adaptation starring the venerable pair of Robert Redford and Nick Nolte.

The Los Angeles Greek Film Festival (LAGFF) has announced its International Project Discovery Forum development workshop selections and the features and documentary jury members.

Disney gives NFTS students preview screening of 'Tomorrowland' and Q&A with Co-Creator Jeff Jensen

Mary J Blige joined Jake Gyllenhaal and guests aboard a private yacht in Cannes on Friday for a private screening of Southpaw orchestrated by The Weinstein Company.
Fionnuala Halligan blogs on the Cannes Competition titles straight from the Palais.

Clips show Michael Fassbender in fighting spirit as Shakespeare's warrior undone by ambition.

A roundup of Cannes fun, from John Lasseter's wine habit to Steve McQueen's son.

Jean-Michel Cousteau talks about his documentary, aiming to premiere at next year's Cannes.

Victoria Thomas talks about her new App, Cues, which was unveiled at Cannes.

The French filmmaker talks to Geoffrey Macnab about Ice and the Sky.