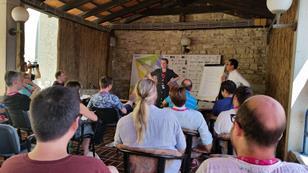 Screen asked the participants at the fifth-annual Developing Your Film Festival course what tips they took away from expert speakers and their peers.

A multiple award-winning documentary about the making of a Western shot entirely with a cast of actors living with disability is to start a limited run in New York this autumn.

New York and Venice had each set sail into awards season amid a squall of potent announcements by the time Toronto entered the fray on Tuesday with a flotilla of programming highlights.

What do we know so far about Moore's latest documentary?

A Lance Armstrong biopic, Ridley Scott's new sci-fi and Julianne Moore's latest are amongst the galas in Toronto this year.
Pictures of the gala films set to screen at the 40th Toronto International Film Festival.

Motovun Film Festival kicked off Saturday night by giving each attendee a lighter and a sparkler for a group photo.

Screendaily reports from the pitching session of the sixth Frontières International Co-Production Market at Fantasia.
Ian Sandwell talks to RKSS about the journey of their genre festival hit Turbo Kid.

When Lionsgate screened the official trailer for The Hunger Games: Mockingjay – Part 2 at Comic-Con earlier this month it is safe to say the crowd reacted positively.

Pulsing action, dangerous romances and mysterious villains: the first full trailer for the latest James Bond film is here.