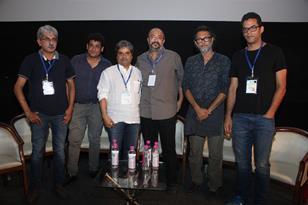 Some of India's leading filmmakers discussed the country's lack of creative screenwriters during a Mumbai Film Festival panel discussion.

Laura Poitras' Citizenfour, the remarkable documentary about NSA whistleblower Edward Snowden, had its UK premiere at the BFI London Film Festival last night, in an event that was broadcast live to 70 cinemas across the UK.

Colette Naufal talks about building the Beirut International Film Festival.

Screen asked festival and awards season experts: 'Which actor or director would you like to be stuck with in an elevator?'

A panel of top casting directors from the US and UK offered tips during an industry panel at the BFI London Film Festival.

Director Catherine Hardwicke and stars Drew Barrymore and Toni Collette took a break from their busy shooting schedule for Miss You Already in London last week to meet with journalists and breast cancer survivors.

Tove Jansson's niece Sophia is part of the team behind a new Moomins feature film (playing at the BFI London Film Festival) that draws on the spirit and style of the author's classic comic strips.

Joshua Oppenheimer spoke at Busan's Asian Network of Documentary (AND) about his Venice Grand Jury prizewinner, The Look Of Silence, and its preceding companion piece The Act Of Killing.

If you've been to the Busan International Film Festival, you'll probably know about the fish tank bars by Haeundae beach, where they serve all kinds of raw seafood and some cooked.

Animation supervisor on The Little Mermaid, Aladdin and Beauty and the Beast shares experiences.

Supposedly retired, former BIFF director Kim Dong-ho still works with the festival, heads a presidential committee and is running a cinematic graduate school at Dankook University.