Tom Hanks & Barkhad Abdi, Captain Phillips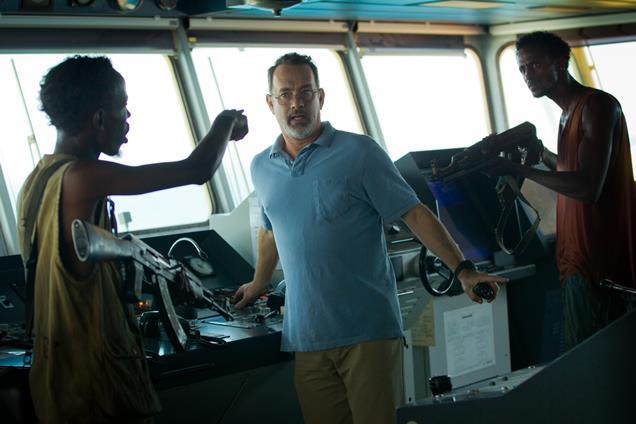 Tom Hanks and Barkhad Abdi come from wildly different backgrounds but find truth in their roles in Captain Phillips, they tell Jeremy Kay.
Tom Hanks and his Captain Phillips co-star Barkhad Abdi are eating lunch at Shutters On The Beach hotel in Santa Monica, talking about fear.
Hanks explains how Richard Phillips, the skipper of a hijacked US cargo ship that inspired Sony's worldwide hit, told him the biggest day-to-day concern for mariners was Mother Nature, of which more later.
For Abdi, the 28-year-old plucked from obscurity by director Paul Greengrass to play Muse, the leader of the East African pirates who commandeered the Maersk Alabama in April 2009, the biggest fear was closer to home.
The Somali actor's bright eyes inhabit a furiously expressive face as he chomps on fish and chips and nods to his right. "You know the scariest part was when I was first meeting Tom. That was the scariest it got in the movie.
"After that, you would have some scenes that I could not get correctly. I would have a hard time, but you know, we'd just work on it."
This from the novice who dispensed with stunt men and - alongside his fellow Somali first-time actors, it must be said - stood tall on a skiff time and again as the small vessel crashed through the waves until Greengrass was satisfied he had his shot.
Greengrass, who is also present during the interview, praises his young actor for "flawless balance".
Hanks remembers: "There was one point, when I saw them out there and was like, 'Oh there's the second team working out there on the skiffs,' and Paul goes, 'No, that's not the second team.' It was those guys."
"I used to play soccer so I'm good on my feet," says Abdi. "With the training I learned to feel the wave on the skiff and go with it. I was like, 'I have to get that ship in front of me, that big thing. I'm getting it'."
Hanks and Abdi - each now BAFTA and Screen Actors Guild nominees - enjoy an easy chemistry despite a vast gulf in lifestyles. Hanks, the double Oscar winner who can pick his roles, was approached through agents and the studio, whereas Abdi the unknown prevailed in a global casting call.
Hanks was already interested in the story and jumped at the chance to work with Greengrass. "He makes movies the way I like to see them, so it was a definite. We had met each other a couple of times and discussed the possibility of working together once or twice, of which nothing ever came up… All it required was a howdy-do."
To prepare for the role, Hanks read Phillips' 2010 book, A Captain's Duty: Somali Pirates, Navy SEALs and Dangerous Days At Sea, and he and Greengrass had several conversations about how they saw the story panning out.
"I don't think we were taking what happened and making [events] more important or less important; we were just taking a look at the concrete realities of how all the parties ended up in that lifeboat together."
The star wanted to understand the mind of the merchant mariner and got to know Phillips. "I talked to him quite a bit. We exchanged some e-mails and I went over to his house twice, once with Catherine Keener, who played Andrea [Phillips' wife].
"I didn't go in armed with anything specific really, we just talked about the entire experience. What I got mostly out of him was so many of the little details of what it takes to be a captain of the ship, essentially the never-ending burden.
"He does have time to read books, he does have time to watch movies, but… he says the worst thing that has ever happened to a merchant mariner is the invention of e-mail. It used to be he could be out at sea and no-one could get to him until he would have to send off some cables, and now everyone can get to him at every single second."
Hanks was struck by Phillips' humility in the wake of a four-day ordeal that saw him board the Alabama's lifeboat with the four pirates. All the cargo ship's crew survived, while three pirates were killed in the Navy SEALs rescue, and Muse ended up in prison.
"I was asking [Phillips] about how afraid he was of getting killed by the guys. He said he had been afraid on two other occasions - one was in a typhoon at sea, where all he could do was hold on for the better part of four hours and he honestly thought [he would die], and another was a fire in the engine room.
"He said that's a brand of fear that you can't do anything about, you're fighting nature. At least this way he had an interaction with these guys and it was just different from that brand of helplessness."
Jumping off
Abdi came to the project after he turned up to a casting call staged by Sony in the expatriate Somali community in Minneapolis, Minnesota, where he had lived since moving to the US at 14-years-old. "Well I always loved acting, and I remember the story happening on the news," says Abdi.
"So the casting call came - Tom Hanks film casting Somali actors. So I decided to give it a chance. It was a big crowd, more than 700 people."
After two auditions Abdi was summoned to meet Greengrass at the very same Shutters On The Beach hotel. "That's when he told us we got the part. We jumped into the ocean there."
Billy Ray's screenplay went through several drafts, each addressing cut-away scenarios, such as Phillips' home and the Pentagon. In the end, it was Hanks who suggested they focus on the action at sea and the two captains.
As if to underline the precarious power struggle within the story, Abdi's character Muse declares at one point: "I'm the captain now." It was an ad-libbed line, made possible by Greengrass's routine of shooting numerous long takes.
"Once you do that, other things get impacted and you start stretching moments out and exploring things that don't exist per se in the dialogue because you're capturing this emotion and behaviour," Hanks says.
Abdi's impromptu line allowed him to channel the desperation of the pirates under intense circumstances.
"Just like Paul [has] said, these kids get so little, like most of them don't have parents or their parents are poor. So they have to make a living. They have no school. The country didn't have anything, no schools and no government for the past 20 some years," says Abdi.
"These kids are being used by older guys and before [the out-of-country crime lords got involved], there were other guys in the street who manipulated these kids from the same tribe.
"One thing about Somalis is they talk a lot. They don't have the media, but the word of mouth gets around. There are so many stories about pirates going around and you never know which one is true and which one is a lie.
"In the majority of cases, [the pirates] don't know how to use the money [they earn]. They waste it while other people make money off them."
With a deep respect for the subject matter and a level of devotion that impressed Greengrass and the producers, Hanks and Abdi have not wasted their opportunity to bring to life one of the year's most dramatic movies.
By early January, the fruits of their labour were abundantly clear. Captain Phillips has crossed $213m worldwide.