Hunger Games hits UK
Screen was on hand at the Hunger Games European premiere at the O2.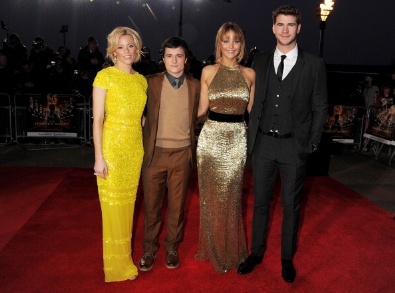 Screen was lucky to be on hand last night for the European premiere of The Hunger Games. The entire editorial team here has read the book and are big fans of Katniss & co, and the film certainly lived up to the book and even exceeded expectations. Jennifer Lawrence continued her gold-dress theme from the Los Angeles premiere, but the chilly temperatures in London had her bundled up in a black coat on some parts of the long red carpet at the O2 [there were said to be 2,000 screaming fans in attendance]. Cast members on hand also included Liam Hemsworth, Josh Hutcherson, Toby Jones, and Elizabeth Banks. Producer Nina Jacobseon said: "It's a thrill for all of us to be here," and sent best wishes from director Gary Ross whose "kids needed him at home." Lionsgate UK head Zygi Kamasa promised the film was "quite frankly edge-of-your-seat thrilling and entertaining" and he wasn't wrong. The evening continued with an intimate after party at Gaucho.