When I Saw You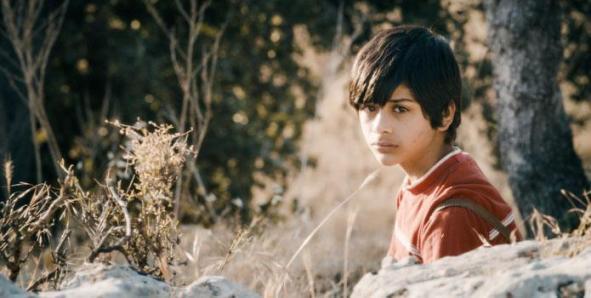 Dir/scr: Annemarie Jacir. Palestine-Jordan-UAE-Greece. 2012. 93mins
A tender, sometimes mischievous coming-of-age story set around a Palestinian refugee camp, When I Saw You is a hearfelt, approachable, if soft-centred depiction of deracination from a child's point of view. A polished, narratively engaging package from writer-director Annemarie Jacir, When I Saw You is hardly the most confrontational screen treatment we've seen of this theme, but that should give it a modest shot at commercial exposure beyond festivals, especially those with children's and human rights angles.
When I Saw You is a tender, benign film although it clearly has a strong core of political anger.
Set in Jordan in 1967, the film centres on Tarek (Asfa), an ebullient young boy who lives in a Palestinian refugee camp with his mother Ghaydaa (Blal), both hoping against hope that Tarek's dad will eventually find them and that one day they'll all be return to their homeland. The first part of the film vividly sketches out the harsh conditions in the camp - notably, long queues for the austere toilet facilities - as well as Tarek's irrepressible character. Unable to read, he's nevertheless an acutely smart kid, and a natural mathematician - although his intelligence seems to be distracting his classmates, causing him to be excluded from school.
Tiring of camp conditions, Tarek goes walkabout and finds himself lost in the wilderness - where he's found by Layth (Bakri), a member of a fedayeen paramilitary group stationed in the vicinity. Tarek is taken in by the group and eventually gets to join in their training activities, under the gruffly watchful eye of Maoist-inspired commander Abu Akram (Elayan), who's always ready with a stern political dictum.
Eventually, Mum tracks Tarek down to the camp, and a freeze-frame ending suggests that, against the odds, they might stand a chance of getting home.
When I Saw You is a tender, benign film although it clearly has a strong core of political anger. A sweet, wry humour and strong characterisations work in its favour, with Blal very impressive as the no-nonsense unsentimental young matriarch. As Tarek, Asfa brims with enthusiastic energy - although the film relies over-heavily on his artlessly big-eyed exuberance.
Hélène Louvart's photography is no-frills but evocative, contrasting the harsh greys of the refugee camp with the greens and other natural tones of the clearing where the fedayeen encampment comes across as a rather idyllic déjeuner sur l'herbe. Period Arabic pop, plus a vintage Cat Stevens number, add to the historical background - and back up the film's argument that, over five decades, not much has changed for children like Tarek.    
Production company: Philistine Films
International sales: Match Factory. www.the-match-factory.com
Producer: Ossama Bawardi
Cinematography: Hélène Louvart
Editor: Annemarie Jacir
Production designer: Hussein Baydoun
Music: Kamran Restegar
Main cast: Mahmoud Asfa, Ruba Blal, Saleh Bakri, Firas W. Taybeh, Ali Elayan