Dir: David Cronenberg. Canada-UK-Germany. 2011. 99mins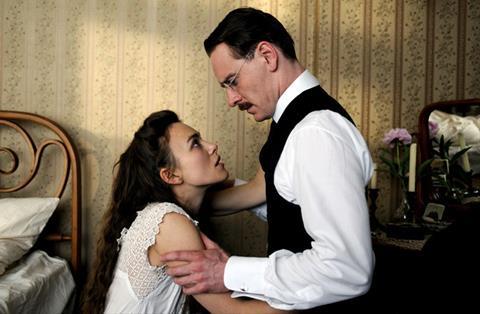 An elegant and absorbing chamber piece of the film, David Cronenberg's delve into the turbulent relationship between psychiatrists Carl Jung and his mentor Sigmund Freud and the talented but troubled young woman Sabina Spielrein who comes between them, is beautifully watchable and driven by a series of thoughtful and stylish performances.
Knightley delivers an impressively nuanced performance that highlights Sabina's intelligence and charisma.
Screening in competition at Venice, it is a cool, mannered and perfectly structured film (it leaves you wanting more rather than less) with fine performances from Keira Knightley, Michael Fassbender and Viggo Mortensen and an easy visual grace. It is film with sex and sensuality at its core, and while Keira's on-screen spanking antics will no doubt attract a certain press attention this is a film resolutely about the mind.
Adapted by Christopher Hampton from his stage play The Talking Cure (the term for the early development of psychoanalysis) the film treads an intelligent and dialogue-heavy route through a complex subject, with scenes set mainly in treatment sessions, static conversations and letter-writing, though there are also some delightfully staged exterior sequences which make great use of stylish Austrian and German locations.
A Dangerous Method is a film that could well attract attention in awards season – it has the intellectual pedigree and high performance level to justify nominations, and while perhaps too mannered and highbrow to attract mainstream audiences it has the capacity to be a heavily talked-up film. Cinematography, costumes and production design are all quite sublime.
While the relationship between the up-and-coming Jung (Fassbender) and the legendry Freud (Mortensen) is the overarching story, at its core is the young Russian Jewish woman Sabina Spielrein (Knightley) and the controversial treatment she undergoes at the hands of Jung as he seeks to treat her deep-rooted psychological issues.
The film opens in dramatic style as a screaming and flailing Spielrein is carried into the Burgholzi Clinic in Zurich in 1904 and into the care of 29 year-old Carl Jung, who at this stage is dabbling with Freud's experimental theories. Disheveled, raging and convulsing, Spielrein is encouraged to talk…to share her early memories of a physically abusive father and her sexual responses to his beatings, with Jung a calm and caring sounding board.
Two years later, Jung travels to Vienna to finally meet Freud (Mortensen, sporting a prosthetic nose and chain smoking cigars) to discuss theories and the Spielrein case in particular. So begins a wary but close relationship between the two men with Freud charmingly unwilling to go too far beyond his own theories and Jung pressing to extend the boundaries of their discussions.
Freud asks Jung to meet/treat a fellow psychiatrist Otto Gross (Vincent Cassel), who – in a plot device that feels oddly simplistic – expounds his distain for the concept of monogamy and enthusiasm for sex in general just as Jung finds Sabina enthusiastic for their relationship to extend beyond that of patient and doctor. Despite a content – though cold and old-fashioned – relationship with his wife Emma (Sarah Gadon), Jung finds himself drawn to the vibrant, willful, intelligent and certainly beautiful Sabina.
Before you know it Jung and Sabina are in an intense sexual relationship, fuelling her masochistic desires with a little light spanking on the side and with Jung regularly filled with self-doubt as he analyses his ethics rather than embracing his lusts. Though there are plenty of bedroom scenes, these moments are never overly sexual (and certainly not erotic) and are merely there as a set-up for further debate on psychoanalytical theories.
When Jung breaks off the relationship she is violently distraught, but eventually decides to leave Zurich and seek out Freud. Jung sees this as the greatest of betrayals, and helps fan the flame of discontent between the two men. Jung has grown weary of Freud's adherence to sex at the core of every neurosis and unwillingness to find a 'cure', while Freud finds the younger man too broad in his psychoanalytical enthusiasms as well as drawing a simple line on religion between them – Freud is Jewish and Jung is not.
Fassbender plays Jung as a slightly vague but enthusiastic academic, with slick-backed hair, small round glasses and a monotone voice that lacks any real accent. He is passionate and oddly naïve, seeing little beyond his desire to learn more. Mortensen's Freud is an engagingly calm character, with cigar constantly in his mouth and at ease with a confident composure and genial humour. As always Mortensen – in his third film with Cronenberg after A History of Violence and Eastern Promises – dominates the film and brings a much needed sly humour to the proceedings.
And if the two good doctors are always authoritative and perfectly groomed then perhaps Keira Knightley has the hardest of roles, and certainly she does an impressive job as the tormented Sabina. We all know she can wear the frocks and sport the stylish haircut, but here is far more challenged.
The early scenes of her character hysterical and ranting feel slightly forced – a little too much 'acting' – though Knightley gets better and better as the film draws on, and in truth it would have been nice to know more about Sabina and her many achievements (she went on to be a distinguished analyst in her own right) rather than simply as a catalyst between these two men. Knightley is also only one who makes a stab at an accent (Russian via Germany), and as her character calms so Knightley delivers an impressively nuanced performance that highlights Sabina's intelligence and charisma.
The film bears no distinctive Cronenberg cinematic moments (well, certainly not exploding heads or scenes of ultra-violence, though a lingering shot of experimental instruments harks back to the darkness of Dead Ringers) though he is completely at ease in this more rarified almost stagey structure.
Perhaps most memorable, though, are the scenes shot on Germany's Lake Constance (doubling as Lake Zurich) where Jung sails his elegant wooden yacht with an uncomfortable looking Freud sat aboard. Funny and elegant and a moment of silent grace in amongst the thoughtful dialogue. Beautiful production design by James McAteer and crisp cinematography by Peter Suschitzky help secure A Dangerous Method's classy credentials
Production companies: Lago Film, Prospero Pictures, Recorded Picture Company, Millbrook Pictures
International sales: HanWay Films, www.hanwayfilms.com
Producer: Jeremy Thomas
Co-producers: Marco Mehlitz
Executive producers: Thomas Sterchi, Matthias Zimmerman, Karl Spoerri, Stephan Mallmann, Peter Watson
Screenplay: Christopher Hampton, based on his stage play The Talking Cure and based on John Kerr's book A Most Dangerous Method
Cinematography: Peter Suschitzky
Editor: Ronald Sanders
Production designer: James McAteer
Music: Howard Shore
Main cast: Keira Knightley, Viggo Mortensen, Michael Fassbender, Vincent Cassel, Sarah Gadon