Dir/scr Lars von Trier. Denmark. 2009. 104 mins.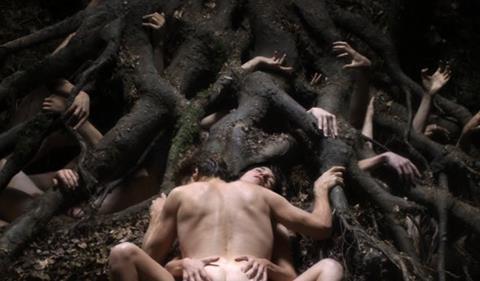 Veteran provocateur Lars von Trier must have been feeling taken for granted, because he goes all out for our attention in baroque horror essay Antichrist. The film could be described as a shocker in more ways than one, and was greeted with both laughter and booing at its Cannes competition press. This bizarre, increasingly hysterical melodrama for two is ostensibly von Trier's first crack at genre horror, but his nods to convention really serve an attempt to pursue the gender-war theme further than even the director's avowed influence Strindberg.
Antichrist is ultimately as rooted in stage drama as the director's studio-shot Dogville and Manderlay
Some von Trier fans will welcome his return to the elaborate visual invention he abandoned with the founding of Dogme. But in the wider world, Antichrist will prove too loopy and coarse for art-house audiences, while genre horror buffs – however cleverly the film is sold to them - will spurn the film, much as they did Michael Haneke's US Funny Games remake.
Divided into four chapters, plus black-and-white prologue and epilogue, the film follows the emotional travails (Grief, Pain and Despair, as the film repeatedly specifies) of an unnamed couple (Gainsbourg and Dafoe). They attempt to cure their sorrows by going on an ill-advised wilderness retreat, matters coming to a head in the mother of all marital spats. Sexual politics is manifestly the film's true subject, all the Gothic trimmings coming across as intense but misleading window dressing.
Von Trier begins with a nod to Don't Look Now, detailing the death of the couple's young son while they are busy having passionate and graphically detailed sex. This moment – too manipulative to be emotionally wrenching – is depicted in luscious black and white and impressionistic ultra-slow motion, verging perilously on music-video kitsch.
Von Trier and regular DoP Anthony Dod Mantle switch to colour on a restricted palette – blues for the first section, woody greens and browns later – as the film settles into an intimate mode, depicting the couple's emotional wranglings, often in claustrophobic close-up. The wife has reacted to grief by going into an extended trauma. Her husband, a know-it-all psychotherapist who never expresses his own sorrow, counter-intuitively decides to tackle her cure personally. Reacting equivocally to her fits of violent sexual passion, he prefers to talk her down with dubious-sounding psychobabble, then decides that she should confront her fear by accompanying him to the place where she is most afraid, a creepy house among dark woods, ironically named Eden.
There, the couple find nature conspiring to put the chills up them, with even acorns seeming to have a malign presence, and a deer, a crow and a fox all getting to provide bizarre (and in the fox's case, preposterous) scares.
The film's ultimate destination is signalled by the revelation that the wife Gainsbourg had been working on a thesis about witches and the mistreatment of women, although she now seems to have concluded that women are innately evil. It comes as no surprise when marital tensions at last come to a boil in a way that even Ingmar Bergman might have thought a bit steep. In fact, von Trier's models in the culminating sequences seem to be Artaud's Theatre of Cruelty and Stephen King's Misery: who would have thought that the mischievous yet high-minded Dane would have provided the latest high-profile torture porn?
Von Trier has stated that Antichrist was a form of therapy for him, following a long period of depression. You can imagine that its making was cathartic for him, and no doubt for the actors, who go at their performances full tilt - raw and often discomforting nudity included. The eventual extremity of the acting is very much part of the overall conception, suggesting that – despite flamboyantly cinematic finish – Antichrist is ultimately as rooted in stage drama as the director's studio-shot Dogville and Manderlay.
Von Trier deserves credit for audacity, not least in making a genuine two-hander: apart from the couple's sporadically glimpsed child, Gainsbourg and Defoe are the only players, other humans appearing with faces digitally blurred. Dod Mantle's elegant DV photography, using RED and Phantom cameras, makes for visual distinction, both in the stylised sequences and in the straighter chamber-drama sequences. But you can't help wondering why a director this sophisticated would want to put his audience through the mill quite so crudely. After a brief, weird-out epilogue, we come out feeling that we have learned very little – other than that it's a good idea to hide the toolbox when having a domestic tiff.
Production company
Zentropa Entertainments23
International sales
Trust Nordisk
(45) 2060 5062
Producers
Meta Louise Foldager
Cinematography
Anthony Dod Mantle
Editor
Anders Refn
Production design
Karl 'Kalli' Juliusson
Main cast
Willem Dafoe
Charlotte Gainsbourg